The Pampered Posts (Blog)
Summer is rapidly approaching. It's been 80 degrees for most of the week here in Pittsburgh, and I haven't broken out the flip flops yet. If you're a frequent reader, or a friend of mine, you know how I LOVE my flops! It's killing me to leave them at home, but my feet are in no way flip-flop ready. I hate to admit it, but I have been neglecting my feet. With a schedule as busy as mine has been, (working full time, 2-3 pamper parties per weekend, planning my wedding, and caring for my mom, who is undergoing cancer treatment) something's gotta give. Pedicures have have been left off of my to-do list for several months now, but it's definitely time get into my summer sandals. I did a little research, looking for a quick fix for my winter build up, as it's become quite unmanagemable, and I wouldn't dare subject a nail tech to my nasty feet. Even if I were willing to pay for a professional pedi, I'd have to do some work at home first to remove some of the rough dry skin on my heels. I'd be horrified to let these puppies out in a salon! Lucky for me (and you), I discovered a few ingredients that will work together quite nicely to give us a kitchen-cabinet dead skin removal recipe.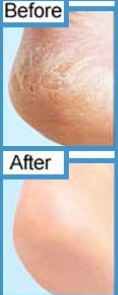 Here's the recipe:
1/4 Cup Listerine
1/4 Cup Vinegar (white or apple cidar, whatever you have lying around)
1/2 cup warm water
I like this recipe because the listerine gives a nice refreshing minty feeling to the soak, and a great cooling effect, which is so nice in the summer. It's also got a disinfecting property, that I love for my pamper party pedi's. You just never know what's going on in someone's shoes... the more protection I have, the better, lol.
*1 Cup may not seem like enough to soak your feet, but you really only want to cover the portions of your feet that are callused, as this will be a little harsh on your healthy skin. If you need more, just keep the ratios: 1 part listerine, 1 part vingear, 2 parts water, and you'll be good. 
Soak your feet for at least 30 minutes (or longer if you can). 
This will not only soften the dead skin, but penetrate the dead skin cells, and loosen the glue that holds them together, causing the build up.
After soaking, use a dry towel to rub the dead skin off. You can use a foot fille, if you want, but I like the towel. The dead skin should crumble and flake right off with a little elbow grease. Depending on how thick your build up is, you may need to soak again, and re-rub. *A little tip, keep the one foot in the water while removing the skin from the other, because if the skin dries, it will be harder to remove. While this is not exactly effortless, it's still MUCH faster and easier than soaking, fliling, soaking, fliling, soaking filing, and so on. It's also much safer than using a razor to cut away the build-up which is usualy what I end up doing, because I don't have the patience to take it off with a file. I should also mention that I usually end up bleeding when I do this, as I ALWAYS get over zealous with the foot razor! (this is why they're illeagal in salons)
This is optional, but recommended:
After you've removed your dead skin, dump your mixture, fill you tub with fresh water (with or without bath salts/soap), and give yourself a full pedicure. The mixture can be drying to skin, so I suggest finishing with sugar scrub and a nice thick cream with rich butters in it (Whipped body Frosting, perhaps). Just be sure to thouroughly clean your nails before polishing when using lotion!
Thanks for reading!
-Beth <3
OK ladies (and gents)… Spring is coming! I know it seems like it will never get here, but it's coming, I promise… With the warm weather comes sandal season. I am definitely Sandal Season's BIGGEST FAN! I cannot tell you how liberating it is to let my tootsies out in the springtime sun. The first day of flip-flop season is always one of the most exciting days of the year for me! It always reminds me of that feeling I would get on the first warm day as a kid, when I begged my mom to let me dig out my shorts. Or that feeling of the first sunny day after being buried by snow for 4 months at Slippery Rock, snow capital of the world, when we would skip class to lay in the sun and play afternoon beer pong on the back porch of the sorority house. Oh, the yester-years, how I miss those carefree days…
Now, when the sun peeks out for the first spring day the most exciting thing I get to do is put on a pair of peep-toes and head to work, but somehow that little smidge of visible painted toenail under my desk still makes me feel that happy sunshine high that I had as a kid. However, if you're anything like me, there is quite a bit of work to be done before your feet, particularly your heels, are ready to be on flip-flop display…. I know I always seriously neglect my feet over the winter, and when mid March arrives and the sun starts to shine, I (or the poor nail tech who gets my pedi appointment) have layers of dead skin to slough off. I feel like I have extra layers of rough dry skin on my feet, like more than the average person... like a freakish amount, really. Like way too much to file off, because it would take me 3 days, which is why I'm always looking into "easy" ways to remove the dry skin. I've done the lotion with socks thing, which does soften the skin, but doesn't actually remove the dead stuff, so it's a definitely a "band-aid" type fix, rather that a cure. I've tried the pedi-egg, which leaves my feet looking and feeling like I got a pedi from Edward Scissor hands. Sorry, cheese grated feet isn't exactly the look I'm going for. I've tried the foot razors, which honestly are the fastest, least labor intensive method, but I ALWAYS end up taking too much and having sore feet, or even worse, open wounds…
In my online searching for a better method, I've come across a few products that claim to peel the dry skin away with no scrubbing, filing or soaking, which sounds a little too good to be true, but could be the answer to my pedicure prayers! I have been doing a little research on products, and the two that seem the most legit, based on customer reviews and ingredients lists are "Baby Feet" and "SoftSole". Both products come with gel-filled disposable slippers that you wear for a period of time (60-120 minutes), then wash and moisturize feet. You repeat this process daily, and after 3-5 days, the dead skin starts to peel off. The skin supposedly sheds for about a week, and then you're left with smooth soft skin….  We'll see about that!
According to customer reviews and some youtube videos, it really works. Intrigued by the possibility of being able to wrap my feet and treat my callused skin while I watch TV, read, or craft, I decided to check out the ingredient lists to see what magic chemicals are necessary to molt your feet like a snake. Much to my satisfaction, it seems that this product isn't all that chemically based. The main ingredients are Salicylic acid, Glycolic Acid, Castor Oil, and Vitamin E. Of course, my wheels immediately began to turn. If these easy-to-attain ingredients are all that's used, why can't I make my own version? Hmm… Don't mind if I do!
Here is a basic easy peasy recipe you can try at home. I am also working on formulating a recipe with more skin healing and restoring ingredients for the indulgence line.
Acid Foot Peel Recipe:
What you need:
1 cup Epsom salts (optional)
1 large bowl filled with hot water towel
1 smaller bowl (preferable an airtight container, such as Tupperware)
1 bottle uncoated aspirin (from the dollar store)
1 lemon
plastic wrap
socks
A rich moisturizer (try Indulgence whipped body frosting)
What to do:
- Gather supplies and while you're mixing your paste, soak your feet in the hottest water you can stand. If you have them, add about a cup of Epsom salts to your footbath. You should soak feet for at least a half hour to soften the hardened skin and allow your foot peel to penetrate the layers of dead skin.
- Empty your aspirin into your small bowl. - Slice your lemon into at least 4 wedges and squeeze juice onto aspirin one wedge at a time. You want the final product to be a paste thick enough to spread onto the effected areas yet wet enough to stick to your skin. Squeeze one wedge onto aspirin and wait for the aspirin to dissolve. The lemon juice will dissolve the aspirin pretty quickly. If the paste is too thick, squeeze another wedge onto aspirin mixture.
- Once your mixture is a good consistency, cut 2 pieces of plastic wrap large enough to completely cover your foot.
- Once you have finished soaking your feet, and skin is softened, use the towel to dry your skin. While drying your skin, rub the towel against the rough parts of your skin, this will cause any loose skin to crumble off.
- Once feet are dry, apply your paste to feet. On the first few applications, I apply the paste all over feet concentrating on heels, balls of feet, and skin around the toenails, as this is where I have the most dry skin. You should concentrate on the driest areas of your feet, whatever they may be. Once the paste has been applied thoroughly, wrap feet in plastic wrap, and then apply your socks.
- Save what paste remains in an airtight container for additional applications.
- I do this treatment in the early evening, when I get home from work, and leave it on until I go to bed (5-6 hours). I then remove the wraps, and wash feet with soap and water.
- I then apply my Whipped Body frosting to feet, and put my socks back on. I leave the moisturizer on overnight, as the lemon juice can be very drying.
This treatment is not a quick fix. You will need to apply this treatment everyday for 2 weeks. After a few treatments, you can skip the soaking first, as the skin should be softened from the treatment and the moisturizer. Using an acid based product like this has to be a step-by-step process, as anything strong enough to remove that much dead skin in one application would surely burn right through your healthy skin too… Which brings me to the reason we're using aspirin. Aspirin is basically just salicylic acid. Salicylic acid is used in many skin care products because it breaks the bonds that hold dead skin to the live skin and kills bacteria without harming your healthy live skin. Glycolic acid is much stronger and will burn your live skin if used incorrectly. Remember that Sex and the City episode when Samantha had a chemical peel and the children where screaming as she walked by them on the street… yep, Glycolic acid! Anyway, about halfway through the process (day 5-7) you will notice that your feet are beginning to peel and shed layers of skin. (That's why it's called a foot peel, duh!) It will look pretty horrific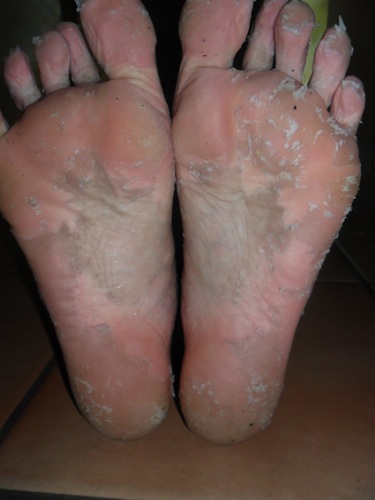 *These are not my feet, I found this picture on google*
... like something out of "The walking dead", but trust me, it will be so worth a few days of zombie feet to get baby soft tootsies. You can pull the peeling skin off as long as it doesn't hurt to do so. If you have any pain when pulling the dead skin, this means it is still bonded to the live skin, and is taking that healthy skin with it. You can use cuticle scissors to cut the dead skin if it's driving you crazy. A day or two after the peeling begins, I stopped applying the paste all over my feet, and concentrated just on the bottoms of my feet, as I didn't want to unnecessarily dry out the tops of my feet once the dry skin was off of them.
You may notice, if you've ever seen the other products I mentioned in this post "baby feet" and "softsole" that those products are only meant to be left on for 1-2 hours. That is because of the glycolic acid. The aspirin/lemon juice mixture could be on for 24 hours at a time without harming your skin, so don't worry about leaving it on too long. You can help the process along with sugar scrubs and pumice stones while in the shower. Rubbing a terrycloth towel on the peeling skin also works very well.
Upkeep is pretty simple. Continue to apply a heavy moisturizer daily, and keep a pumice stone in your shower. Scrub the areas that become callused daily to avoid build up from occuring. Use a sugar srub several times per week to keep the rest of the skin on your feel soft and smooth. OR just let it get really bad again next winter and molt again!
I hope this help everyone to get flip-flip ready this spring!
Please feel free to send questions to pamperp[email protected] and I'll answer them in my next blog!
Thanks for reading,
Beth
Hi friends, 
Sorry I've been neglecting you, but I'm back this week with a new Mrs. Manicure for you!
For anyone who's just  joining the Mrs. Manicure series. I am getting married next year, October 19, 2013, and I'm trying to find myself the PERFECT maincure for my fall nuptials.  The theme of my wedding is "Fall in Love", and my color pallett is mainly brown and gold with accents of fall leaf shades, like burnt orange, plum, burgandy, copper, etc..
Well, I was shopping with my mom yesterday, and a fabulous bottle of copper glittery polish caught my eye. Now, anyone who knows me, knows that I have a weakness for nail polish, and that I can never go anywhere that sells it and walk out empty handed. I mean, I'm proud of myself for only finding one bottle of polish that I "needed"! 
So , anyway.... I got this fab sparkley polish and, of course, put it on at my earliest convenience. I bought it because I loved the color. I didn't really have any bridal plan for it, but after putting it on and admiring it for a while, I could totally see me or the bridesmaids wearing it for the wedding. It's such a festive fall party color!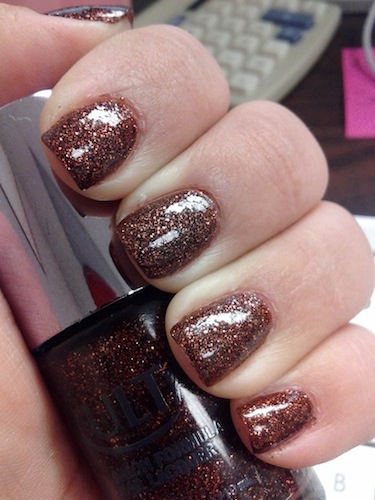 It is Ulta's Salon Formula  polish in "My Two Cents". Please keep in mind that this picture was taken on my phone. It is showing the glitter, but it's not showing the color exactly. The glitter is definitely more copper in color than this picture is showing, and there is more of a contrast between the base color, which is a rich chocolatey brown, and and the glitter. 
If I choose to wear color on my nails, I could totally see this being the one!
Please let me know what you think, either by commenting here, in the photo gallery, or on my Pamper Parties Pittsburgh facebook page!
Thanks,
Bethany
For those of you who are just popping in on the Mrs. Manicure series, I am trying out nail looks for my up-coming wedding, and asking for your help in choosing the best look!
I'm a nail art lover, and a nail technician, so it's very important that I have the perfect nail look on my big day. I've opted for the classic French manicure this week. I know it can be a bit boring and predictable, but in my humble opinion, there really are very few things in life that are better than a good French manicure. This is my best attempt at the perfect French: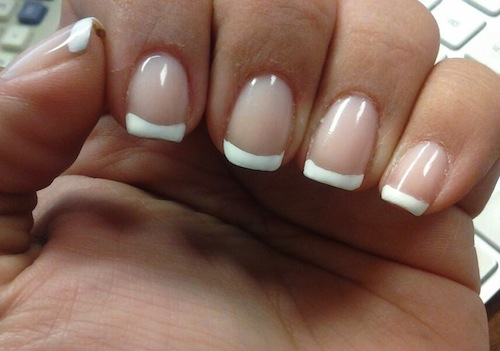 The base coat is Essie ballet slippers (2 thick coats).
The tips are Sally Hansen X-treme in white. I like the brush on this polish for painting the French tips, as it's thin and sort, allowing for lots of control.
Please comment in my photo gallery to let me know which of my options so far you like best!
Thanks for reading, and please check back each Monday for a new Mrs. Manicure entry!
Thanks, 
Bethany
Hi everyone. I'm back after a 2 week hiatus from the Mrs. Manicure series. I'm sorry to leave you guys hanging, but I've had a crazy couple of weekends.
… but no worries, because I'm back with the bridal now, and ready to show you my newest Mrs. Manicure!
This week's mani is a lacey twist on the classic French done with my konad! (please excuse my hangnails, that's on tonight's chore list :()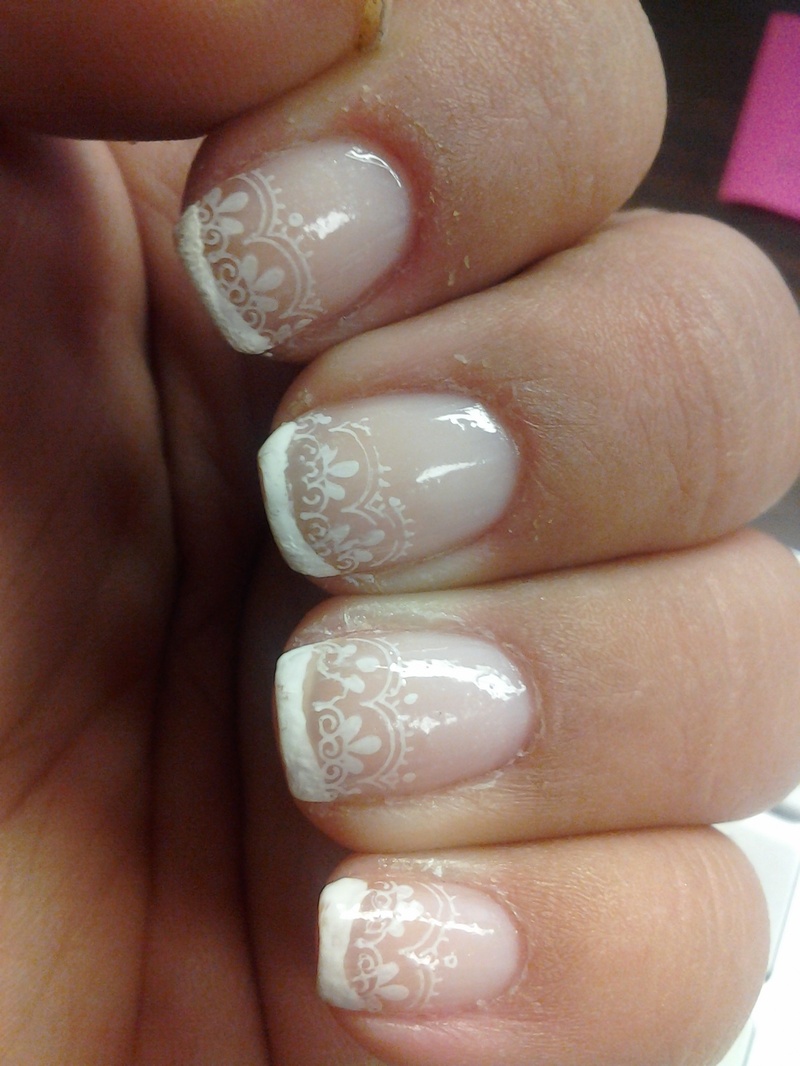 If you're going to try this at home:
The base color is 2 coats of Essy's Ballet Slippers. I allowed this to dry completely, then stamped the lacey-look from my Konad Plate m57. I did not use the Konad white, because mine is pretty much empty. If I had stamped with the konad white, I think the lace would look more prominent. I just used a Sally Hansen Xtreme white that I had at home.
I had to experiment a bit to get the lace design on in a straight line, but I discovered (from trial and error) that it's best to line the stamper up with the center of the nail in the spot you want it, roll it left, then right. If you start on the side and roll it across the nail, you will never get it perfectly straight. The trick is to use little-to-no pressure when re-rolling over the section you already applied so that the stamper does not pick the design back up off of your nail. 
I stamped my lace design right under my natural free edge. Once my design was stamped on all 10 nails, I filled in the free edge with whte polish, and topped with Seche Vite. Of course, I couldn't wait the half-an-hour necessary for my nails to completely dry before going to bed, so you'll notice that the white tips did get some sheet marks in them. I'll have to touch those up this evening...
Feel free to comment here or in the photo gallery, I'd love to know what you guys think!
Thanks for reading, and check back next week for Mrs. Manicure #3!
-Bethany
Of course, all brides want to have the perfect manicure for their wedding, but I feel that the pressure is really on for mine to be fabulous. I mean, the Pamper Parties Pittsburgh owner better always have the "flyest" nails in town, and on her wedding day, she really has to step it up a notch. That's why I've begun the search for the perfect bridal nails now. 55 weeks until my nuptials means 55 chances to find the perfect bridal manicure.
I started my manicure auditions this week with a style inspired by one of my Pamper Party brides, Laila, who chose the same color/style with the embellishment only on her left ring finger. I however, am a big fan of flash, and decided to embellish all 10 nails.
Here's bridal manicure number one. It is an opague neutral pink with a glitter "dipped" tip. The glitter is concenrtated at the tip and fades toward the center of the nail. I am definitely a fan of this look for a party/event, but am not convinced that it is the right bridal look for me. Although, I AM glad I'll have it on for our 4 year Anniversary dinner this week...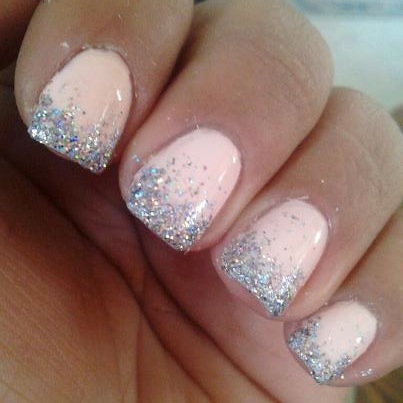 Here's one with the ring, of course!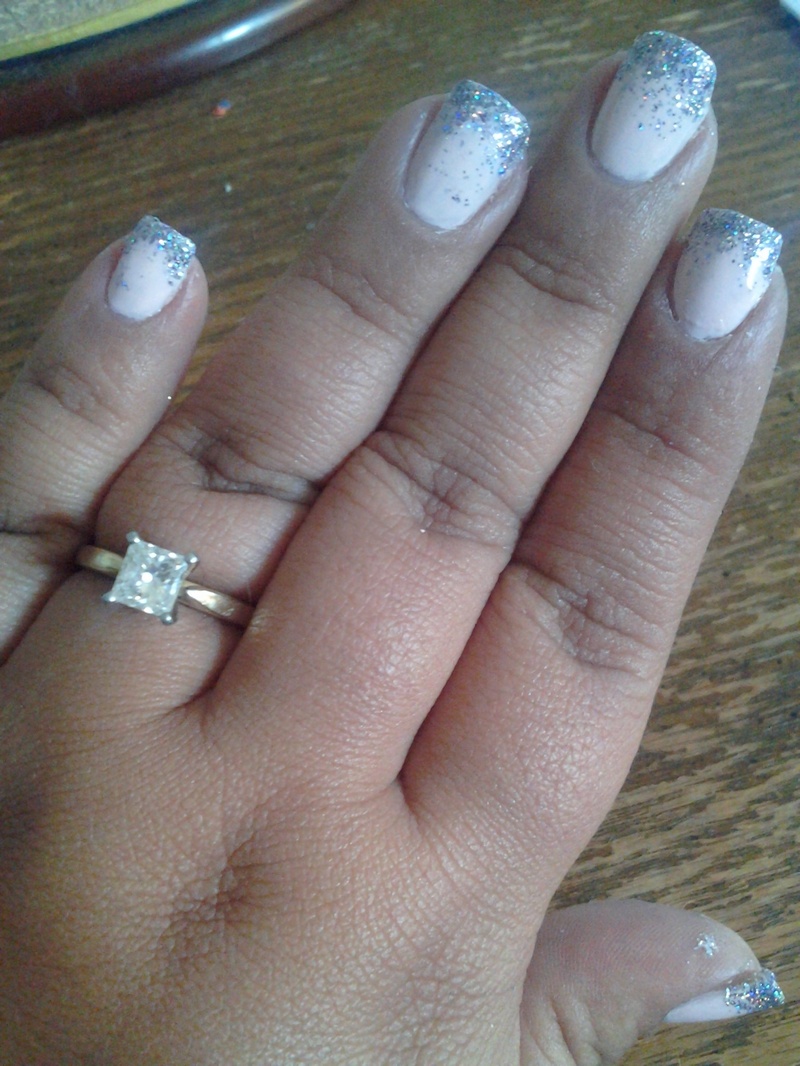 Please feel free to comment with your opinions. I can use all the help I can get in making this important decision! I will continue to post Manicure Monday pictures with new bridal manicure ideas, as well as keep a photo album here and on my Facebook page so that I (and you) can look through the options at any time.
Thanks again for you help, and check back next Monday for Mrs. Manicure #2!
I'm looking forward to hearing your feedback.
Thanks,
Bethany
So, you know how I love me some healthy beautiful nails!
I came across this nail strengthening recipe, when I was researching natural cuticle remover recipes (come back next week if you're interested in this recipe), and I just had to share! Forget that $16 bottle of Nail Envy, this is cheap, easy, and effective... my favorite combination!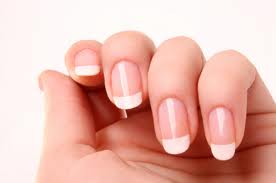 What you need:
1/2 packet plain clear gelatin
1/2 cup Boiling water
Instructions:
Boil water on stove or in microwave
Add 1/2 cup gelatin to boiling water
Stir
Wait for it to cool
Once your strengthening soak has cooled to room temperature, soak nails for 10 minutes, then rinse. 
You can do this as often as you would like. 
Also, you can keep your gelatin mixture in the fridge for  a few weeks and re-use. 
Thanks for reading, 
Bethany
You know LOVES crackle nail polish? 9-year-olds…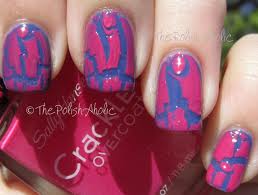 This is why I have it in just about every color. Of course, I put it out at my adult parties as well, and I can't tell you how many people have told me "I have that, but it doesn't work". It makes me so sad that people are buying this product, and then just tossing it aside because they can't get it to work properly. I admit, that crackle, regardless of brand, is temperamental. You have to apply it just right or it won't crack, but some brands are better than others. I've tried several brands, so I'm going tell you what my favorites are, and also give you my trick to perfectly crackled nails.
First, let's talk about brands. The most expensive brands are not necessarily the best brands. This is especially true for crackle polish. I have a few OPI, a few china glaze, a BUNCH of Funky Fingers brand and a Sally Hansen. I'm going to go over each of these and let you know which are my favorites. Please keep in mind that this is just my opinion that I have formed from my personal experience. Someone else may have a completely different experience. k
For me, it has come down to the following 3 criteria:
1. Consistency, a very runny crackle isn't going to works well. Your crackle should be slightly thicker that normal polish.
2. Dry time, the faster the polish dries, the better the crackle.
3. Technique
OPI Shatter: In my experience, this product is the worst of all the crackles I've tried. The product is so thin in the first few use that it offers little to no control, and dries so slowly that it doesn't crack much at all. After the bottle has been opened a few times and some air has hit the product it works well for a few applications, but then dries up quickly to the point where you cannot even apply it anymore
China Glaze: I like china glaze's product. It cracks well. My favorite thing about it is the consistency of the product remains the same over time. It does not dry up and become clumpy around the mouth of the polish bottle like many of the crackles I've used. This product costs about $5, which is significantly less than OPI and works better and will last longer. It comes in a decent variety of shades as well.
Funky Fingers: This is the brand of polish sold at Five Below. The things I love about this polish are the price (2 for $5) and the selection of colors. This is the brand that I use the most. I have about 10 of these. I use them multiple times per week and have had them for months without any drying clumping or problems cracking. They dry very quickly, which I think is the reason that they crack so well.
Sally Hansen: This is actually my favorite brand, believe it or not. I actually bought it because my OPI black crackle, which I paid $9 for, had dried up after about 6 uses, and I needed a new one in a pinch. I figured, eh… It will work for a party or two and then I'll probably have to get rid of it, but it's only a few dollars… Boy was I surprised when it was the best crackle I've ever used. It is the least temperamental of all the brands I've used, it's super-opaque (important for black), and has lasted a REALLY long time without drying up! The only down side to the Sally Hansen brand is that it doesn't come in many colors.
OK, now that you've got the scoop on the brands, let's talk technique:
When applying crackle polish, you can never double coat or overlap the crackle. If you do, it won't crack. You have to apply it in quick even stripes. Most nails should take 2-3 sweeps of the brush. Normally, when polishing, you start with one streak down the center of the nail, and one on either side. When applying crackle, you should start on the left side and work toward the right.
Steps:
1. After applying a base coat and the color you want to show through the cracks, load your brush with enough polish to cover the nail without having to go back into your bottle. The idea to apply it as quickly and evenly as possible.
2. Starting on the left side of the nail, apply a stripe of polish using a very light and quick motion. Use this same light quick striping motion for the remaining 1-2 stripes until nail is covered.
3. Resist the urge to sweep over the nail again, even if it looks streaky or you missed spot. The whole idea of crackle is that it's imperfect, so just go with it. Going over the nail again will prevent it from cracking.
4. Wait until the crackle is completely dry before applying a topcoat. The polish will continue to crack until it is completely dry. If you apply a topcoat, it will stop the cracking process.
I hope this helps you get some use out of the crackle polishes that you've given up hope on!
Thanks for reading,
Bethany
Here's a question from one of my readers:
"I read your blog about removing gel nail polish at home, and I was wondering if you can buy the polish and apply it at home too?"
Man, this gel polish is seriously popular stuff!
Technically, you could purchase a gel polish system and do your own at home gel polish manicures, but it's not as simple at going to the rite aid and picking up a bottle of polish...
First of all, you will have to purchase an entire gel polish system. This includes, a primer, a bonding base coat, multiple colored polishes, a topcoat, and a UV light to cure the polish. This will run you at least $100. You'll probably have to go online to order the system, so add shipping to that cost as well.
Also, gel polish is different than regular polish. It requires knowledge and skill to apply this polish, because it is an enhancement, not a polish. If you get polish on your cuticle, you can just wipe it off. If you get gel polish on your cuticle during application, the polish will peel off of the entire nail within a day or two. If you don't get the product cured completely between each layer, it will also peel off.
You know that I'm a big fan of home remedies and other money saving tips, but the bottom line is, gel polish application is best left to the professionals…
Thank for reading, 
Bethany
I have been seeing alot of questions about removing Gel Nail Polish lately. It seems that Gel Nail polish, or "Forever Polish" as many salons like to call it, is becoming more and more popular.
I'm not a big fan of Gel Polish, not because of the product itself (which I actually think is pretty cool), but because I believe it is misleading to clients. They call it "polish" when it is really an "enhancement". Gel Polish or "Forever Polish" is nothing but a thin layer of colored gel. The same gel they use for nail enhancements. Gel is a pre-mixed acrylic which goes on goey, and needs to be cured by a UV light. It cures to shiny hard glossy surface, which looks just like a perfectly polished manicure. Honestly, for a client to wants polish that lasts, and doesn't mind wearing an enhancement, it is a perfect fit. However, many manicure clients pride themselves in being enhancement free and do not want to wear acrylic, wraps, gels or any other type of enhancemnts. These people pay for weekly or bi-weekly manicures and really care about the health and beauty of their nails. If you are one of these people, I suggest skipping the gel polish...
Now that we're clear about what Gel polish is, lets talk about removing it. If you've ever had a Gel Polish applied,  then you know that it is not easily removed. At least not with nail polish remover... You must use pure Acetone to remove Gel Polish, and even that doesn't make the process simple. At the salon, they will charge extra to remove the Gel Polish, and they'll probably damage your nails in the process, as many places will just use an electric file to remove it, as it's fast and easy. If you've got Gel Polish that needs to come off, I suggest you follow these steps to save not only money, but also to salvage your nails:
What you'll need:
- about 45 minutes
- Pure Acetone (salon grade can be purchased at Sally's or another beauty supply store, but I suggest getting it from the hardware store. It is much faster acting)
- 10 Cotton Balls
- 10 small strips of aluminum foil
- a cuticle pusher
- a coarse grit nail file (180 or lower grit)
- a fine grit nail file or block buffer (180 or higher grit)
- cuticle oil
How to do it:
1. File the surface of your polished nail with the coarse grit file. This will "Scuff it up"
2. Soakall 10 cotton balls in Acetone
3. Place the Acetone soaked cotton balls on your nails and wrap each nail with aluminun foil (the aluminum foil traps your body heat in, which will act as a catalyst for the Acetone)
4. Let this sit on your anils for at least 15 minutes. The acetone will not dissolve the gel (as it does with acrylic or regular nail polish), but it will soften the product and weaken it's bond to your nail.
5 Remove the foil and cotton balls and use the cuticle pusher to gently scrape over your each of your nails. This will remove any product that was loosed by the acetone.
6. Anything that is left will have to be filed off. Use your fine grit file or block buffer to remove the remaining product.
7. Apply Cuticle oil to entire nail bed and skin around the nail. Allow this to soak in for a few hours before re-polishing.
I hope this helps! Send your beauty questions to [email protected] and I'll answer them in my next blog.
Thanks, 
Bethany