The Pampered Posts (Blog)
Spring has just about sprung, which means it's time to trade the bulky sweaters, boots, and heavy make-up for floral blouses, ballet flats, and fresh-faced complexions. The warmer months definitely brighten our moods, but they also force us to come out from under the blanket of heavy clothes and heavier concealer that we've been hiding under all winter. I'm sure you hit the gym a little harder with visions of bikinis dancing (or jiggling as the case may be) in your head, so why shouldn't you be getting your skin in-shape to bare-all as well? I mean, when is the last time you wore make-up to the beach? Is your face not as naked as the rest of you?
I know what you're thinking, sure I'd love to have bright, even, clear, glowing skin for the spring, but who can afford a salon facial? …. Believe me, I hear ya! At $75-a-pop, I certainly can't! A professional facial is rare and precious commodity. Most likely only enjoyed when given as a gift (ahem, hint hint), but that doesn't have to mean that beautiful skin also has to be rare. You can easily and inexpensively have skin just as beautiful (if not more so) than those lucky ladies with nothing better to spend their money on than a weekly facial, and I'm going to show you how.
Now, of course I would love it if you would use my Indulgence Skin Care line, which is made from all natural edible ingredients. You can purchase the whole line for less than $40 (in the 4oz size or $54 in the 8oz size), so I'm going to include those products with the home made recipes so you'll know what to do with them if you do decide to purchase the products.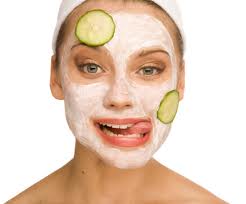 At Home Facial:
Step 1 Quick Cleanse
I recommend using a facial wipe for this step. The point of this step is to remove surface dirt oil and make up. You want it to be quick and easy. Remove 1 wipe from container and cleanse skin in a circular motion for about 1 minute. Be sure to remove any make up that may be on skin.
Homemade Facial Wipes Recipe:
1 Roll Paper Towel (cut in half vertically to make 2 short rolls)
1 TBS Johnson's Baby Shampoo
1 TBS Johnson Baby Oil 2 cups Water Mix Baby shampoo, baby oil and water together.
Instructions: 
Place 1 short paper towel roll in an empty baby wipe container or ziplock container. Pour mixture over paper towels, place lid on container and allow to soak for a few hours before using.
(or use Indulgence Quick & Easy Facial Wipes $10)
If you have a lot of make-up to remove, use a make-up remover or cold cream first.
Mineral oil (baby oil) works great for this, just make sure you cleanse your skin afterward, so remove the excess oil
(or use Indulgence Moisturizing Make-up remover $6.50 4oz or $12 8oz)
Step 2 Exfoliate
Exfoliation is one of the most important steps in any facial as it removes dead skin. This is what gives your skin the smooth, soft, glowing appearance. To exfoliate, remove a quarter size amount of product from jar/container, and rub gently over skin in a circular motion for about 1 minute. Use a warm wet towel to remove scrub. This will open your pores for the cleansing step. Also, a common misconception is that exfoliation should come after the deep cleanse. In my experience, it is best to exfoliate first for 2 reasons:
1. Exfoliating removes dead skin build up allowing the deep cleanser to penetrate skin better. And
2. Most exfoliating products contain oil. Deep cleansing the skin after exfoliating will remove any oil residue from skin.
Homemade Exfoliator
2 TBS corncob, cornmeal, or brown sugar
1 TBS vegetable or olive oil
1 squirt honey (doesn't have to be exact measurement)
Instructions:
Combine ingredients in a small bowl. Consistency should be that of a slushy. If it is too wet or too dry add oil or scrubbing ingredients to modify.
Homade exfoliator for sensitive skin:
If your skin is sensitive and a manually exfoliating your skin is painful or uncomfortable you can mix up a chemical exfoliator with1-2TBS Baking soda and a few drops of water. Mix to make a thick paste. Apply to skin and allow to sit for 2-3 minutes before removing with a warm wet towel.
Step 3 Deep Cleanse:
The deep cleanse is the step that will get your skin squeaky clean. Apply your cleanser to skin, massage into skin, allow to sit on skin for a minute or two, and then remove with a warm wet towel.
Homemade Cleanser:
1 Tsp Powdered Milk
1 Tsp Honey
(for oily skin 3-4 drops apple cider vinegar or Lemon Juice)
(for normal skin 3-4 drops water)
(for dry-sensitive skin 3-4 drops pure aloe vera gel –if you don't have an aloe plant already, you should go out and get one… like today)
Instructions: 
Mix this into a paste and apply to skin for 1-2 minutes. Remove with warm wet towel. 
(or you an combine the deep cleanse and exfoliating steps by using Indulgence One-Step-Facial $6.50 for 4oz or $12 for 8oz)
Step 4 Mask:
There are TONS of great options for natural facial masks online, but I personally am a big fan of fruit facial masks, Below is a list of ingredients that are great for your skin and what their benefits are. Please feel free to mix up your mask from the list below or go online and do your own research.
First, you will want to choose a base for your mask. Like to keep it simple and go with either yogurt or oatmeal.
Bases:
Yogurt: Yogurt is moisturizing and firming. It is great for normal-dry and aging skin types. You want to use plain unflavored yogurt, but do not use low or reduced fat, as the dairy fat is good fro your skin. If you already have low or reduced fat at home, you can use it. It won't hurt you.
Oatmeal absorbs oil and soothes skin. It is good for oily, acne prone or sensitive skin types. Use regular oats and water, not instant oatmeal. Place a small amount of dry oats in a microwave safe dish, add water and microwave according to instructions on the package.
Place 1 TBS of your selected base in a container, then add 1 tsp of each additive. Stir well!
Now for additives:
Lemon Juice: Lemon Juice is anti-septic. It kills blemish causing bacteria, and therefore is good for oily or acne prone skin.
Bananas (mashed): Bananas are moisturizing, softening, and very gentle to skin. They are great for all skin types. They will make skin feel smooth and soft (and they'll make your mask smell fantastic).
Strawberries (pureed): Strawberries are great for aging or sensitive skin. They are gentle and firming. They will help to soothe skin conditions such as rosaeca, sunburn, or eczema.
Vegetable Oil: Vegetable oil softens and hydrates skin. It should only be used on dry skin types.
Cocoa Powder: Cocoa Powder is great for all skin types. It nourishes and improves the texture of skin.
Honey: Honey is Moisturizing and Antiseptic. It is a great addition to any mask. No matter your skin type you should add some honey!
This pretty much covers all skin types, and you should be able to get a good mask out of these options. Like I said there are TONS of options for masks online, and you are welcome to research your own options.
Once your mask is made. Apply it to your skin in a circular motion. Allow to sit on skin for 15 – 20 minutes, then remove with a warm towel.
(or use Indulgence Aloe Vera Moisture Mask for Dry, sensitive, or aging skin types OR Deep Cleansing Clay mask for oily or acne prone skin)
Step 5 Tone:
You can tone you skin by applying any of the following items to a cotton ball and rubbing over your skin. This will close the pores and lock in the moisture:
- Lemon Juice
- Witch Hazel
- A mixture of 3 parts water an 1 parts Apple Cider Vinegar
Or, just splash your skin with ice cold water. This is what I always do.
Step 6: Moisturize
Moisturizing is the most overlooked, and one of the most important steps. Everyone washes their face, but many people don't take the extra time, effort, or expense to moisturize properly. Properly hydrated skin will be plump, even, smooth, and glowing.
Moisturizers are definitely the trickiest of the homemade skin care products, as lotions require heat processing, emollient waxes, and very detailed measuring. If you are only going to purchase one beauty product, I suggest purchasing a good moisturizer. A good facial moisturizer will absorb quickly into skin without leaving a greasy residue behind. It even out skin texture and color, leaving great canvas for your make-up.
If you're going to try your own moisturizer, here are a few options that might work for you. None of these will be a lotion-like moisturizer that you may be picturing, but will do the job. (Sometimes a less creamy moisturizer is best for the face, as the heavier crèmes contain more wax and oil, which can clog pores. A thin lotion or serum may be better for the face)
- Vegetable Glycerin (can be found in most pharmacies or drug stores) While glycerin looks and feels like an oil, it is actual an oil free product derived from plant osmosis. It will soften and moisturize skin without clogging pores
- Aloe Vera Gel: Raw aloe vera gel is one of the best natural moisturizers out there.
- Jojoba oil (can be found in health food stores) this is a liquid wax that comes in the form of oil. It is non-comedogenic, and will moisturize skin.
(Or use Indulgence Aloe & Green Tea oil-free Moisturizing serum, $8)
Now that your facial is complete, make sure to keep up with your skin-care regime by washing your face once per day with the cleanser (either morning or bedtime) and follow with toner and moisturizer. Use wipes on the opposite side of the day and follow with toner and moisturizer. Repeat the full facial as often as once weekly.
Thanks for reading!
Bethany
I've blogged about this before, but I just had a BIG FAT zip pop up on my cheek that reminded me I should mix up a batch of this mask, and thought I would share this recipe with you guys again.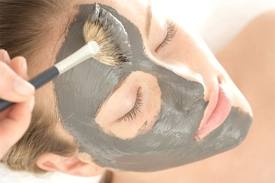 A Clay mask is a great way to purge your pores of excess dirt, oil, and debris. It is best to use a mask like this only once weekly. Very oily skin types could use it twice a week if they feel it's necessary. 
How to make your own Deep Cleasning Clay Mask at home:
First, lets talk about why: 
The main ingredient for most clay masks you would purchase is Bentonite Clay. This is a natural clay first used by Native Americans as a detoxifying agent because the clay draws inpurities from the skin. They also used it to protect themselves again poisous plants such as poison ivy. They would apply the clay to their skin before coming in contact with the plants. The clay would absorb the oils from the plants, preventing the oils from coming in contact with their skin. These two purposes are what makes this type of clay so useful in Skin Care products. Bentonite clay will draw the dirt and bacteria out of your pores while absorbing excess oils. Bentonite clay is available in health food stores and online on most cosmetic ingredient sites. In these places the clay is available for about $8 per pound, which isn't too expensive considering you only need about a tablespoon per use, but there is a much easier and inexpensive way to get this clay because it is used in Kitty Litter! If you purchase kitty litter that says 100% Natural Clay on the label, what you are getting is 100% Bentonite Clay! As long as you can get over the idea of slathering your face with kitty litter, you're going to save yourself a forutne over time!
I have a few recipies for Clay Masks using Bentonite clay listed below, there is one for every skin type, so please browse through to find the one that is best for you!
Clay Mask for Oily Skin:
1 TBS bentonite Clay
1 TBS water (distilled if possible)
1 squirt of Honey
1 drop of essential oil (optional)
Clay Mask for Combination Skin:
1 TBS Bentonite Clay
1 TBS Milk, cream, or half & half (best to use the ritchest that you have available)
1 squirt of Honey
1 drop essential oil (optional)
Clay mask for Dry Skin
1 TBS Bentonite Clay
1 Tbs Olive oil, Jojoba Oil, or vegetable oil
1 squirt of honey
1 drop essential oil (Optional)
Directions:
*place clay in a small microwave safe dish, and add your liquid phase. Microwave for 20 seconds. Stir. If clay has been totally moistened and mixture resembles a thick paste, you are ready to continue, if not add a little more of your liquid phase and stir again. Once mask reached desired consistency, add honey and essential oil. After cleasing and exfoliating skin, apply mask to skin in a circular motion. Leave on for 15 minutes, then remove using a warm wet towel. Finish by moisturizing skin.
The Recipe for dry or oily skin can be multiplied, made for multiple uses, and jarred. It should keep for a month or so without any preservatives. If you would like to keep it longer than a month, add a tablespoon of citric acid, potassium sorbate, or a teaspooon of tea tree oil per 8 onces. These are all natural ingredients that will prevent the growth of bacteria and mold. 
A few great additions to any of these masks would be:
Pure Aloe Vera Gel (substitute 25% - 50% of your liqiud phase with Aloe Gel) - this will help to add moisture to skin as well as plump fine lines and wrinkles
2-3 drops of Vitamin E Oil - this will nourish all skin types, but is especially great for aging skin (FYI: if you're over 25, your skin is considered to be aging skin)
Thanks for reading!
-Bethany
I'm sure you've noticed the latest fad in get-skinny-quick land… the body wrap. They claim to remove inches from your body in as little as 30 minutes, while detoxifying and purifying your whole system. If you're anything but a complete optimist, I'm sure you're thinking it's WAY too good to be true, right?
Actually… wrong
Body Wraps are not a new product. Estheticians and Massage Therapists have been offering body wrap services in spas for years. Body wraps are marketed in any number of ways: to soften and beautify skin, to expel toxins from the body, to firm and tighten skin, and most recently as a magical body shrinker. Honestly, a good body wrap will do any and all of the above.
What is a Body Wrap?
The body wrap itself, is basically exactly what is sounds like. Wraps are made of elastic material that is snuggly wrapped around the torso, legs and/or arms. The wraps are usually left on for 30 – 90 minutes. Wraps are usually pre-soaked in a solution that may contain any or all of the following natural ingredients: herbs, vitamins, minerals, mud, seaweed, and oils. If you receive your wrap in a spa, the technician may apply the solution to your skin with a brush or their hands before wrapping you in un-soaked fabric. This is mainly to maximize the use of their materials, as well as to make the service more enjoyable.
Why Does it Work?
This process is effective for a number of reasons. The main purpose of the wrap is to draw toxins from the body, and remove interstitial fluid (fluid that settles between small spaces in body tissues). Wrapping the body so tightly in fabric that does not allow much air circulation creates a "Thermal Blanket" which will promote sweating. As your body sweats it is expelling toxins, salt and excess fluid. The Wrap Solution acts as a catalyst for this process as toxins are drawn to the herbs, seaweed, and or mud in the solution. Think of this like metal scraps or shavings being drawn to a magnet. The fabric of the wrap then absorbs the toxins and excess body fluid. Depending on the intended purpose of the wrap, there may also be oils, vitamins, and minerals included to nourish the skin in the process.
It's not magic, it's simply science.
The solution is responsible for the removal of toxins and the nourishment of the skin, but the simple act of wrapping and sweating is what promotes the loss of inches. Think of your skin as a peeled orange. When you look at an orange slice, you see many small fluid filled sections separated by tiny vein-like walls(under a microscope, your skin cells look almost identical to this). If you were to take that orange slice and wrap it as tightly as possible in elastic fabric, the liquid would be expelled from those cells, and when unwrapped, it would be much smaller. This is basically what a body wrap does to your skin cells. Over time, those cells will refill with liquid. This means that these wraps are by no means a permanent fix, and they do not cause weight loss. They merely squeeze out the excess for a while, much like ringing out a dishrag. Repeated treatments are required in order to maintain results. However, it's still pretty awesome that you could quickly loose a few inches off your waist before your high school reunion, firm up your arms before wearing that strapless bridesmaid dress, or even tighten your thighs before a trip to the beach!
How do I get one?
There are a few options for body wraps. You can go to a spa for a treatment. These treatments usually last anywhere from 30 minutes to 2 hours, and cost anywhere from $75-$300. Often, a body wrap service will be combined with a body polish or scrub, where the technician will use a salt or sugar scrub to exfoliate the skin prior to the wrap. This allows the skin nourishing ingredients to penetrate the skin more easily. It is also common for a body wrap to include a massage for relaxation purposes, mainly because it's easier to lay in a cocoon for an hour if you're comfortable and relaxed.
Another option, if you would like to try a body wrap at home, is to purchase one from an independent sales rep or order one online. These at-home wraps are less expensive, usually around $40-$75 each. Doing your own wrap has its benefits and its drawbacks. Obviously the cost is a definite benefit. Privacy is another, as you should not wear any (or least not much) clothing in order reap the full benefits. The main drawback in my eyes is that if you're doing your own wrap, you do risk the possibility of doing it incorrectly.
Interested in trying an at-home wrap?
Order online from Vanessa, a "Slim Sexy You" independent sales representative at slimsexyyou.itworks.net or visit her Facebook Fan Page at  www.facebook.com/slimsexyyou.
I think body wraps would make a fun at-home girls night activity. Ask everyone to bring their bathing suits (if they're not comfortable in their underwear or less), and perform the body wraps on each other. You could mix up some sugar scrubs, facial masks, and break out the nail polish. It could be a whole spa themed party… FUN!
Send your beauty questions to [email protected] and I'll answer them in my next blog.
Thanks for reading,
Bethany
Here's a question from one of my readers:
"I am a huge fan of your one-step-facial and use it every day in the shower. It really has improved my skin, but as a busy mom of 2 I barely have the energy at night to brush my teeth so I usually use those waterless facial wipes before bed. The problem is they are expensive and also I think sometimes dry my face out (I am not loyal to any specific brand just what is on sale). Do you have any ideas for a DIY type facial wipe?"
First, let me say "yay" for the one step facial! I'm so glad it's working for you!
Secondly, This is a GREAT question! Those facial wipes are great for quickly and easily removing the day's grime, but they are pretty expensive for something you are essentially just throwing away. Not to mention, that most brands of these wipes are saturated with isopropyl alcohol, which will suck the moisture right out of your skin.
Try this cheap & easy recipe for homemade Facial Wipes that will add moisture, instead of taking it away:
What you'll need:
2 cups water 
1 Tablespoon Johnson's Baby Shampoo
2 Tablespoons Johnson's Baby Oil
1 Roll Paper Towel (splurge on the super soft stuff, just this one time)
a Tupperware container with a good sealing lid (or empty baby wipe container)
What to do:
1. Lay the roll of paper towel down and cut so that you have 2 short rolls (that look like a roll of toilet paper)
2. Remove Roll from center and place towels into tupperware or baby wipe container
3. In a separate container, mix water, soap and oil
4. pour mixture over towels, and close container, allowing towels to absorb the liquid.
5. to use pull the center sheet from the roll.
6. Always be sure to cover tightly, so towels remain moist.
I hope this helps!
Send your beauty questions to [email protected] and I'll answer them in my next blog!
Thanks for reading, and have a great weekend!
-Bethany
UGH, winter! I'm so sick of the cold wet weather, and the dry scaly skin!
Have you noticed how it doesn't seem so hard to keep your skin looking and feeling soft until mid-January, and then all of a sudden your daily post-shower lotioning just isn't cutting it anymore? By February your skin has started to take on a gray tinge, the scales start to form on your legs, and you just ignore the white build up on your heels, and the rough skin on your elbows, because you're covered in sweaters, pants and scarves all winter anyway, right?
WRONG! You're way too fabulous to let yourself go like this. I know Big Phil didn't see his shadow today, and I'm as hopeful as the next girl that spring will come early this year, but you can't wait for it! You deserve to have beautiful soft skin all year round, and it's really not that hard to achieve and costs next to nothing if you know what to use. Try this Chocolate Milk Bath combined with a sugar or salt scrub, and I PROMISE, you'll love the skin you're in!
Chocolate Milk Bath:
1 Cup Heavy Cream (Whole Milk will work too, but not reduced fat like 2%, 1%, or skim. This is about as nourishing as plain water to your skin…)
2 TBS Honey (you just add a few squirts, it doesn't have to be exact)
2 TBS unsweetened Cocoa Powder
- Place cream in a microwave safe cup, add honey, and heat for 30 seconds.
- Add Cocoa Powder, mix well until all ingredients are combined.
- Add to a tub of warm water, and soak as long as desired.
Why this works:
The Heavy Cream contains moisture, fat, and proteins that nourish skin.
Honey is a natural humectant, meaning that is locks moisture into the top layers of skin instead of allowing it to be absorbed from the surface.
Chocolate is also super nourishing for your skin. It contains Powerful antioxidents that improve skin's texture (reduces scaliness, roughness, and smoothes skin's surface). Cocoa has also been proven to protect skin from damaging UV rays.
While in the bath, use an exfoliating sugar (or salt) scrub to remove dead skin cells and force hydrating oils into skin. Rub the scrub over skin until the sugar dissolves, allow the essential oils, and other hydrating ingredients to remain in the bath with you while you soak. Once you feel like you have soaked up enough hydrating chocolate milk bath, drain the tub, and turn the shower on to rinse your skin.
After the bath, while skin is still damp, apply a rich moisturizer, like pure coconut oil, a cocoa butter balm or lotion, or another kind of heavy body cream (I like Bath and Body works body creams).
Thanks for reading!
Send your beauty questions to [email protected] and I'll answer them in my next blog.
-Bethany
With Winter in full swing, I'm seeing more and more girls with flakey cakey make-up face, and it's totally unacceptable….
The dry artificial heat, cold chapping wind, and super hot showers all contribute to the drying of our skin in the winter, but you don't have to just roll over and take it ladies… There are things you can do preserve your skin's moisture, and piling pounds of make-up on top of unhealthy skin is NOT the answer.
Here are some tips to salvage your skin's moisture this winter.
1. Avoid products that contain chemicals, as your skin is already dry and sensitive from the environment. Try using more natural skincare options…
Honey is a great natural bacteria-killing agent that will help lock moisture into your skin instead of sucking it out. It's a little messy, but you can use it as a cleaner.
2. Avoid super hot water. I know it tempting when it's so cold outside, but tepid or lukewarm water is much better for your skin. 
3. Flaky skin that causes make-up to cake, isn't really due to lack of moisture, it's due to lack of exfoliation. Those "dry spots" are really just areas where dead skin cells have begun to build up. Exfoliate your skin daily until those spots are gone. Once your skin is smooth, you can reduce your exfoliation to 2-3 times weekly. However, if you use a gentle enough exfoliator (one without rough or sharp edges) you can continue to exfoliate daily.
4. Don't skip the toner! If you are using a good toner, it will lock moisture into the top layers of skin rather than allowing it to evaporate away. Toner will also help pores to close up, preventing blackheads and other congestion. Lemon Juice or apple cider vinegar both work well as a tone. Dip a cotton ball in one of these and wipe over your face. A green grape cut and half and rubbed over skin's surface is also great.
5. Always Moisturize! Even people with oily skin should moisturize daily. Use a light moisturizer for daytime and a heavier one at night.
Does this sound like too much work?
Try my One - Step –Facial, which cleanses, exfoliates, and moisturizes all in one quick easy 2 minute step. It's made from all natural edible ingredients and costs $12 for an 8 oz jar. After using the One-Step-Facial swipe one of the natural toners listed above over skin and finish with tinted moisturizer for soft natural looking skin with a healthy hydrated glow.
Email [email protected] to order yours.
If you would like to try a free sample of the One-Step-Facial, please email me and mention this blog.
Thanks for reading,
Bethany
Here's a question from one of my readers:
"I just used a mud mask that claims to 'purge' pores and I broke out like crazy. Do you think I'm allergic to it?"
That depends. Is your breakout red, itchy and inflamed? Do you have small rash-like bumps? If so, then you are most likely allergic to the mask. I would not recommend using it again. Try to keep your hands off it and avoid putting any makeup on. The irritation should go away on it's own within 24 hours. If it does not, I suggest seeing a dermatologist.
However, if your breakout is pimples, this is totally normal after using a clay-based mask (mud = clay, BTW). Clay draws impurities to the surface of skin. Trust me when I say, that those pimples were coming anyway. The clay just sped up the process, by pulling them from deep within your pores before they were able to ferment and erupt into a giant unsightly zit that would take a week to clear up! ….the mask says "you're welcome".
These pimples are actually proof that your clay mask is working, so keep using it about once a week. The term "purge" is actually incredibly accurate. Your pores were filled and that mask emptied them, but like any purge there's some debri left over… this is your pimples. After a few uses, there won't be any impurities left to pull out, which is the intention, right?
Clay masks a an awesome deep cleaning tool… see this previous blog entry for a recipe to make your own.
Send your beauty questions to papmerp[email protected] and I'll answer them in my next blog.
Thanks for reading!
-Bethany
I posted this one after Thanksgiving last year, and I just had to share it with you guys again!
If you're like me, you have a refridgerator full of Leftovers that you'll never be able to eat. Here are a few beauty tricks you can do with all those leftovers:
Sweet Potato Facial
Ingredients:
2 ounces cooked mashed sweet potatoes
1 tbs oats (oatmeal)
1 tbs raw sugar
1/2 tsp olive or almond oil (or any oil you have on hand)
pinch of nutmeg
Directions:
Mix all of the ingredients together to form a thick like consistency.Adjust the ingredients if needed, add more oats to make it thicker or add more liquid (water or milk) to thin it out. Apply this mixture to face and neck, leave on for about 5-8 minutes. Use warm wash cloths to gently remove the bulk of the paste, then rinse with warm water, and gently pat skin dry.
Mashed Potato Foot Soak
Take desired amount of leftover mashed potatoes, and add work water to thin them out. Then soak your feet in the mixture for about 20 minutes
Green Bean skin smoothing lotion
Take about a handful of leftover green beans. If they have butter, salt, pepper, or onions on them. rinse them with hot water. If there are almonds in them, leave those.
Mash or blend the green beans, then mix with pain yogurt and massage into to your face, elbows, heels, or any other area that needs moisturized. Let this sit on the skin for 10 minutes, then rinse off.
These and other Thanksgiving Leftover beauty treatments can be found at
http://www.squidoo.com/beauty-treatments-with-thanksgiving-leftovers
Send your beauty questions to pa[email protected] and I will answer them in my next blog.
Hope you ejoyed this little tip, and remember to stop in tomorrow for another dose of the beauty blog!
Thanks,
Bethany
It's Home Remedy Time!
Today I'm going to give you a recipe for an amazing facial mask that will rid your skin of impurities while moisturizing, but first I want to explain the need for a facial mask…
Think of your cleaning your skin like cleaning your house. You can wipe the dust off of your table everyday or sweep the crumbs off of the floor, but if you don't get out the pledge at the end of the week and really clean it, the dirt will build up, and it will look filthy. The same goes for your face… Your daily cleansing regimen removes the make-up and dirt from the day, but every once in a while you have to use a mask to draw all the deep-down stuff out and get a clean slate.
A mask is able to give you a deeper cleanse, because it stays on the skin for 15-20 minutes rather than being rinsed off immediately, and contains ingredients like clay and/or oatmeal which absorb oil and draw impurities out of your pores like a magnet. A really great mask will moisturize while it cleanses...
Some people spend $20, $30, $50, even $100 per jar for a good moisturizing mask that will also draw out impurities, because it is hard to come by one that actually works.
…you are not one of those people!
I have a facial mask recipe that will work just as well at those expensive department store brands, and it will cost you next to nothing because the main ingredient is Kitty Litter!
Don't freak out, Kitty litter contains the same clay product that those expensive masks use, but because no one would ever pay $20, $30, $50, or $100 for something their cat relieves themselves in, it's extremely inexpensive!  This just goes to show you the actual value of those skincare products you purchase...
Go to the grocery store and buy a bag of Kitty Litter that says "100% Natural Clay" on the label, and follow the instructions below:
Kitty Litter Mask Recipe:
2 TBS Kitty Litter

2 TBS Water (tap or distilled) - you may need to add additional water

½ tsp Vegetable or Olive Oil (this will add moisture to thirsty skin, but will not cause it to feel greasy, because it will be rinsed off.) – If your skin is very oily, skip this step.

a few drops scented oil or extract (just to make the experience a little more pleasant for you.)
- Add water to kitty litter and stir until it resembles a thick soup.
- Add oil and scent
- Mix and you're done! (this can be microwaved for 10-15 seconds if you would prefer a warm mask)
- After exfoliating, apply to skin in a circular motion and allow to sit for 15-30 minutes - Rinse using warm or cool water (NOT HOT - hot water will suck the moisture out of your skin)
- Follow with your regular moisturizer.
Send your beauty questions to [email protected]
Thanks for reading, and don't forget to stop by tomorrow for another dose of the beauty blog!
- Bethany
Here's a question from one of my readers:
"I wash my face everyday, but I still have tons of blackheads. I don't have acne but I do get pimples sometimes. I've tried to use products for oily skin, but then I get dry flaky patches. I don't have time mess with a 5 step process every single morning, so I'm looking for something quick and easy. I feel like I can't win! Do you have any suggestions for me?"
I do have a few suggestions for you, and don't worry it's not hopeless. Are your breakouts commonly on your forehead, chin, and around your nose? Are your dry patches on your cheeks? This is because you have combination skin. You are oily in your T-Zone (forehead nose, and chin) and normal on the rest of your face. This is VERY common, but unfortunately most people don't know how to treat it, and most products cannot cater to it.
You are using products designed to absorb oil, and kill bacteria, because clogged pores automatically come along with oily skin, and blemishes and blackheads automatically come along with clogged pores. While these products may be helping your oily areas, they are damaging your normal-skin-type areas in the process.
One suggestion would be to get;
- 2 types of cleansers: 1 for oily skin and one for Normal skin
- a facial scrub – to exfoliate and rid you of some of those blackheads
- 2 types of products for masking once or twice a week: one clay or oatmeal based for your T-zone (to absorb oil) and one moisturizing for your cheeks.
- 2 types of moisturizers: 1light moisturizer for daytime and a heavier cream for night to apply on your dryer areas until you can get your dry patches under control
However, because you said you want something quick and easy, I'm assuming that suggestion isn't going to cut it. Not to mention, you'll end up spending a fortune on products!
Most acne, blemish, or oil-control products are filled with harsh chemicals, which kill bacteria, but can also irritate and harm skin in the process. You need a natural chemical free skin care option. You need a product that will kill bacteria and absorb oil, but is gentle enough for your more delicate areas, and wouldn't it be nice if it moisturized too?
Well, I've got something for you… Try my new Indulgence exfoliating facial cleanser. It is the one-step facial in a jar. It cleanses (killing bacteria) with lemon and honey, absorbs oil with cinnamon, exfoliates with cornmeal (which is stone ground and does not have sharp edges that will scratch delicate facial skin), and moisturizes with honey. You'll notice that Honey is listed as a cleanser and a moisturizer, because it is nature's only antiseptic moisturizer. Honey will kill bacteria without striping skin of it's natural moisture. This is the perfect skin care regimen for the girl on the go, like you. Use this in the morning, add a light moisturizer, if you want, and you're done. No more fussing with 3+ products in the morning. I hope this helps!
Order your Exfoliating Facial Cleaner at [email protected]
Thanks for reading!
-Bethany