The Pampered Posts (Blog)
For me, a true shoe junky, one of the best things about summer is finding cute sandals, but it's so hard to find comfortable ones that don't cost a fortune. Stacey and Clinton would hate me for saying this, but it's more about quantity than quality for me. I buy the cheapest sandals I can find, because I have so many that each pair only gets a few wears. This is all well and good until those adorably cheap sandals start rubbing blisters!
The cheap (and ventilation-free) fabrics, plastic, rubber, and foam that are used to make the inexpensive flip flops and strappy summer sandals that we love cause your feet to sweat, and then your clammy skin rubbed against those rough fabrics causes blisters, cuts and brush burns. I know as well as the next girl that one bad blistering experience can make you want to retire even the cutest shoe. There's no quicker way to ruin your night than be trapped in a crowded bar, with nowhere to sit down, in a pair of shoes that are KILLING you, but have no fear ladies! There's no reason to throw away those flops just because they rub between your toes. I'm going to give you a little tip to solve all of your blister issues.
Before putting your shoes on, apply antiperspirant to any area that will come in contact with a surface that may irritate your skin. This may be between your toes, on the back of your heel, along the top of your foot, etc… anywhere that your shoes may rub. This will create a barrier between your skin and your shoe, as well as prevent the unbreathable fabrics from causing your skin to become clammy.
Antiperspirant can also help prevent "the slide" in your strappy heels. You know what I'm talking about…. You strap those sexy heels on for a night out and they look and feel great but an hour or so later, when the sole of your foot starts to sweat against the lacquered inside of the shoe, your foot begins to slide, and what was once sexy footwear, is now a torture device for your tootsies. Everything that made it look good before has now shifted, causing your feet to look like sausages and the straps, butcher's string. Your toes are red and overlapping the front of the shoe, and the straps are digging in everywhere…
Rubbing a little bit of antiperspirant on the bottom of your foot before putting your shoes on can prevent this disaster all together. When dealing with a potential "slide", try to carry a travel size with you in case it wears off.
When I say to apply antiperspirant, I do not mean deodorant. There is a difference. Antiperspirant will actually prevent moisture from forming, while deodorant will just prevent odor from moisture, so make sure you are using antiperspirant, and make sure it is a solid that can be rubbed onto skin. You do not want a gel, spray, or roll-on, as they will not work.
I hope this helps to keep your feet happy, healthy, and beautiful this summer!
Send your beauty questions to pamperp[email protected] and I'll answer them in my next blog.
Don't forget to stop by tomorrow for another dose of the beauty blog!
Thanks,
Bethany
In Honor of my favorite weekend of the year, the weekend when the pools open, I'm going to give you a little after sun home remedy to soothe that first-day-in-the-sun overexposed skin.
If the weather cooperates, which seems to be likely, I plan on hitting the pool at least one of the 3 days this long weekend, and I know I'll be feeling a little crispy after that first all-day raft float at Mineral Beach!
Mix-up this Fruit Smoothie and pop it in the fridge while you soak up the sun. Apply it after you sunbathe to soothe tender sun-kissed skin!
Add the following items to a food processor:
- 2 slices pineapple (rind removed)
- ½ medium honeydew Melon (rind removed)
- 1 dozen grapes - 1 medium banana (peeled)
- 1 medium kiwi (peeled)
- Puree ingredients until well blended (mixture may be slightly lumpy).
- Remove all but about 8 - 12 oz from food processor, and put in a large bowl.
- Squeeze a generous about of honey into the bowl and mix well
- Refrigerate for at least 1 hour before applying to skin.
- Add a few spoon-fuls of yogurt to the mixture left in the food processor and puree for an additional 30 seconds.
- Pour this smoothie into a large glass (add a twisty straw if you have one) and enjoy this fruity drink poolside!
*Add some coconut rum or citrus flavored vodka to your drink for a fruity summer-time cocktail*
- Once you have come in from the sun, remove the fruit mixture from the refrigerator and apply to skin. (it's best to do this in the bathtub, or outdoors as it may make a mess.)
- This mixture can be applied all over your body, including your face.
- Allow it to sit for 30 minutes and rinse with tempid water.
- Apply LOTS of moisturizer after rinsing to hydrate your sun and chlorine dried skin.
The fruit juices combined with the honey will both cleanse and moisturize at the same time, and the cold creamy texture will feel great on over-heated skin.
Now, get out there and enjoy that summer sun!!!
Send your beauty questions to pamperparties[email protected] and I'll answer them in my next beauty blog.
Have a great weekend, and don't forget to stop back next week for another dose of the beauty blog!
Thanks for reading,
Bethany
I'm sure many of you wish your hair had more oomph..more life...more volume. Everyone wants big sexy hair, at least some of the time. Today, I'm going to show you how to get it!
There are a few Home Remedies to pump up the volume on your fine hair.
1. Castor Oil and Egg Yolk will naturally thicken the individual hairs. These vitamin-rich ingredients will thicken and regenerate your otherwise limp locks.
- Mix 1 cup Castor Oil with 2 egg yolks until well blended
- Apply this mixture to dry hair.
- Wrap hair with foil and cover with a towel. The heat will help it penetrate.
- Leave this mixture on as long as you can.
- Wash as usual.
2. Another simple easy trick that you can use with the castor oil mask above or by itself is Oat flour. This restores lipids to your hair, which not only thickens the strands, but strengthens them as well.
- Add 2 TBS (or more) Oat Flour to your regular conditioner
- Mix well
- Use regularly after shampooing
3. Use a volumizing mousse on wet hair before blow drying. Make sure to choose a product specifically designed for thin hair (to add volume) so it doesn't weigh hair down. Be careful not to use too much product, because thin hair also tends to look greasy faster, and products will only emphasize this.
4. Blow dry hair in the opposite direction of growth to train the follicles to stand up, and away from the scalp, creating the illusion of more hair. Blow dry hair upside-down for best results.
Send your beauty questions to pa[email protected] and I'll answer then in my next blog.
Don't forget to stop by next week for another dose of the beauty blog.
Thanks,
Bethany
In honor of yesterday's "Bring Dull Damaged Hair Back to Life" blog's popularity, I've decided to give you another great little hair home remedy.
With summer quickly approaching, I'm sure we're all dreading that inevitable sunshine hair fade! Sun, salt (for those of you lucky enough to be close to a beach), and chlorine (for those of us who aren't) can really do a number on your colored hair! Remember when you were a kid and the sun would naturally lighten your hair? You looked so cute with your tan skin and your highlighted hair, but somehow, the 2 tones the sun creates now aren't quite as flattering. That's probably because the faded-out-ends-with-dark-roots look went out with Marilyn Manson.
Here's a great home remedy to revive your colored hair.
Blondes:
A homemade Chamomile Tea will keep your color in check, and prevent that harsh, brassy, sun-lightened look
To Make the Tea:
- Boil a handful of chamomile flowers in a pot of water for 10 minutes
- Remove from heat and allow the flowers to steep in the water until it is cool
- Remove the flowers, and rinse freshly washed/conditioned hair with the tea.
- You will need about a cup for each shower, but you can save it for up to a week.
Brunettes (and redheads):
A rosemary/sage tea will keep your warm color rich, and avoid that rusty orange fade-out that comes with sun exposure.
To make the tea:
- Boil a handful of rosemary leaves and a handful of sage leaves in a pot of water for 10 minutes
- Remove from heat and allow the leaves to steep in the water until it is cool.
- Remove leaves and rinse freshly washed/conditioned hair with the tea.
- You will need about a cup for each shower, but you can save it for up to a week.
These treatments are much easier on your hair than chemical-filled store bought products, not to mention cheaper! Fresh chamomile flowers, sage leaves, and rosemary leaves can be purchased at any health food (whole foods) or specialty food (McGinnis Sisters) store. You can also find dried versions of these herbs in the spice section of any grocery store. (when using dried herbs, a shake or two from the bottle is equal to a handful, because the leaves shrink as they dry)
Another helpful hint for those of you who like to stretch your time between colorings… Clairol's Root Touch Up works wonders! My mom has been using it for years, and it covers her stubborn grays, blends beautifully with her color, and buys her 3-4 extra weeks between salon trips! She swears by it, and even though my hair stylist friends are going to be mad at me for saying this, I highly recommend it!
While I do hope this helps you look great this summer, I'm more hopeful that it reduces the number of hair-color tragedies I have to encounter this year!
Send your beauty questions to pamperpa[email protected] and I'll answer them in my next blog!
Don't forget to stop by next week for another dose of the Beauty Blog!
Thanks,
Bethany

Mother's Day is just around the corner, and though I think everyone should give their mom a pamper party, I know some of you are on a tight budget!
Today I'm going to give you a few homemade gift ideas for Mother's Day that will cost less than $10.00
These are also fun and simple enough for young children to make with a little bit of help…ahem…Dads…pay attention!
The decorative Jars I mention in the spa product recipes can be found at any craft store for under $2.00. Pat Catan's has a great selection and low prices!
1. Rainbow Bath Salts:
Ingredients:
Epsom Salts
Unsweetened Koolaid packets (at least 3 or 4 different flavors)
Water
Instructions:
Add a few drops of water to 1 packet of Koolaid Powder, just until moistened.
Add moistened Koolaid to ½-1 cup Epsom salts (depending on number of colors and size of jar) in a ziplock bag and shake until salts are covered.
Repeat with each color of Koolaid
Layer colored salts in a decorative jar and add ribbon, wooden spoon or scoop, and a handmade card explaining how to use the salts
How to Use:
Add 2 or 3 scoops to a warm bath and allow to dissolve.
2. Bath Ball Cookies:
Ingredients: (makes about 12 cookies)
2 cups Sea Salt ½ baking soda
½ cup cornstarch
2 tablespoons vegetable oil
1 teaspoon vitamin E oil
2 eggs
1 teaspoon vanilla extract (can be substituted for 5-6 drops of essential oil of your choice)
Food coloring (optional)
Instructions:
Preheat oven to 350F
Mix all ingredients together in a large bowl
Roll dough into 1 inch balls and place on ungreased cookie sheet
Cookies can be decorated with cloves, seeds, dried citrus peel, jimmies or anything else you have around.
Bake Cookies for 10 minutes (do not over bake!)
Allow cookies to cool completely
Wrap in fabric scraps, decorative cellophane or box. Add a handmade card explaining how to use the cookies.
* have children paint and decorate a plain box using ribbon, false flowers, stickers, pom poms, glitter sequins, or any other art supplies you may have.
How to use:
Add 1 or 2 cookies to a warm bath and allow to dissolve.
3. Hand and Foot Scrub
Ingredients:
1 cup brown Sugar
1 cup finely ground oats
2 Tablespoons Honey (2 squirts works, as honey is way to sticky to measure)
¾ cup vegetable oil
1 teaspoon vanilla extract (optional, for scent)
Instructions:
Mix sugar and oats together
Add oil slowly, just until dry ingredients are saturated.
Add Honey and Vanilla Extract
Mix well
Pour scrub into a decorative jar. Add ribbon and a handmade card with instructions for use
How to use:
Apply scrub to skin and rub vigorously for 10 – 20 seconds
Rinse with warm water
get creative with scrubs. Use white sugar, brown sugar, or kosher salts combined with one or more of the following: ground nuts, ground walnut shells, oats, Coffee grounds, corncob, or any other abrasive material. Add oil, a few quirts of honey, and extracts or essential oils for scent.

White Sugar, Coffee Grounds, and vanilla extract makes a great cappuccino or vanilla latte scrub for coffee lovers! Put this in a Thermos for 2 gifts in 1!
4. Picture Frame
Purchase an inexpensive 8X10 (or larger) plain picture frame at a dollar store or Walmart
Paint the frame to match the room in your mother's house it will go. (Black and white is always a safe choice if you're unsure)
Make a collage of family photos using older and new pictures (some from your childhood and some from today)
Add quotes about mothers or Memories It's also a nice touch to write (or have a friend with good handwriting write) a quote or bible verse around the frame itself.
5. Photo Album/Scrap Book
Purchase a photo album at a dollar store or use one you have laying around.
Fill it with pictures starting when you were a baby, through important moments in your life until now, and write "thank you" messages to go with each picture.
For example: a picture of you in a dance costume as a child with a message that says "thank you for always allowing me to shine"
Depending on your creativity level, and available supplies, you can add stickers, paper frames, ribbons, or other decorative items
Send your beauty questions to pamperpa[email protected] and I'll answer them in my next blog.
Don't forget to stop by tomorrow for another dose of the beauty blog!
Thanks,
Bethany
As my third and final Pittsburgh Marathon Blog, I'd like to focus on post-marathon sore muscles. There are a number of herbal home remedies for sore muscles that I would like to share with you.
First, I want to tell you the basics!
- Although it may feel good at the time, try to avoid heat for at least the first 24 hours. The heat will increase blood flow to the inflamed areas, actually making your inflammation worse, and causing you more pain in the long run.
- Moving is good, but don't over exert your already overwhelmed muscles, as this could lead to muscle tears or ligament damage. You want to gently move muscles to keep them stretched. Leisurely walking or swimming are great for this.
The following will heal your sore muscles from the inside out:
1. Sip some Chamomile Tea to ease tense muscles. The Chamomile is a natural pain reliever, as it reduces inflammation.
2. Turmeric may help with inflammation. Add turmeric powder to boiling milk, sweeten with sugar or honey, and drink it as hot as possible. This will provide instant relief to muscle spasms and heal inflamed muscles from the inside.
The following are great topical treatments for muscle pain.
1. Apple Cider Vinegar draws the lactic acid (which causes the pain) out of your muscles. Saturate a towel or large cloth with apple cider vinegar and wrap it around the muscle. Leave this on for 20 minutes. Repeat every 3 – 4 hours until pain is gone.
2. Rosemary has four anti-inflammatory properties and is easily absorbed through the skin, making it an ideal treatment. Place 1oz fresh Rosemary leaves into a 1 pint container and fill with boiling water. Cover and let stand for 30 minutes. Once rosemary wash has steeped, saturate a washcloth and apply to aching muscles 2 – 3 times per day.
3. Menthol can be used in 2 ways to get relief from muscle and joint pain. Menthol actually release the pressure on your muscles.
- add a few drops menthol oil to a bath and soak for 15 minutes.
- Add menthol to a diffuser or humidifier and  let it run as much as possible.
4. Grate fresh Ginger and add to olive oil. Massage this mixture onto aching joints and muscles. You will feel it generating heat, this means it's working! Follow with a warm (not hot) bath.
Now that you know how to prepare your body, how to carb-load correctly (see yesterday's blog), and how to treat your aching muscles when it's all over, you're ready for the big race!
Good Luck!
Send your beauty questions to [email protected] and I'll answer them in my next blog.
Don't forget to check in next week for another dose of the Beauty Blog.
Thanks, 
Bethany
Here's a question from one of my readers:
"I have very thin hair. I wash it every morning, but by mid-afternoon it looks greasy. Anytime I go out in the evening I have to go home and wash my hair again so I don't look like a grease-ball. I've tried those anti-oil shampoos, but I swear they make it worse. Do you know of anything I can do?"
It's very likely that those oil removing shampoos DO make your oil problem worse. This is because your problem isn't an over production of oil, it's just that you don't have enough hair to soak up the oil your scalp does produce. Those anti-oil shampoos strip your scalp of all oil, which actually tells your sebaceous glands to work overtime! If your skin is not visibly shiny by 11:00 or 12:00, you're not an oily person, and those products are not for you.
Here's something you can do whether you have thin hair, oily hair, or you just slept in and didn't have time to wash it this morning...
- Get a small container or even a ziplock bag, and mix some baking soda and talcum powder together. Carry this mixture in your purse along with a small brush. When your hair starts to look greasy, sprinkle some of the mixture on the brush and comb it through your hair. This will absorb the excess oil, leaving your hair looking fresh and clean.
Here are a few additional suggestions for thin and/or very oily hair:
1. Use a volumizing shampoo, as it will cause the hair to stand farther away from the scalp, reducing the oil absorption.
2. Dry your hair upside down, to force the cuticles of the hair to stand up, holding hair away from the scalp
Now you're ready to go straight from the office to happy hour!
Send your beauty questions to pamperpa[email protected] and I'll answer them in my next blog!
Don't forget to stop by tomorrow for another dose of the beauty blog.
Thanks,
Bethany
Have you ever used those "Biore Strips"?
Those little guys are pretty amazing right? Don't you love pulling them off and seeing all the dirt and grime on the strip, and knowing that it's no longer clogging your pores and building blemishes?
You may think your pores are squeaky clean because you have oil-dry skin or you follow a strict skin regimine, but trust me, you still have some grime in there. Even the cleanest face gets dirt and oil trapped in it's pores and manual extraction is the only way to remove it.
What if I told you there was a simpler, cheaper, less painful way to extract those microscopic blackheads?
Use this super-easy Kitchen Cabinet recipe to yank the grime right out of your pores: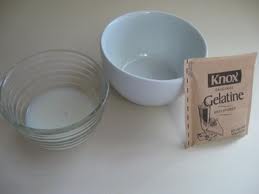 What you will need:
1 Tablespoon "Knox" unflavored Gelatin
1.5 Tablespoons Milk
What you do:
- Mix ingredients together and Microwave for 10 seconds.
- After cleansing skin, use a clean make-up brush to apply the mixture to your nose and chin (most common areas for pores to be clogged)
- Rinse brush immediately, as the mixture will harden as it dries
- Allow to sit on face for 10 – 15 minutes or until mixture has dried
- The dried mixture will create a "stiff film"
- Peel film from face. It will bring the contents of your clogged pores with it.
You'll notice that this film has the same "porcupine-like" look as the Biore Strips do after use. It's extremely effective!
Follow with toner and moisturizer.
Send your beauty questions to pamperpa[email protected] and I'll answer them in my next blog.
Thanks for reading and don't forget to stop by tomorrow for another dose of the Beauty Blog!
Thank you,
Bethany
I found a recipe for a an all-natural home-made wax, and I just had to share it with you guys!
There are several reasons for waxing at home...
- you don't trust anyone else to do it
- you're trying to save some money
- you noticed your mustache in the car mirror this morning and absolutely refuse to leave the house again until it's gone
No matter the reason, I've found an even cheaper and convenient home-waxing option.
Make your own!
This is technically a sugaring product, but it's used with a waxing technique. True sugaring is done by rubbing a ball of a similar product (made with honey instead of water so it remains tacky) along hair to remove it...I find it considerably more painful than the technique described below.
What you will need:
1/4 cup water
2 cups sugar
1/4 cup lemon juice
orangewood or popsicle sticks for application
1 inch - 1.5 inch strips of cotton fabric
- Mix ingredients together either in a pan or a microwave safe bowl.
Heat until the solution bubbles up and has a smooth consistency.
- remove form heat
- allow to cool until it is a comfortable temperature for your skin (needs to be pretty warm, in order to smooth over skin).
- apply a small amount of flour or cornstarch over skin to be waxed to absorb oil
- using popsicle or orangewood stick, smooth sugar mixture over hair to be removed in direction of hair growth.
- immediately after applying sugar mixture, apply a cloth strip and rub with finger to secure. 
- You will have to wait until the sugar mixture cools completely and hardens before removing the strip, so if you have other areas with hair to be removed, apply mixture to those in the mean time.
- Once the mixture has cooled completely and hardened, pull skin taught, and remove quickly in the opposite direction of the hair's growth, just as if you were using wax. 
*another perk to using this mixture is that you can "re-wax" the area as many times as needed. If there are hairs left after removing the strip, you can reapply mixture and remove as directed above.*
Store leftover mixture in an airtight container. When re-using, melt by placing container in hot water, do not re-microwave.
Send your beauty questions to [email protected] and I'll answer them in my next blog.
Thanks for reading and don't forget to stop by tomorrow for another dose of the beauty blog!
Thanks, 
Bethany
Here's a question from one of my readers:
"Usually I have pretty clear skin, so I don't have any acne treatment products at home, but every once in a while I get a giant zit. Do you have any suggestions for what I can use to get rid of a single pimple without spending a fortune on acne cream that I don't really need?"
I totally feel your pain! I have oil-dry skin, and rarely get a blemish…usually one around the same time every month…You know it's coming. You can feel it building under your skin , then it erupts one morning, and you have a BIG WHOPPING ZIT staring at you in the mirror like a headlight!
What's a girl to do?
I'll tell you what you do…. Go to your medicine cabinet and try one of these home remedies!
1. Toothpaste
- dab a VERY small amount of toothpaste directly on the blemish after washing your face before bed. Leave it on overnight. The toothpaste will draw the oil out and leave you pimple free.
- Make sure to ONLY put the toothpaste on the pimple as it may dry and/or irritate your non-blemished skin.
- Do not use Gel toothpaste, as it does not contain the same oil absorbing ingredients.
- Do not put whitening toothpaste on your skin, as it may bleach the skin if left on for a long period of time.
If the toothpaste irritates your skin, doesn't work for you, or if you only have gel and/or whitening toothpaste, try this remedy:
2. Aspirin
- Crush one tablet aspirin, mix with a few drops water to make a paste, and apply to your pimple after cleansing skin. You can also do this one before bed and leave on over night.
- This will only work with aspirin. Ibuprofen will not do the trick.
- Aspirin works because it contains sacylic acid, which is contained in almost all acne treatments on the market.
If you wake up in the morning with a flat red spot where your pimple used to be, try applying some Visine to the red area with a cotton swab. It should take the redness away.
Both of the above treatments are meant to be used as a spot treatment. If you have persistent acne, you should see a dermatologist and have them put you on a skin care regimen, but in the mean time...try this:
3. Garlic:
- Garlic has many antiseptic qualities, and is known as one of nature's strongest antibiotics.
- Garlic is most effective when used raw. Cut open a clove of garlic and rub on acne. This may burn.
- If skin is too irritated and rubbing garlic directly on acne is too painful: Crush one clove garlic and mix with ½ cup hot water. Use a clean wash cloth to apply mixture to acne.
- You should notice a difference within a few days.
- Be sure to do this at night, and wash skin in the morning, as the garlic is a bit stinky!
Send your beauty questions to pamperpa[email protected] and I'll answer them in my next blog.
Don't forget to stop by tomorrow for another dose of the beauty blog!
Thanks,
Bethany