The Pampered Posts (Blog)
OK Ladies. it's been a while since I've posted... like a LONG while, but I've been crazy busy. Since we last spoke, a few things have happened, the main one being that I got MARRIED on October 19th! You can call me Mrs. Shea...
Anyway, the wedding took over my life, but now it's over, and I am back in control just in time to give you some GREAT DIY gift ideas... I know, you love me!
Obviously, I love love love giving (and recieving, ahem) bath and body products as gifts. I think they're great indulgences (plug intended) that our friends and family deserve, but will not buy for themselves. I also understand the idea of "Christmas on a Budget", as I just came off a saving spree in the 2 years leading up to my wedding. I am the number one advocate for DIY gifts. I am a firm beliver that something you made is so much more meaningful that something you plucked off of a shelf, and anyone who prefers store bought, isn't my type of "friend". That being said, here are some DIY bath & body products that you can make at home with VERY little time and effort. 
1. Bath Salts – A great gift for the bath lover OR for the one who deserves some relaxation. This is easy peasy and practically free. All you need is espom salts and packets of unsweetened koolaid to make sweet smelling & colorful bath salts. I love the idea of pairing bath salts with babysitting coupons for a busy mom so that she can get some "me" time.
To get:
 -Epsom salts (usually come in bags or cartons for 2-3 each. Can be purchased at the pharmacy, grocery store, or Dollar store)
 -Koolaid packets in scents of your choice (I do not recommend grape, it turns black! (about 25 cents each and can be purchased at the grocery store or dollar store)
 To do:
 -Place one packet of koolaid powder at the bottom of a large mixing bowl. Add about a teaspoon of water and dissolve the power in the water. If the powder is still clumpy, add a little more water until all powder is dissolved, but you want the least amount of water possible.
 -Add 2-3 cups Epsom salts to the dissolved powder and mix thoroughly. If you want a more faint sceny/color, you can add more epsom salts.
 -Once the salts are coated in the color/scent, I suggest laying them in a pan to dry out a little before jarring, To dry them, spread them evenly in a large pan and mix occasionally until they do not feel damp anymore. If they have clumped together, break them apart before putting in your containers.
2. Sugar Scrub – Sugar scrubs are great for dry winter skin. They will slough off dead dry skin and moisturize the fresh skin that is uncovered. Sugar scrub are great for that person with dry cracked hands. They are also awesome for shaving, and they're almost as inexpensive and easy at Bath Salts
To get:
 -Sugar (either granulated or brown sugar, kosher salts will work as well for a more course scrub)
 -Vegetable oil
 -Scented extracts/essential oils Choice of addivities (this is option but cocoa powder, coffe grounds, cinnamon, ground oatmeal, and honey all make great additives)
 To do
 -Start with your sugar in a large mixing bowl. You should start with enough sugar to fill your container. If you have a 4 oz jar, half a cup of sugar. If you have an 8oz jar, 1 cup, etc..
 -There is no recipe, you just have to add ingredients until the scrub is the consistency you want. Start with vegetable oil. Add a little, mix it up, add a little more, mix it up. Keep going until you have the consistency of a snow cone or a slushy. If you get too much oil, just add some sugar a little a time.
 -Add your additives. If you're adding powdered additives, you may have to follow up with more oil. If you're adding fragrance: you will only need a few drops of essential oils. Extracts will require more. Add your fragrance until you are satisfyied with the scent.
 -Once you're happy with your scrub, spoon it into jars. Some people prefer a more oily mixture, some prefer a fluffier mixture. it's totally a matter of opinon.
3. Solid Lotion bar – The solid lotion bar is great areas that get extra dry. Elbows and heels come to mind first. Those and dry chapped hands. A solid lotion bar is great for combating that extra dry skin. Just rub it on at night before bed and let it work it's magic overnight.
To get:
-Coconut oil, cocoa butter, and/or Shea butter.
-Cornstarch Empty lipbalm tubes/deodorant containers or a muffin tin.
 -Additives (scented oils, herbs, etc) - optional
To do:
 -Melt your oils. (Coconut oil is probably the easiest of these to come by. You can get it in specialty food stores and health stores like GNC. I prefer to mix my oils/butters, but if you can only get your hands on one kind, it will work fine.) Measure out the right amount of oil/butter (or just scoop some out/cut some off and hope for the best, that's what I do). You can use a microwave or a double boiler to melt your oils. If using a microwave, go in 30 second increments, stirring between, until all the oil is melted.
 -Once your oils are melted, add cornstarch and stir until it is all dissolved. I try to add one tsp cornstarch for every 8 oz of oil. This will help to cut some of the greasiness of your lotion bar.
 -Once you've got your cornstarch mixed in, you can put in your additives if you're using them. The additives are totally optional, but scented oils or herbs may make your lotion bar a little more special. Ground ginger and turmeric are great for arthritis pain relief, lavender is relaxing. Peppermint is stimulating and feels great on the feet.
 -Once your additives are mixed in, you can go ahead and pour your lotion. If you are using lip balm tubes or deodorant containers, you may want to use a funnel to prevent mess. If you are using a muffin tin, just pour the mixture in.
 -Once they're poured, you just have to wait for them to harden again, and you will have solid lotion bars. You can let them sit over night at room temperature or you can pop them in the freezer to expedite the process.
 *The muffin tin bars look great wrapped in fabric with a raffia bow.
If you're wondering about packaging for your products, here are some suggestions:
-Mason/Canning jars (can be founf at big-lots, specialty grocery stores, and most craft stores)
-Old cosmetic containers/craft containers/food containers. You'd be surprised what you can do with an old applesauce jar!
-For a more professional look, order cosmetic jars online at Uline or SKS Bottle and Packaging. They're less than a dollar per jar and you can get them quantities as low as 24. Uline delivers the next day!
Happy Bath & Body Product making!
Love,
 Bethany
Summer is rapidly approaching. It's been 80 degrees for most of the week here in Pittsburgh, and I haven't broken out the flip flops yet. If you're a frequent reader, or a friend of mine, you know how I LOVE my flops! It's killing me to leave them at home, but my feet are in no way flip-flop ready. I hate to admit it, but I have been neglecting my feet. With a schedule as busy as mine has been, (working full time, 2-3 pamper parties per weekend, planning my wedding, and caring for my mom, who is undergoing cancer treatment) something's gotta give. Pedicures have have been left off of my to-do list for several months now, but it's definitely time get into my summer sandals. I did a little research, looking for a quick fix for my winter build up, as it's become quite unmanagemable, and I wouldn't dare subject a nail tech to my nasty feet. Even if I were willing to pay for a professional pedi, I'd have to do some work at home first to remove some of the rough dry skin on my heels. I'd be horrified to let these puppies out in a salon! Lucky for me (and you), I discovered a few ingredients that will work together quite nicely to give us a kitchen-cabinet dead skin removal recipe.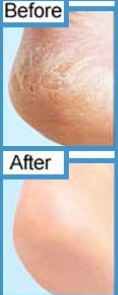 Here's the recipe:
1/4 Cup Listerine
1/4 Cup Vinegar (white or apple cidar, whatever you have lying around)
1/2 cup warm water
I like this recipe because the listerine gives a nice refreshing minty feeling to the soak, and a great cooling effect, which is so nice in the summer. It's also got a disinfecting property, that I love for my pamper party pedi's. You just never know what's going on in someone's shoes... the more protection I have, the better, lol.
*1 Cup may not seem like enough to soak your feet, but you really only want to cover the portions of your feet that are callused, as this will be a little harsh on your healthy skin. If you need more, just keep the ratios: 1 part listerine, 1 part vingear, 2 parts water, and you'll be good. 
Soak your feet for at least 30 minutes (or longer if you can). 
This will not only soften the dead skin, but penetrate the dead skin cells, and loosen the glue that holds them together, causing the build up.
After soaking, use a dry towel to rub the dead skin off. You can use a foot fille, if you want, but I like the towel. The dead skin should crumble and flake right off with a little elbow grease. Depending on how thick your build up is, you may need to soak again, and re-rub. *A little tip, keep the one foot in the water while removing the skin from the other, because if the skin dries, it will be harder to remove. While this is not exactly effortless, it's still MUCH faster and easier than soaking, fliling, soaking, fliling, soaking filing, and so on. It's also much safer than using a razor to cut away the build-up which is usualy what I end up doing, because I don't have the patience to take it off with a file. I should also mention that I usually end up bleeding when I do this, as I ALWAYS get over zealous with the foot razor! (this is why they're illeagal in salons)
This is optional, but recommended:
After you've removed your dead skin, dump your mixture, fill you tub with fresh water (with or without bath salts/soap), and give yourself a full pedicure. The mixture can be drying to skin, so I suggest finishing with sugar scrub and a nice thick cream with rich butters in it (Whipped body Frosting, perhaps). Just be sure to thouroughly clean your nails before polishing when using lotion!
Thanks for reading!
-Beth <3
OK ladies (and gents)… Spring is coming! I know it seems like it will never get here, but it's coming, I promise… With the warm weather comes sandal season. I am definitely Sandal Season's BIGGEST FAN! I cannot tell you how liberating it is to let my tootsies out in the springtime sun. The first day of flip-flop season is always one of the most exciting days of the year for me! It always reminds me of that feeling I would get on the first warm day as a kid, when I begged my mom to let me dig out my shorts. Or that feeling of the first sunny day after being buried by snow for 4 months at Slippery Rock, snow capital of the world, when we would skip class to lay in the sun and play afternoon beer pong on the back porch of the sorority house. Oh, the yester-years, how I miss those carefree days…
Now, when the sun peeks out for the first spring day the most exciting thing I get to do is put on a pair of peep-toes and head to work, but somehow that little smidge of visible painted toenail under my desk still makes me feel that happy sunshine high that I had as a kid. However, if you're anything like me, there is quite a bit of work to be done before your feet, particularly your heels, are ready to be on flip-flop display…. I know I always seriously neglect my feet over the winter, and when mid March arrives and the sun starts to shine, I (or the poor nail tech who gets my pedi appointment) have layers of dead skin to slough off. I feel like I have extra layers of rough dry skin on my feet, like more than the average person... like a freakish amount, really. Like way too much to file off, because it would take me 3 days, which is why I'm always looking into "easy" ways to remove the dry skin. I've done the lotion with socks thing, which does soften the skin, but doesn't actually remove the dead stuff, so it's a definitely a "band-aid" type fix, rather that a cure. I've tried the pedi-egg, which leaves my feet looking and feeling like I got a pedi from Edward Scissor hands. Sorry, cheese grated feet isn't exactly the look I'm going for. I've tried the foot razors, which honestly are the fastest, least labor intensive method, but I ALWAYS end up taking too much and having sore feet, or even worse, open wounds…
In my online searching for a better method, I've come across a few products that claim to peel the dry skin away with no scrubbing, filing or soaking, which sounds a little too good to be true, but could be the answer to my pedicure prayers! I have been doing a little research on products, and the two that seem the most legit, based on customer reviews and ingredients lists are "Baby Feet" and "SoftSole". Both products come with gel-filled disposable slippers that you wear for a period of time (60-120 minutes), then wash and moisturize feet. You repeat this process daily, and after 3-5 days, the dead skin starts to peel off. The skin supposedly sheds for about a week, and then you're left with smooth soft skin….  We'll see about that!
According to customer reviews and some youtube videos, it really works. Intrigued by the possibility of being able to wrap my feet and treat my callused skin while I watch TV, read, or craft, I decided to check out the ingredient lists to see what magic chemicals are necessary to molt your feet like a snake. Much to my satisfaction, it seems that this product isn't all that chemically based. The main ingredients are Salicylic acid, Glycolic Acid, Castor Oil, and Vitamin E. Of course, my wheels immediately began to turn. If these easy-to-attain ingredients are all that's used, why can't I make my own version? Hmm… Don't mind if I do!
Here is a basic easy peasy recipe you can try at home. I am also working on formulating a recipe with more skin healing and restoring ingredients for the indulgence line.
Acid Foot Peel Recipe:
What you need:
1 cup Epsom salts (optional)
1 large bowl filled with hot water towel
1 smaller bowl (preferable an airtight container, such as Tupperware)
1 bottle uncoated aspirin (from the dollar store)
1 lemon
plastic wrap
socks
A rich moisturizer (try Indulgence whipped body frosting)
What to do:
- Gather supplies and while you're mixing your paste, soak your feet in the hottest water you can stand. If you have them, add about a cup of Epsom salts to your footbath. You should soak feet for at least a half hour to soften the hardened skin and allow your foot peel to penetrate the layers of dead skin.
- Empty your aspirin into your small bowl. - Slice your lemon into at least 4 wedges and squeeze juice onto aspirin one wedge at a time. You want the final product to be a paste thick enough to spread onto the effected areas yet wet enough to stick to your skin. Squeeze one wedge onto aspirin and wait for the aspirin to dissolve. The lemon juice will dissolve the aspirin pretty quickly. If the paste is too thick, squeeze another wedge onto aspirin mixture.
- Once your mixture is a good consistency, cut 2 pieces of plastic wrap large enough to completely cover your foot.
- Once you have finished soaking your feet, and skin is softened, use the towel to dry your skin. While drying your skin, rub the towel against the rough parts of your skin, this will cause any loose skin to crumble off.
- Once feet are dry, apply your paste to feet. On the first few applications, I apply the paste all over feet concentrating on heels, balls of feet, and skin around the toenails, as this is where I have the most dry skin. You should concentrate on the driest areas of your feet, whatever they may be. Once the paste has been applied thoroughly, wrap feet in plastic wrap, and then apply your socks.
- Save what paste remains in an airtight container for additional applications.
- I do this treatment in the early evening, when I get home from work, and leave it on until I go to bed (5-6 hours). I then remove the wraps, and wash feet with soap and water.
- I then apply my Whipped Body frosting to feet, and put my socks back on. I leave the moisturizer on overnight, as the lemon juice can be very drying.
This treatment is not a quick fix. You will need to apply this treatment everyday for 2 weeks. After a few treatments, you can skip the soaking first, as the skin should be softened from the treatment and the moisturizer. Using an acid based product like this has to be a step-by-step process, as anything strong enough to remove that much dead skin in one application would surely burn right through your healthy skin too… Which brings me to the reason we're using aspirin. Aspirin is basically just salicylic acid. Salicylic acid is used in many skin care products because it breaks the bonds that hold dead skin to the live skin and kills bacteria without harming your healthy live skin. Glycolic acid is much stronger and will burn your live skin if used incorrectly. Remember that Sex and the City episode when Samantha had a chemical peel and the children where screaming as she walked by them on the street… yep, Glycolic acid! Anyway, about halfway through the process (day 5-7) you will notice that your feet are beginning to peel and shed layers of skin. (That's why it's called a foot peel, duh!) It will look pretty horrific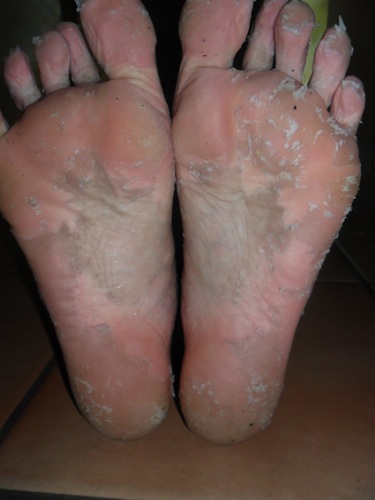 *These are not my feet, I found this picture on google*
... like something out of "The walking dead", but trust me, it will be so worth a few days of zombie feet to get baby soft tootsies. You can pull the peeling skin off as long as it doesn't hurt to do so. If you have any pain when pulling the dead skin, this means it is still bonded to the live skin, and is taking that healthy skin with it. You can use cuticle scissors to cut the dead skin if it's driving you crazy. A day or two after the peeling begins, I stopped applying the paste all over my feet, and concentrated just on the bottoms of my feet, as I didn't want to unnecessarily dry out the tops of my feet once the dry skin was off of them.
You may notice, if you've ever seen the other products I mentioned in this post "baby feet" and "softsole" that those products are only meant to be left on for 1-2 hours. That is because of the glycolic acid. The aspirin/lemon juice mixture could be on for 24 hours at a time without harming your skin, so don't worry about leaving it on too long. You can help the process along with sugar scrubs and pumice stones while in the shower. Rubbing a terrycloth towel on the peeling skin also works very well.
Upkeep is pretty simple. Continue to apply a heavy moisturizer daily, and keep a pumice stone in your shower. Scrub the areas that become callused daily to avoid build up from occuring. Use a sugar srub several times per week to keep the rest of the skin on your feel soft and smooth. OR just let it get really bad again next winter and molt again!
I hope this help everyone to get flip-flip ready this spring!
Please feel free to send questions to [email protected] and I'll answer them in my next blog!
Thanks for reading,
Beth
Happy Thursday Pampered Posters… I have a new kitchen cabinet recipe for you! (YAY!)
If you've ever had your makeup done professionally, the technician may have sprayed a "Setting Spray" over your finished make-up to help keep it in place. If you've ever used a setting spray, then you know how valuable this recipe is, because they are AMAZING and EXPENSIVE! The two brands that I've tried are: MAC "fix+" and Urban Decay "all nighter". Both are great products, but average about $10 per ounce… really? That's nuts!
Well, no more sudgey smeary faces for girls who can't afford a $30 bottle of setting spray, because I've got a recipe for a setting spray that will anchor your make-up for a fraction of the cost, and it's super easy too! I figure, it will cost you less than 30 cents per 2 oz batch of this spray, because a 1 quart (32oz) size bottle of vegetable glycerin is about $15, making it about 47 cents per ounce. You only need half of an ounce (one Tbs) to make a 2oz bottle of setting spray. I added about 6 cents for water, which seems more than generous for an ounce and a half of distilled water... much better than $20, right? ...AND this spray is actaully better for you skin than those chemical-based store bought ones: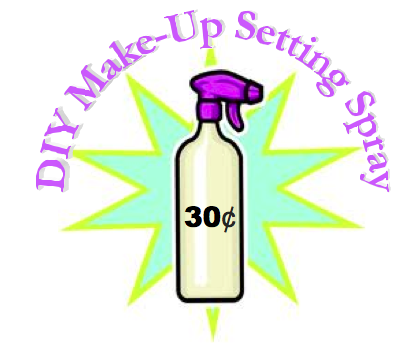 Here's what you'll need:
-A spray bottle of some sort. I used an old travel size body spray bottle
-Vegetable Glycerin
-Distilled Water
-Measuring cups or spoons
Directions:
First, choose the amount of spray you would like to make. The total volume of spray will be divided by 4 to get the amout of 1 "part". Depending on how much you want to make, your "part" could be anything from a teaspoon to a cup. I suggest making it in small batches. While the glycerin does have some antibacterial properties, you won't want to keep it more than week or 2 at the most, because there is significantly more water than glycerin, and water is bacteria's best friend! I had a 2oz bottle, so my "part" was 1 Tablespoon, which is equal to half an ounce. 
1. Measure one part Vegetable Glycerin, and add to your spray bottle
2. Measure 3 parts Water and add to your spray bottle. 
3. Replace lid, shake, and spritz!
That's it, and you're welcome!
I have to provide you with a little bit of the "why it works", because that's why you keep coming back to the Pampered Posts, right? For the science lessons….
All kidding aside, I do know that my readers appreciate my explanations. I've been told that's what sets me apart from other beauty bloggers, who have ideas, recipes, tips, and writing styles that are just as good (if not better) than mine. My readers like to know why, and I love to educate them about natural skin care! So, here's the why ladies… Vegetable Glycerin on it's own, is a think syrupy liquid, and is quite sticky to the touch. Diluting the glycerin in 3 parts water will reduce the stickiness significantly, but a touch of it will remain. When lightly spritzed onto the skin, it's consistency will allow the glycerin to stick to the surface of your skin and "glue" your make-up in place until it is washed off. However, because of the dilution and the light application, it will not be uncomfortable, but will help to create a barrier between your make-up and all the many causes of smudges and smears. It will not feel greasy, clog pores, or cause blemishes, because Vegetable glycerin is honestly the BEST facial moisturizer available. It is a Humectant, which means it is able to attract water like a magnet, drawing moisture from the air to your skin. It is also an emollient, which means it will soften. smooth, and improve the over-all tecture of your skin, and has some antibacterial properties, that will actually fight against blemishes. There are many ways to dress this recipe up or to extend the life of the product. Some of these ideas would include using rose water or aloe vera juice in place of water, or adding a natural preservative like citric acid. I don't want to give away too many of my secrets, because I plan on dressing up this recipe and adding a make-up setting spray to the Indulgence line. I promise it will be reasonably priced and NATURALLY preseved, so that you can use it for longer periods of time. 
Thanks for reading!
Love, 
Beth
Here's a question from one of my readers:
"I am a huge fan of your one-step-facial and use it every day in the shower. It really has improved my skin, but as a busy mom of 2 I barely have the energy at night to brush my teeth so I usually use those waterless facial wipes before bed. The problem is they are expensive and also I think sometimes dry my face out (I am not loyal to any specific brand just what is on sale). Do you have any ideas for a DIY type facial wipe?"
First, let me say "yay" for the one step facial! I'm so glad it's working for you!
Secondly, This is a GREAT question! Those facial wipes are great for quickly and easily removing the day's grime, but they are pretty expensive for something you are essentially just throwing away. Not to mention, that most brands of these wipes are saturated with isopropyl alcohol, which will suck the moisture right out of your skin.
Try this cheap & easy recipe for homemade Facial Wipes that will add moisture, instead of taking it away:
What you'll need:
2 cups water 
1 Tablespoon Johnson's Baby Shampoo
2 Tablespoons Johnson's Baby Oil
1 Roll Paper Towel (splurge on the super soft stuff, just this one time)
a Tupperware container with a good sealing lid (or empty baby wipe container)
What to do:
1. Lay the roll of paper towel down and cut so that you have 2 short rolls (that look like a roll of toilet paper)
2. Remove Roll from center and place towels into tupperware or baby wipe container
3. In a separate container, mix water, soap and oil
4. pour mixture over towels, and close container, allowing towels to absorb the liquid.
5. to use pull the center sheet from the roll.
6. Always be sure to cover tightly, so towels remain moist.
I hope this helps!
Send your beauty questions to [email protected] and I'll answer them in my next blog!
Thanks for reading, and have a great weekend!
-Bethany
UGH, winter! I'm so sick of the cold wet weather, and the dry scaly skin!
Have you noticed how it doesn't seem so hard to keep your skin looking and feeling soft until mid-January, and then all of a sudden your daily post-shower lotioning just isn't cutting it anymore? By February your skin has started to take on a gray tinge, the scales start to form on your legs, and you just ignore the white build up on your heels, and the rough skin on your elbows, because you're covered in sweaters, pants and scarves all winter anyway, right?
WRONG! You're way too fabulous to let yourself go like this. I know Big Phil didn't see his shadow today, and I'm as hopeful as the next girl that spring will come early this year, but you can't wait for it! You deserve to have beautiful soft skin all year round, and it's really not that hard to achieve and costs next to nothing if you know what to use. Try this Chocolate Milk Bath combined with a sugar or salt scrub, and I PROMISE, you'll love the skin you're in!
Chocolate Milk Bath:
1 Cup Heavy Cream (Whole Milk will work too, but not reduced fat like 2%, 1%, or skim. This is about as nourishing as plain water to your skin…)
2 TBS Honey (you just add a few squirts, it doesn't have to be exact)
2 TBS unsweetened Cocoa Powder
- Place cream in a microwave safe cup, add honey, and heat for 30 seconds.
- Add Cocoa Powder, mix well until all ingredients are combined.
- Add to a tub of warm water, and soak as long as desired.
Why this works:
The Heavy Cream contains moisture, fat, and proteins that nourish skin.
Honey is a natural humectant, meaning that is locks moisture into the top layers of skin instead of allowing it to be absorbed from the surface.
Chocolate is also super nourishing for your skin. It contains Powerful antioxidents that improve skin's texture (reduces scaliness, roughness, and smoothes skin's surface). Cocoa has also been proven to protect skin from damaging UV rays.
While in the bath, use an exfoliating sugar (or salt) scrub to remove dead skin cells and force hydrating oils into skin. Rub the scrub over skin until the sugar dissolves, allow the essential oils, and other hydrating ingredients to remain in the bath with you while you soak. Once you feel like you have soaked up enough hydrating chocolate milk bath, drain the tub, and turn the shower on to rinse your skin.
After the bath, while skin is still damp, apply a rich moisturizer, like pure coconut oil, a cocoa butter balm or lotion, or another kind of heavy body cream (I like Bath and Body works body creams).
Thanks for reading!
Send your beauty questions to [email protected] and I'll answer them in my next blog.
-Bethany
With Winter in full swing, I'm seeing more and more girls with flakey cakey make-up face, and it's totally unacceptable….
The dry artificial heat, cold chapping wind, and super hot showers all contribute to the drying of our skin in the winter, but you don't have to just roll over and take it ladies… There are things you can do preserve your skin's moisture, and piling pounds of make-up on top of unhealthy skin is NOT the answer.
Here are some tips to salvage your skin's moisture this winter.
1. Avoid products that contain chemicals, as your skin is already dry and sensitive from the environment. Try using more natural skincare options…
Honey is a great natural bacteria-killing agent that will help lock moisture into your skin instead of sucking it out. It's a little messy, but you can use it as a cleaner.
2. Avoid super hot water. I know it tempting when it's so cold outside, but tepid or lukewarm water is much better for your skin. 
3. Flaky skin that causes make-up to cake, isn't really due to lack of moisture, it's due to lack of exfoliation. Those "dry spots" are really just areas where dead skin cells have begun to build up. Exfoliate your skin daily until those spots are gone. Once your skin is smooth, you can reduce your exfoliation to 2-3 times weekly. However, if you use a gentle enough exfoliator (one without rough or sharp edges) you can continue to exfoliate daily.
4. Don't skip the toner! If you are using a good toner, it will lock moisture into the top layers of skin rather than allowing it to evaporate away. Toner will also help pores to close up, preventing blackheads and other congestion. Lemon Juice or apple cider vinegar both work well as a tone. Dip a cotton ball in one of these and wipe over your face. A green grape cut and half and rubbed over skin's surface is also great.
5. Always Moisturize! Even people with oily skin should moisturize daily. Use a light moisturizer for daytime and a heavier one at night.
Does this sound like too much work?
Try my One - Step –Facial, which cleanses, exfoliates, and moisturizes all in one quick easy 2 minute step. It's made from all natural edible ingredients and costs $12 for an 8 oz jar. After using the One-Step-Facial swipe one of the natural toners listed above over skin and finish with tinted moisturizer for soft natural looking skin with a healthy hydrated glow.
Email [email protected] to order yours.
If you would like to try a free sample of the One-Step-Facial, please email me and mention this blog.
Thanks for reading,
Bethany
I posted this one after Thanksgiving last year, and I just had to share it with you guys again!
If you're like me, you have a refridgerator full of Leftovers that you'll never be able to eat. Here are a few beauty tricks you can do with all those leftovers:
Sweet Potato Facial
Ingredients:
2 ounces cooked mashed sweet potatoes
1 tbs oats (oatmeal)
1 tbs raw sugar
1/2 tsp olive or almond oil (or any oil you have on hand)
pinch of nutmeg
Directions:
Mix all of the ingredients together to form a thick like consistency.Adjust the ingredients if needed, add more oats to make it thicker or add more liquid (water or milk) to thin it out. Apply this mixture to face and neck, leave on for about 5-8 minutes. Use warm wash cloths to gently remove the bulk of the paste, then rinse with warm water, and gently pat skin dry.
Mashed Potato Foot Soak
Take desired amount of leftover mashed potatoes, and add work water to thin them out. Then soak your feet in the mixture for about 20 minutes
Green Bean skin smoothing lotion
Take about a handful of leftover green beans. If they have butter, salt, pepper, or onions on them. rinse them with hot water. If there are almonds in them, leave those.
Mash or blend the green beans, then mix with pain yogurt and massage into to your face, elbows, heels, or any other area that needs moisturized. Let this sit on the skin for 10 minutes, then rinse off.
These and other Thanksgiving Leftover beauty treatments can be found at
http://www.squidoo.com/beauty-treatments-with-thanksgiving-leftovers
Send your beauty questions to [email protected] and I will answer them in my next blog.
Hope you ejoyed this little tip, and remember to stop in tomorrow for another dose of the beauty blog!
Thanks,
Bethany
It's Home Remedy Time!
Today I'm going to give you a recipe for an amazing facial mask that will rid your skin of impurities while moisturizing, but first I want to explain the need for a facial mask…
Think of your cleaning your skin like cleaning your house. You can wipe the dust off of your table everyday or sweep the crumbs off of the floor, but if you don't get out the pledge at the end of the week and really clean it, the dirt will build up, and it will look filthy. The same goes for your face… Your daily cleansing regimen removes the make-up and dirt from the day, but every once in a while you have to use a mask to draw all the deep-down stuff out and get a clean slate.
A mask is able to give you a deeper cleanse, because it stays on the skin for 15-20 minutes rather than being rinsed off immediately, and contains ingredients like clay and/or oatmeal which absorb oil and draw impurities out of your pores like a magnet. A really great mask will moisturize while it cleanses...
Some people spend $20, $30, $50, even $100 per jar for a good moisturizing mask that will also draw out impurities, because it is hard to come by one that actually works.
…you are not one of those people!
I have a facial mask recipe that will work just as well at those expensive department store brands, and it will cost you next to nothing because the main ingredient is Kitty Litter!
Don't freak out, Kitty litter contains the same clay product that those expensive masks use, but because no one would ever pay $20, $30, $50, or $100 for something their cat relieves themselves in, it's extremely inexpensive!  This just goes to show you the actual value of those skincare products you purchase...
Go to the grocery store and buy a bag of Kitty Litter that says "100% Natural Clay" on the label, and follow the instructions below:
Kitty Litter Mask Recipe:
2 TBS Kitty Litter

2 TBS Water (tap or distilled) - you may need to add additional water

½ tsp Vegetable or Olive Oil (this will add moisture to thirsty skin, but will not cause it to feel greasy, because it will be rinsed off.) – If your skin is very oily, skip this step.

a few drops scented oil or extract (just to make the experience a little more pleasant for you.)
- Add water to kitty litter and stir until it resembles a thick soup.
- Add oil and scent
- Mix and you're done! (this can be microwaved for 10-15 seconds if you would prefer a warm mask)
- After exfoliating, apply to skin in a circular motion and allow to sit for 15-30 minutes - Rinse using warm or cool water (NOT HOT - hot water will suck the moisture out of your skin)
- Follow with your regular moisturizer.
Send your beauty questions to pamperpartiesp[email protected]
Thanks for reading, and don't forget to stop by tomorrow for another dose of the beauty blog!
- Bethany
Have you ever gone to get you hair done and they offer you a deep conditioning hot oil treatment for an additional $25-$30?
If you've ever broken down and purchased this treatment, you were probably pleasantly surprised at the results, right? Your hair was unbelievably soft, shiny, and manageable for a week or two afterwards.
Hot oil treatments are great not only for your hair, but for your scalp as well. They hydrate and condition your hair, but you don't have to add $30 to your $50 haircut to achieve these results. You don't need a magic Salon cocktail of oils or an overhead hair dryer to get the same results, especially not in the summer…
Take advantage of the summer heat and give yourself a hot oil treatment of your own. All you need is some coconut oil (which can be purchased at any health food-GNC, organic food-Whole Foods, and some grocery stores), a hair tie/clip, and the sunshine. *if you're in a pinch, and don't have coconut oil, you can use baby oil or olive oil, and achieve similar results.*
On a morning you plan to go to the beach or the pool, work coconut oil into hair and scalp. Start with a quarter size amount, and work into scalp and roots, then another quarter size amount for the hair shaft and ends. If your hair is extra long and/or thick, you may need more. If it is thin or very short, you may need less. Hair does not have to be saturated in oil, just work it through hair like you would a texture cream.
Once the oil has been worked into your hair. Twist hair into a bun and secure with an elastic hair band (no metal!) or twist into an updo and secure with a clip. Now, go lay in the sun and let that oil heat up. The heat will cause the oil to penetrate the scalp and hair follicles, moisturizing and conditioning hair from the roots. When you go home and wash the oil out, you should see a huge difference in the condition of your hair.
This is especially good for those of you, like me, who spend a lot of time in chlorinated pools. Chlorine is as drying to your hair as it is to your skin… Just think of it as coco butter for your hair.
Send your beauty questions to [email protected] and I'll answer them in my next blog.
Thanks,
Bethany