The Pampered Posts (Blog)
As most of my friends know, I'm a big fan of glasses. It may be because since a corneal abrasion in high school, contacts are painful for me after a few hours, or because I think they're fun, or maybe a little bit of both. I think of glasses as an accessory, and like any accessory, it's no fun to wear the same pair everyday.... Just call me Elton John!
However, glasses are one EXPENSIVE accessory. Even with insurance, you end up paying an arm and a leg for glasses, and you're only alowed 1 pair per year (or 2 years with some plans). Well, have no fear, affordable glasses are here!
I found out about zennioptical.com from a co-worker who's husband stumbled upon them looking for discount or re-sale glasses for their son, who contantly broke or lost his glasses. Instead, what he found was a virtual goldmine of not just discount specs, but brand new Fabulous ones! When My boring black wire frames were slowly deteriorating, and my co-worker, Betsy,  caught me using nail glue to repair the sad-sac frames, she told me about zenni optical. I didn't even wait until the work day was over, I was online within minutes searching through their plethera of fab frames! I couldn't believe my eyes! Hundreds, maybe even Thousands of options starting at $6.95. How could this be real? I expressed my doubt to Betsy, but she assured me that her family ordered from the site frequently, and there are no hidden fees, and it's top-notch product! I hesitantly ordered 2 pairs. My bill was less than $30 with shipping. I figured, even if they fall apart in a few months, it would have been worth my $30. That was in October of 2010, and today Febraury 1, 2012, I finally broke one pair. I have worn these pretty much everyday for 2 years and they cost $6.95. I still can barely believe it. 
To order, you will need to get your perscription from your regular eye doctor, which was the most difficult part of the whole experience for me. They may be reluctant to give it up, as they are losing business from sites like this, who sell the same product at a much lower price. However, the prescription is yours and you have every right to it!
I placed my second Zenni optical purchase today. I ordered  3 pairs, one brown with rhinestones, one simple black, and one thick framed black pair with red bows on the temples (picture below). My entire bill with shipping was $52, and it was even easier (and more fun) this time than last. They now have a section of the website where you can upload a picture of yourself and try the glasses on your own face. Also, they saved all of my perscription information for me so i didn't have to re-enter or re-contact the nasty eye doctor's secretary!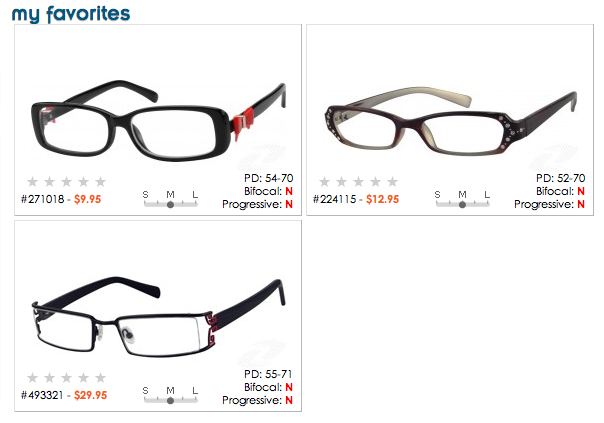 I can't wait for my order to arrive!
Get yours at zennioptical.com
Thanks for reading, 
Bethany
For those of you who are just joining us, this is Mercedes-Benz fashion week in NYC, and I have devoted this week's Pampered Posts to sharing the new trends on the runways. We've already covered hair and make-up. Now it's time to move onto the Fashion Week main event: The Clothes!
It seems when it comes to fashion; a simple sporty-chic is the look everyone is going for. A perfect match for our "Polished Pony"…
The look is being described by the designers as "Urban Sport" and/or "Athletic Chic", and includes relaxed yet refined fabrics like silk. The idea is to create a wardrobe that can be worn in any facet of life. I think it's a nod to the active lifestyle of working women, as well as the still struggling economy. Designers realize that you're more likely to purchase a practical piece that can be worn to any of the million places you have to go in a day. I mean, as a working woman, I totally appreciate an item that's appropriate for work, but comfortable enough to walk across the street for lunch in, ride the trolley without wrinkling, and then transition straight to happy hour w/the girls or dinner with my sweetie with a simple opening or removal of a jacket…
Don't be mistaken, when I say sporty-chic, I DO NOT mean boring by any means! We're talking about flowing textured trousers, as shown by Rebecca Minkoff, Yigal Azrouel, Tibi, and Charlotte Ronson paired with flirty blouses, and ruffled jackets. Karen Walker, Vera Wang, Rodarte and Badgley Mischka all showed Peplum waists (a flared ruffle attached to waist of dresses, jackets, and tops. While designers pulled influence from athletic wear, such as relaxed fabrics and looser fit, the overall theme is still very chic and put-together. So this new trend is NOT an excuse for you to wear yoga pants to work or pajamas to the grocery store…
How to do it on a budget:
I appreciate this old-fashioned idea of "A few solid basics to build a wardrobe around". All you need is a few pairs of neutral dress pants, and a few jackets to really start a classic work-drobe that will last for years to come and extend into your social life as well. Go to TJ Maxx, Marshalls, or Burlington and stock up on inexpensive and trendy camis, tops, and blouses (look for ruffles, rosettes, and all things girly) to go with your designer staples. This way, when they go out of style next year, you won't feel so guilty about putting them in the Goodwill bag!
Happy shopping!
Stop by tomorrow to find out about fashion week nail trends!
Thanks for reading,
Bethany!
Now for the fun stuff!
Here are the most popular make up looks on the Fashion Week Runways:
Skin: Sun-Kissed. Don't let your summer glow fade away, salvage it with a self-tanning lotion. Try Jergins natural-glow. 
Eyes: Metallic shadows. It seems everyone is going shimmery this fall, gunmetal gray, and peacock blues, green and purples seem to be the most popular. Some are showing thick futuristic smudges and others, well-blended smokey eye looks. It's up to you which direction you go in!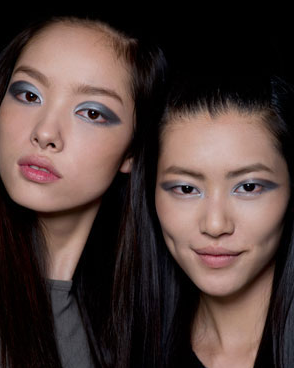 Derek Lam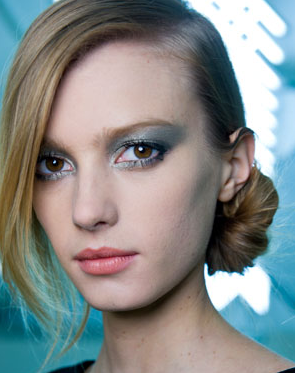 Chanel
Anoher trend I noticed is a dramtic accent color on the inner corners of the eye. A silver, white, or gold shadow applied directly to the inner corner will give your eyes a very interesting and dramatic look. This look is definitely for the adventurous...
Liner: Emilio Pucci was among several designers to show a smudgy, morning after, look. This is good news for the eye liner challenged out there! Just smudge your angled brush into a dark shadow and brush under lower lids...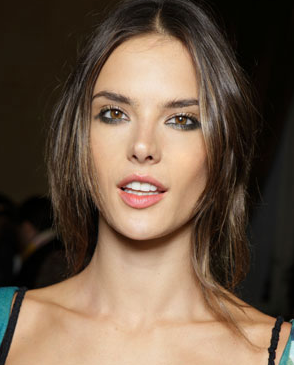 For those of you who enjoy a more controlled look, Giafranco Ferre is showing a pretty cat eye: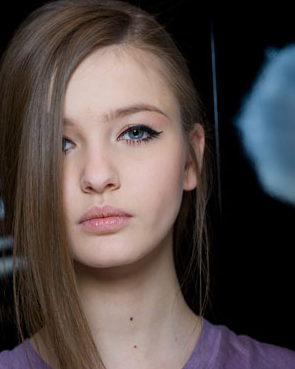 Lashes: The trend in lashes seems to be "The bigger, the better", as it should be, in my opinion. Everyone is showing thick visible upper and lower lashes. If your natural lashes aren't capable of this "Big sexy lash" trend, try falsies... You can purchase them at any drug store or beauty supply (Ulta, Sally's, Sephora), and glue them to your own lashes. 
Cheeks: In addition to the healthy glow of Fall Skin, rosy cheeks are showing up all over the Runway. Dab a little pink blush on the apples of your cheeks for a healthy flush.
Lips: Red, Red, Red! Some designers are showing a Bright almost neon red, others a deep purpley red, and others a Scarlet or Classic Cherry red. One things seems to be consistant... gloss. Pick the right shade of red for you and top it with some clear gloss for a super stylish dramatic look.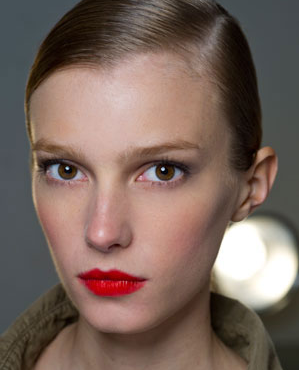 Ralph Lauren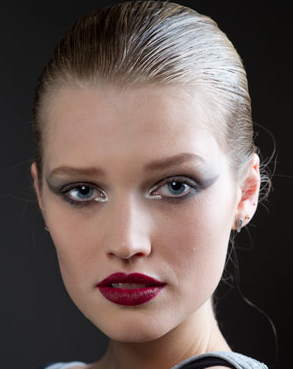 Altuzarra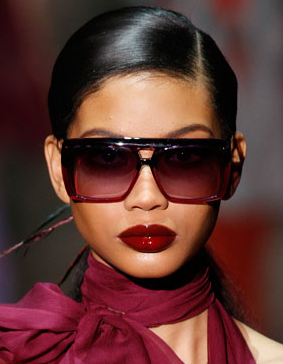 Gucci
Stop by tomorrow for the fashion of fashion week!
Thanks for reading, 
Bethany
In case you didn't know, it's Mercedes-Benz Fashion Week in NYC!
I will be devoting the Pampered Posts to helping you stay up on all the new trends showing up on the runways, so you can be in-style from head to toe this fall!
Let's start at the top and talk about hair!
From what I've seen, it looks like pulled back ponies are all the rage this Fall (can I get a hallelujah!). It seems like in the land of Ponytails… anything goes this year, so you can really let your personality show in your style.
The Polished Pony: 
My personal fav, is a sleek, straight, low ponytail pulled just to the nape of the neck. This is, in my opinion a ponytail in it's most classic form. Wrap a piece of hair around the band for a perfectly polished work look, add a flower for a sexy evening look, or even add an embellished headband for a fun & flirty daytime look.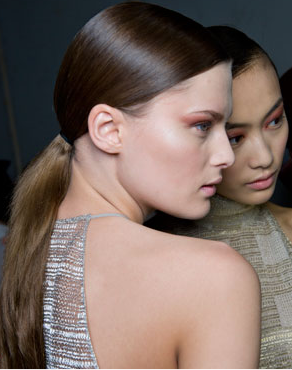 Akris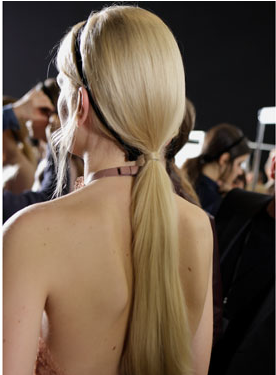 Valentino
The Messy Pony:
This is the opposite of the above polished look. This is the messy, slept-in look, which I understand is appealing to some, but I just don't get it. Sloppy and Slept in just isn't my style, but if you like it, More power to you!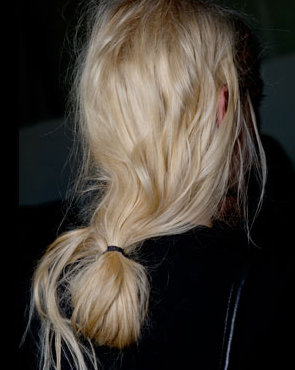 Alexander Wang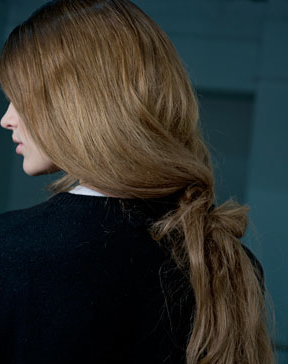 Proenza Schouler
The High Pony: 
I saw a few slicked back high pony tail looks as well. While it may feel a little juvenille, as we all wore our hair this way as children, there's something to be said for the instant face-lift effect a high pony can give. You have to be pretty comfortable with your face to wear this look, but on the right person, it can be extremely flattering.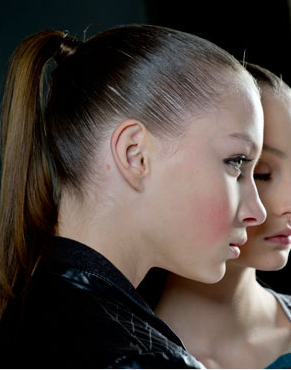 Marc Jacobs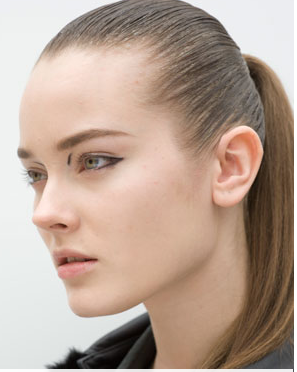 Louis Vuitton
The Funky Pony:
This, the most unique option, is also the one I'm most excited about, because it's something new and different for us to try this Fall. I saw several different examples of fun, funky ponytails emblellished, pinned, and puffed into all kinds of different works of art!
The first pictured below is pulled into a low ponytail and then the hair band is tucked under and pinned (I see this one pinned with floral embellshed bobby pins for a pretty girly garden at the nape of the neck or clipped with studded barrette for a punkrock look)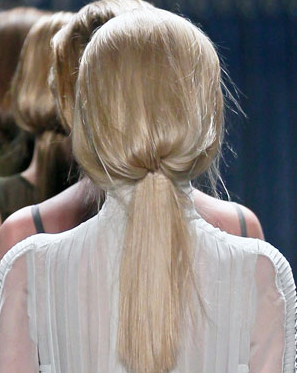 vera wang
Peacock Featheres adorn this fun and funky low ponytail.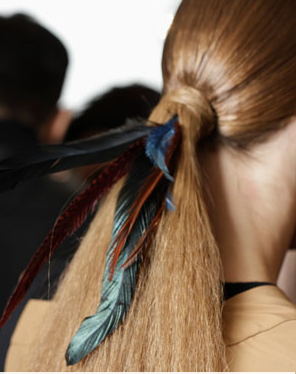 Gucci (of course, always my fav)
This last pony is held together at the nape of the neck with a gold ring embellishment, and then pulled taught to make a messy, effortless look. If it were me, I'd keep the gold ring, but skip the effertless look part... but that's just me!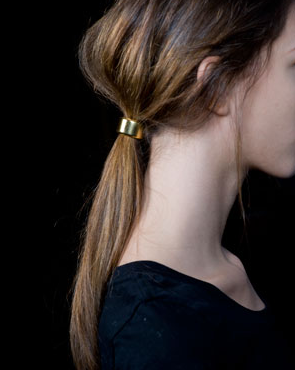 Dries Van Noten
Other popular Fall looks are the low loose braid that we've been seeing for the past year or so (a great ponytail alternative). They're popping up on the side, resting on one shouldler or the other as well as down the back. Cornrow style braids along the hariline or part are also still popular.
Teased 60's style Bouffants were also making quite an impression on the runway. Jean Paul Gaultier, Fendi and Jil Sader were all showing some wildly teased updos, and Peter Som was showing what can only be decribed as a Snooki inspired "poof". Part of me wonders if these looks are a nod of respect to the recently late Amy Winehouse, or if the whole country really does have jersey-fever...
No matter what your style, there's definitely a pulled back look for you this Fall. 
Hope you enjoy! Come back tomorrow and see what's Hott this Fall in Make-up!
Thanks for reading, 
-Bethany
If you frequent my blog, you know that I love me some Kardashian style! I love that girly with an edge look, and Kourt, Kim, and Khole do it so well!
Kim Kardashian inspired this new nail trend; it's a perfect example of that great balance between a "pretty girl" French manicure and a "tough girl" matte look…
The matte look polishes came onto the nail scene a few years ago, and started becoming really popular last summer, but I haven't really been a big fan of them. Personally, I usually like a shiny manicure, but the contrast created in this look is interesting enough to make me want to give the matte look a second try.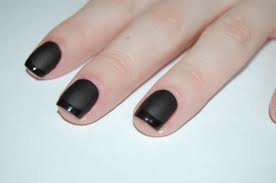 I love the contrast of the 2 textures within the same color.
To achieve this look:
1. Choose a matte polish. Most popular professional lines have a set of mattes to choose from, but I suggest getting a matte finisher, such as Essie's Matte finisher, which will change any polish from glossy to matte. This way you can try this look with multiple colors without purchasing multiple polishes. I got my mine on amazon.com for about $4 (much cheaper, even with shipping, than the $10 retail price)
2. Shape Nails, push back cuticles, and clean nail plates thoroughly using nail polish remover. Apply an acid primer if desired.
3. Apply Base Coat of your choice to clean dry nails. My current favorite is Sally Hansen's Diamond Strength…
4. If you're using a Matte Finisher, apply 2 coats of polish, allow to dry, then apply one even coat of the Finisher..  If you're using a matte polish, apply the first coat and allow to dry completely. Then apply the second coat.
5. Apply a high gloss top coat on just on the tips, like a French manicure. My favorite top coat is, and probably always will be, SecheVite Fast Dry. (I get my SechVite from amazon too)
Now just sit still for a few minutes until polish is completely dry and add some cuticle oil!
Enjoy!
-Bethany
Here's a question from one of my readers: "I just got a new job and I have to wear 'Business Attire'. How am I supposed to wear a suit everyday without looking like a boy?
I don't know if you've noticed, but Professional Women are kind of a big deal…
You SO do not have to wear boxy suits in navy or gray to look professional. There are plenty of professional-looking feminine suits and separates out there that will work for you, Business Barbie made sure of that!
First, find your self at least one or two good suit(s), a 3-piece suit would be great (comes with pants, skirt, and jacket). It should be "no frills" and pretty basic. Solid black, brown, or pinstriped, and the perfect fit for you…get it tailored if necessary. This will be your go-to suit. Women's suits should have a defined waistline. Do not, I repeat, DO NOT buy a suit with a men's-style jacket… that is SO 1985. This can get you through your first few days until you can get a feeling of how formal your office will be. You may be able to get away without wearing an actual suit everyday. A blouse or sweater with dress pants may be perfectly acceptable.
Once you have your staple suit, look for separates that can be mixed and matched. Wide leg dress pants, pencil skirts, and fitted jackets will be your best finds. They provide the most "put-together", yet stylish look. Keep your own personal style in mind when looking for items. I'm a girly-girl, so I would be looking for blouses with ruffles, lace, and/or floral accents to go under my jackets. If you have to wear structured suits, you should wear them with bold jewel tones or ethereal blouses. The contrast between structured and ultra feminine will add interest. Another way to stylize boring suits is to use accessories. Brightly colored shoes or bold jewelry will express your funky side.
Here are some Dos and Don'ts of office attire:
DO: Look for feminine pieces, such a ruffles, appliqués, and skirts
DON'T: Wear ultra-short skirts circa Heather Locklear in Melrose Place
DO: Wear clothes that are fitted
DON'T: Wear clothes that are too tight or revealing, they hired you for your skills, not your tatas (hopefully)
DO: Accessorize
DON'T: Wear crazy spiked wrist cuffs, bottle cap necklaces, or other over-the-top accessories. While you should express yourself, you have to remember that you need to project a professional image as well.
DO: Wear Heels, they are the best way to make you look and feel like a lady
DON'T: Wear shoes you can't walk in, it will make you look like you're "playing dress up"
DO: Spend time getting ready in the morning; you don't want to look like you just rolled out of bed
DON'T: Spend so much time primping that you're late for work. (I'm so guilty of this!)
DO: Get out there and kick some professional butt!
DON'T: Worry, you'll be fine!
Send your beauty questions to [email protected] and I'll answer them in my next blog.
Thanks,
Bethany
I have always been a real purse fanatic. I have pictures of me in diapers carrying a pink paten leather purse around. I find great joy in finding unique bags to carry around. That being said, I HAVE to tell you about this website my roommates introduced me to…
This little gem was discovered when a few of my AWESOME friends were looking for unique suitcases to pitch together and buy me for my birthday since my caravan of supplies had kind of outgrown the one I was currently using for Pamper Parties. They found the adorable black and pink polka dot suitcase with a little pink bow pictured below (I got the biggest one). It was the perfect choice for my girly polka-dot themed business, AND it fits all of my party supplies.
When I saw how cute the suitcase was, I just had to check out the Bags By Beth Website, and I was so excited to find out that she also has adorable, unique AND affordable purses, tote bags, duffel bags, diaper bags, wallets, train cases, and even laptop cases!
You'll never have to search for your luggage in an airport again!
If you like girly and/or trendy items, this site is definitely for you!
Check it out!
Send your beauty questions to pamperpartiespgh.webs.com and I'll answer them in my next blog
Thanks for reading, and don't forget to stop back tomorrow for another dose of the beauty blog.
Thanks,
Bethany
For me, a true shoe junky, one of the best things about summer is finding cute sandals, but it's so hard to find comfortable ones that don't cost a fortune. Stacey and Clinton would hate me for saying this, but it's more about quantity than quality for me. I buy the cheapest sandals I can find, because I have so many that each pair only gets a few wears. This is all well and good until those adorably cheap sandals start rubbing blisters!
The cheap (and ventilation-free) fabrics, plastic, rubber, and foam that are used to make the inexpensive flip flops and strappy summer sandals that we love cause your feet to sweat, and then your clammy skin rubbed against those rough fabrics causes blisters, cuts and brush burns. I know as well as the next girl that one bad blistering experience can make you want to retire even the cutest shoe. There's no quicker way to ruin your night than be trapped in a crowded bar, with nowhere to sit down, in a pair of shoes that are KILLING you, but have no fear ladies! There's no reason to throw away those flops just because they rub between your toes. I'm going to give you a little tip to solve all of your blister issues.
Before putting your shoes on, apply antiperspirant to any area that will come in contact with a surface that may irritate your skin. This may be between your toes, on the back of your heel, along the top of your foot, etc… anywhere that your shoes may rub. This will create a barrier between your skin and your shoe, as well as prevent the unbreathable fabrics from causing your skin to become clammy.
Antiperspirant can also help prevent "the slide" in your strappy heels. You know what I'm talking about…. You strap those sexy heels on for a night out and they look and feel great but an hour or so later, when the sole of your foot starts to sweat against the lacquered inside of the shoe, your foot begins to slide, and what was once sexy footwear, is now a torture device for your tootsies. Everything that made it look good before has now shifted, causing your feet to look like sausages and the straps, butcher's string. Your toes are red and overlapping the front of the shoe, and the straps are digging in everywhere…
Rubbing a little bit of antiperspirant on the bottom of your foot before putting your shoes on can prevent this disaster all together. When dealing with a potential "slide", try to carry a travel size with you in case it wears off.
When I say to apply antiperspirant, I do not mean deodorant. There is a difference. Antiperspirant will actually prevent moisture from forming, while deodorant will just prevent odor from moisture, so make sure you are using antiperspirant, and make sure it is a solid that can be rubbed onto skin. You do not want a gel, spray, or roll-on, as they will not work.
I hope this helps to keep your feet happy, healthy, and beautiful this summer!
Send your beauty questions to [email protected] and I'll answer them in my next blog.
Don't forget to stop by tomorrow for another dose of the beauty blog!
Thanks,
Bethany
I have good news for all you pony-tail loving girls out there…. Pulled back ponies and buns are ALL THE RAGE this spring, which makes me confident that they will also be big this summer.
As a daily blogger, I am constantly online looking for new material and one of the most common trends I've seen lately on celebrities, in magazines, and in real life is the side-swept ponytail and/or bun.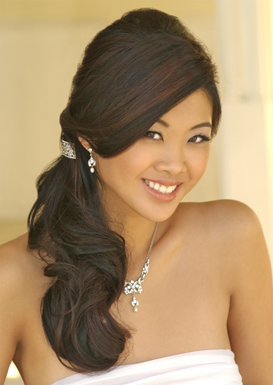 This new swing on the classic ponytail is not only easy, but super chic, and it works for every hair texture, style and length! This look can be personalized for just about anyone, so be creative! Just remember to keep it low…the modern side ponytails should be near the nape of neck, and buns or half ponies should never be higher than your ear. Follow this rule to ensure that you don't look like an extra from the "Let's get Physical" music video.
For a ponytail
(medium – long hair, any texture):
- Sweep hair to one side just behind the bottom of your ear and allow the tail to fall onto your shoulder.
- Dress this look up by wrapping a piece of hair around the hair tie.
For a Bun
(any length, any texture):
- Optional: tease hair slightly at the crown of your head to add volume
- Sweep hair to the side and twist into a bun. 
- Braids are really popular this season as well, so try braiding hair and then wrapping into a bun.
- Secure with bobby pins
- Add a flower or sparkly bobby pins to dress it up for evening.
- This can be a messy twist of curls or a neatly wound bun, depending on your hair type, personality, and the occasion.
TIP: for super short hair, pull into a ponytail, and pin ends around hair tie to "fake" a bun.
For a Half Ponytail
(any length, any texture):
- This is my favorite of the 3 looks, as I am a hair-down kind of girl.
- This look works with straight hair or naturally curly hair, but looks best with hair that has been curled with a curling iron or flat iron. (for instructions on curling your hair using a flat iron, please see my "Create Perfect Spiral Curls In Half the Time Blog) 
http://members.webs.com/MembersB/editAppPage.jsp?app=blog&pageID=148472451&token=null#blog/show/3317879-4-1-create-perfect-spiral-curls-in-half-the-time-using-a-flat-iron
- Sweep half of hair to one side and secure with a barrette or bobby pins near your ear.
- Add a flower, bow, or rhinestone clip for extra pizzazz. 
- allow the remainder of your hair to fall onto shoulders
Send your beauty questions to [email protected] and I'll answer them in my next blog.
Don't forget to stop by tomorrow for another dose of the beauty blog.
Thanks, 
Bethany
This spring has brought with it a trend of fun, flirty ruffles and girly florals, which are great when they're done right, but can be a real train wreck if they're done wrong! One wrong decision when it comes to a floral print and you'll end up looking like your grandmother, and a misguided ruffle placement can leave you looking like a toddler!
Here a few tips when to help you follow this trend in complete confidence…
Florals:
Floral print dresses and tops are popular this spring, but there is a fine line between cute trendy fashionista and frumpy fashion flop.
- When wearing an all-over floral print, stick to a smaller floral pattern or a blended floral, as large defined flowers can be slightly overwhelming.
- Look for floral prints that are one of the following:
Small multi-color pastels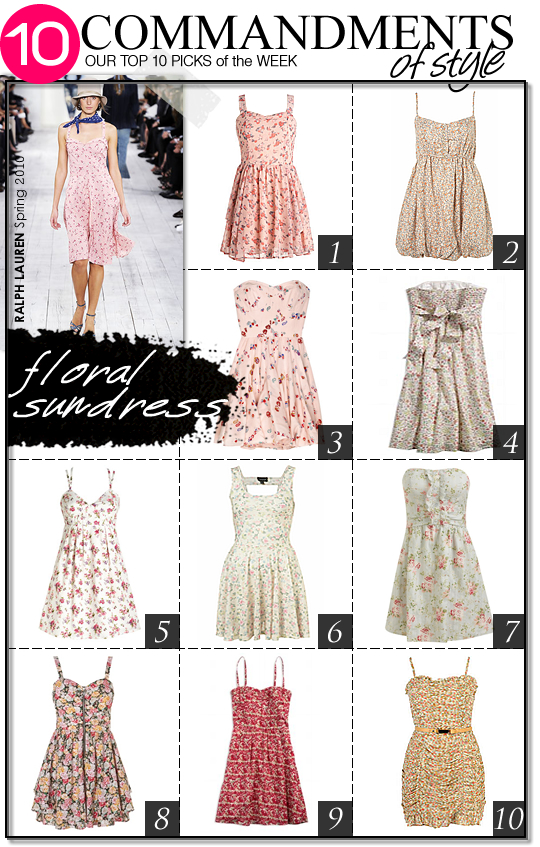 Floral prints that almost blend together like a watercolor painting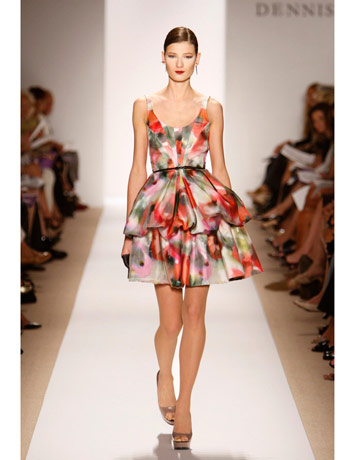 OR a bolder pattern in two shades of one color or two contrasting colors, such as light and dark blue or black (or any color) and white.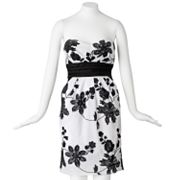 - Large flowers can be used as a focal point on a plain top or dress.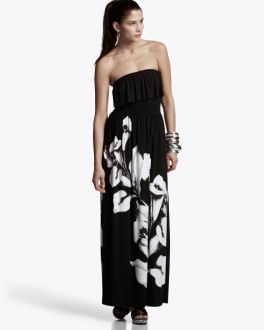 - When wearing a floral dress, make sure the dress has structure like a defined waistline or a belt to avoid "the moo-moo look"
- Floral tops can be more flowing, as long as they're paired with a structured bottom. You don't want to wear your Chiffon floral tunic with an A-line skirt or wide leg pants. Choose a bottom that fits closer to the body.
Ruffles:
Ruffles are the perfect accessory to make any item more girly and special, but depending on their placement, they can make you look childish and add volume in places you would probably rather not accentuate.
- Ruffles are great around the neckline, collar or sleeves as they will draw the attention toward your face
- Ruffles also work around the bottom of a dress or skirt to add interest and femininity
- Try to avoid horizontal ruffles anywhere on the torso, hip, or thigh area, as they WILL add volume, but vertical ruffles on these areas are a different story…
- A scalloped edge is not a ruffle.
If all of this seems too confusing, don't worry…. You can still participate in this trend without worrying about following these rules. Flowers and ruffles are great as accessories! Update last springs wardrobe by adding a Silk flower to your hair, wear a floral necklace, add a ribbon sash with a handmade fabric flower (see instructions below), or add a floral or ruffled shoe…they're everywhere!
Handmade Fabric Flower instructions:
1. Use a fabric scrap or piece of ribbon that is about 1 inch thick and 36 – 45 inches long (depending on the desired size)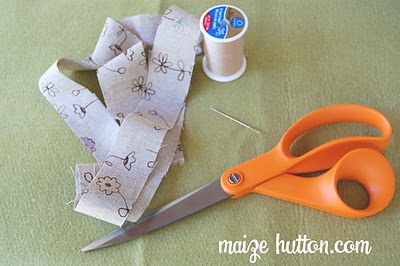 2. Start a running stitch along one end of the strip.
- a running stitch is just a common hand-stitch. Bring the need up through the fabric and then back down.
3. Once you have stitched the entire length of the fabric, hold the end of the fabric and pull the thread so that the fabric bunches into a circle.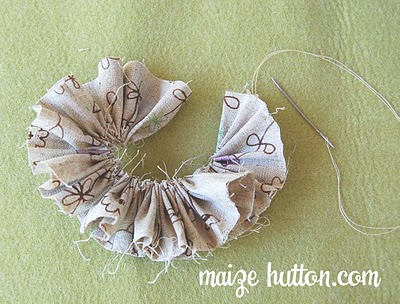 4. Now shape the flower, stitch layers to hold together, and add a button for the center.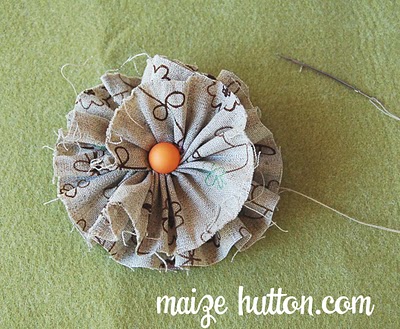 - you can add a pin back or safety pin to attach the flower to a belt, top, or purse.
- don't worry about the fabric fraying, as you can see, it looks cute frayed as well.
Here's a picture of one I made for a wedding a I attended this weekend.
Now you can look as fresh, colorful, and fun as your garden without worrying about over-doing it. 
Send your beauty questions to [email protected] and I'll answer them in my next blog.
Don't forget to stop by tomorrow for another dose of the beauty blog!
Thanks, 
Bethany