The Pampered Posts (Blog)
If you're a candle junkie like me, you know that candles are outrageously expensive. I've even looked into purchasing candle making supplies and making my own, which save some money, but is still expensive. I came across this idea when searching online for cheaper alternatives to candle making. It was on a site for emergency preparedness. The site said to insert a candle wick (or string if you don't have a wick) into a can of Crisco. The site says that a large jar of Crisco will burn for up to 45 days straight in an emergency situation! Holy cow! 45 days!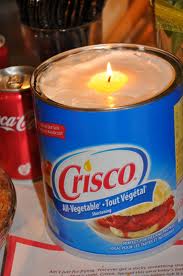 So, I got to thinking, if you can insert a candle wick into the Crisco and it burns like a candle, why can't you melt the Crisco down, add scent and candle coloring and pour into pretty jars with a wick to make your own super cheap long burning candles?
The answer is: YOU CAN! i know this because I did a little research and learned that crisco was originally deveopled by proctor & gamble as a candle and soap making product. Before vegetable shortening was developed, the process of candle and soap making required the use of animal lard and tallow,. In the 1890s the meat packing monoply made all animal products outrageously expensive. Proctor ans Gamble developed hydrogenation, which turned liquid cottonseed oil into a solid that resembled lard (Crisco). It wasn't until the early 1900's when electricity was becoming mainstream, causing the candle demand to dwindle, that they began selling crisco as food... there's your history lesson for the day. Now onto the good stuff!
If you've ever made your own candles, you pretty much know the process, and can skip over the instructions below, but if you haven't, read on for the how-to.
What you need
-Large can of Crisco Shortening
-Scented cooking extract or candle scent (can be purchased at any craft store) -Candle colorant (can also be purchased at any craft store)  
*You could substitute food coloring for candle colorant, but you colors may fade quickly.
- Decorative candle jars, wine glasses, votive cups, etc.. (Something to pour your candle into)
Instructions:
1. Measure out your scent and color (if using candle scent/color blocks, follow the instructions on the package for the size candle you'll be making)
2. Melt your Crisco (if making several candles place entire can in pot of boiling water to melt double-boiler style) (if making one candle, spoon out enough Crisco to fill you container and microwave until melted)
3. Remove from heat and add colorant and scent to Crisco, and mix well by stirring quickly. You will notice that the Crisco begins to congeal after a few minutes of stirring.
4. When Crisco had begun to congeal, but it not fully cooled, insert wick and pour Crisco into container. (you want to make sure it has begun to congeal so that the color and scent will suspend itself in the mixture rather than just floating to the bottom. The thick consistency will also keep the wick in place when pouring the candle)
5. Allow to cool for 15-20 minutes, and you candle is ready to burn!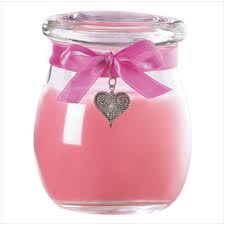 OK, so there are your instructions for container candles, but what if you want a cheap way to make pillar candles? I haven't tested this method, but I've read that you can mix 50% paraffin wax and 50% Crisco to get a firmer candle. Praffin wax can be purchased at most grocery stores by the block in the canning section. 
Here are the instructions for that Process:
1. Measure scent and colorant
2. Using a double boiler (or bowl inside of a pot of boiling water) melt your paraffin completely.
3. Add your Crisco and melt into paraffin wax
4. Remove from heat and mix in colorant and scent
5. Add wick to mould and pour wax mixture in.
6. Allow to set completely before removing from mould.
ENJOY your cheap home-made candles.
These would make GREAT gifts, and they contain no animal products, so they would be great for soy candle lovers (like my mother-in-law-to-be)!
Thanks for reading,
Bethany
OK, so I know this is a little off subject, but I couldn't pass up the opportunity to share this recipe with you. It looks so freaking amazing! I CANNOT wait to try it!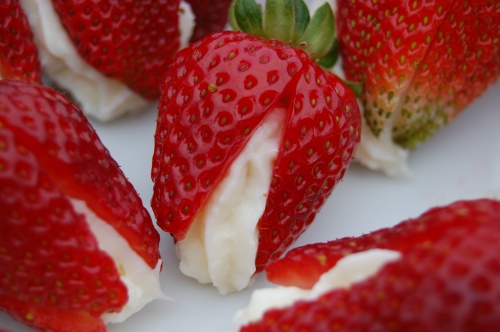 Low Cal Strawberry Cheesecake
SO, here's the deal, save yourself some calories and skip the crust. Slice 24 strawberries almost in half (from tip to stem), and fill them with this low cal no-bake filling. Not only is this a healthier option, but it's also a small 2-bite serving, which is usually enough when it comes to cheesecake... SO GENIUS!
What you need:
1 8oz pkg fat free cream cheese (softened)
1/2 cup sugar (I'm sure you could substitute splenda, but I hate it. When you figure 1/2 a cup divided by probably at least 24 strawberries, you're only getting like 1 gram per serving)
1/8 tsp salt
1/2c vanilla soy milk (or skim milk)
1 tsp lemon juice
1 tsp vanilla extract
1 1/2 Cups Fat Free cool whip
Electric Mixer
Instructions:
Beat Cream cheese and sugar (splenda) until well blended. Add salt, beat. Add Vanilla, beat. Add Milk, beat. Add lemon Juice, beat. Fold in Cool whip with a whisk. Pour into Bakery bag, and chill for an hour or until firm enough to hold it's shape. Snip off tip of bakey bag and fill strawberries.  chill at least 3 hours. 
You can dip the strawberries in chocolate after filling them to make them even more delicious!
Enjoy!
-Beth
I'm sure you've noticed the latest fad in get-skinny-quick land… the body wrap. They claim to remove inches from your body in as little as 30 minutes, while detoxifying and purifying your whole system. If you're anything but a complete optimist, I'm sure you're thinking it's WAY too good to be true, right?
Actually… wrong
Body Wraps are not a new product. Estheticians and Massage Therapists have been offering body wrap services in spas for years. Body wraps are marketed in any number of ways: to soften and beautify skin, to expel toxins from the body, to firm and tighten skin, and most recently as a magical body shrinker. Honestly, a good body wrap will do any and all of the above.
What is a Body Wrap?
The body wrap itself, is basically exactly what is sounds like. Wraps are made of elastic material that is snuggly wrapped around the torso, legs and/or arms. The wraps are usually left on for 30 – 90 minutes. Wraps are usually pre-soaked in a solution that may contain any or all of the following natural ingredients: herbs, vitamins, minerals, mud, seaweed, and oils. If you receive your wrap in a spa, the technician may apply the solution to your skin with a brush or their hands before wrapping you in un-soaked fabric. This is mainly to maximize the use of their materials, as well as to make the service more enjoyable.
Why Does it Work?
This process is effective for a number of reasons. The main purpose of the wrap is to draw toxins from the body, and remove interstitial fluid (fluid that settles between small spaces in body tissues). Wrapping the body so tightly in fabric that does not allow much air circulation creates a "Thermal Blanket" which will promote sweating. As your body sweats it is expelling toxins, salt and excess fluid. The Wrap Solution acts as a catalyst for this process as toxins are drawn to the herbs, seaweed, and or mud in the solution. Think of this like metal scraps or shavings being drawn to a magnet. The fabric of the wrap then absorbs the toxins and excess body fluid. Depending on the intended purpose of the wrap, there may also be oils, vitamins, and minerals included to nourish the skin in the process.
It's not magic, it's simply science.
The solution is responsible for the removal of toxins and the nourishment of the skin, but the simple act of wrapping and sweating is what promotes the loss of inches. Think of your skin as a peeled orange. When you look at an orange slice, you see many small fluid filled sections separated by tiny vein-like walls(under a microscope, your skin cells look almost identical to this). If you were to take that orange slice and wrap it as tightly as possible in elastic fabric, the liquid would be expelled from those cells, and when unwrapped, it would be much smaller. This is basically what a body wrap does to your skin cells. Over time, those cells will refill with liquid. This means that these wraps are by no means a permanent fix, and they do not cause weight loss. They merely squeeze out the excess for a while, much like ringing out a dishrag. Repeated treatments are required in order to maintain results. However, it's still pretty awesome that you could quickly loose a few inches off your waist before your high school reunion, firm up your arms before wearing that strapless bridesmaid dress, or even tighten your thighs before a trip to the beach!
How do I get one?
There are a few options for body wraps. You can go to a spa for a treatment. These treatments usually last anywhere from 30 minutes to 2 hours, and cost anywhere from $75-$300. Often, a body wrap service will be combined with a body polish or scrub, where the technician will use a salt or sugar scrub to exfoliate the skin prior to the wrap. This allows the skin nourishing ingredients to penetrate the skin more easily. It is also common for a body wrap to include a massage for relaxation purposes, mainly because it's easier to lay in a cocoon for an hour if you're comfortable and relaxed.
Another option, if you would like to try a body wrap at home, is to purchase one from an independent sales rep or order one online. These at-home wraps are less expensive, usually around $40-$75 each. Doing your own wrap has its benefits and its drawbacks. Obviously the cost is a definite benefit. Privacy is another, as you should not wear any (or least not much) clothing in order reap the full benefits. The main drawback in my eyes is that if you're doing your own wrap, you do risk the possibility of doing it incorrectly.
Interested in trying an at-home wrap?
Order online from Vanessa, a "Slim Sexy You" independent sales representative at slimsexyyou.itworks.net or visit her Facebook Fan Page at  www.facebook.com/slimsexyyou.
I think body wraps would make a fun at-home girls night activity. Ask everyone to bring their bathing suits (if they're not comfortable in their underwear or less), and perform the body wraps on each other. You could mix up some sugar scrubs, facial masks, and break out the nail polish. It could be a whole spa themed party… FUN!
Send your beauty questions to [email protected] and I'll answer them in my next blog.
Thanks for reading,
Bethany
Have you ever been to Five Below?
If not, you've got to check it out! This place is amazing!
It is appropriately named as everything in the store is $5 or less. This is like a dollar store on steroids! The stuff they have for $5, $3, and even $2 is amazing!
My first five below experience was a few weeks before Christmas this past year. I found some great gifts for girlfriends and co-workers at LOW prices. They have everything from office/school supplies to home décor to accessories. One of the highlights for me was the cosmetics department, where I found adorable glitter eye shadow palettes complete with velvet bow for $3 and $5, great lip gloss, manicure, and make-up brush sets for $5, and 3 for $5 "Funky Fingers" nail polishes in some of the most vibrant colors and glitters I've ever seen! My princess and rock star party girls (and my friends) always go for these polishes first and they're some of the cheapest ones I have! Another great thing was their selection of gift items, such as bath & body sets, decorative candles, etc… They were creative and adorably packaged. It was the kind of thing you actually want to give somebody, not just something you picked up because you have to get something. For example, I was looking for little gifts to give the ladies in my office. I didn't want to spend much, just give them a little token. I found these adorable little candles. They were solid wax candles one looked like a little cup of cappuccino on a saucer, complete with whipped cream and the other, a mini box of chocolates. They were the perfect, and I think I only paid $2 for each one. That's pretty amazing, if you ask me!
My second five below experience was early this summer when I had cleared out every dollar store and wal-mart in town of their children's flip flops (yea that was me, sorry), and needed some for a Rock Star Treatment Party. I expected to pay $3 per pair (same as wal-mart), but when I got there, they had a whole wall full of them, and they were 3 for $5… that's half what I expected to pay! Needless to say, I stocked up, assuming that they would sell out quickly.
The third five below experience was in preparation for my summer vacation to the Outer Banks. I found TONS of beach goodies such as beach towels, beach mats, boogie boards, citronella tea light candles, water bottle ice cube trays, insulated picnic baskets, mini coolers, beach umbrellas, and even mini beach chairs… all under $5. I was pretty amazed!
My latest five below experience was a panicked trip for more flip flops. I had depleted my supply, and had tried every store I could think of in a desperate search (various dollar stores, wal-mart, payless, Gabriel brothers) and everyone was sold out. I said a little prayer and headed to five below. To my pleasant surprise, their trusty flip flop wall was FULLY stocked. They had just as many in late July as they had in late May! I easily picked through their organized selection and was in and out within 5 minutes… an important thing when you're on your way to a party and already running about 10 minutes behind!
This gave me one more thing to love about my new favorite store: unlike dollar stores and other discount stores, they re-stock their merchandise! They're not relying on "fall off the truck" or "overstocked" goods from other places. This store carries it's own merchandise, and you can actually count on things being there when you need them… Hallelujah!
All that, and the best part is yet to come! These stores are popping up all over town! The first one I went to was in Robinson, but since then, I've been to the stores in McMurray and at the Waterworks. I've also recently heard that they're opening one in the Century 3 area in early August. To find a store nearest you, check out their website: http://fivebelow.com
Thanks for reading, and happy (discount) shopping!
-Bethany
So my roommate got Wii Fit Plus and I'm so totally hooked!
She came home from vacation where she had played Wii Fit at an Aunt's house and she was totally determined to get her own. We didn't even have a Wii at this point so I sort of shrugged it off until I came home to a box from "gamestop.com" in the living room one day.
We set it up last night, and played all kinds of games. First, you have to set up your "Mii" and put in all your stats. Then it checks your weight, your balance and lets you choose a weight loss or gain goal. Then you get to choose what you would like play. You can do everything from run a race to yoga to a snowball fight. There really is something for everyone!
Last night we did step Aerobics, ran, hoola hooped, did yoga, did some strength training, had a snowball fight, and learned rhythm kung fu all in about a 2 hour time span.
So here's my favorite part: You can tell the Wii what you personally want to work on, whether it's weight loss, muscle gain, looking and feeling more youthful, improving balance, relaxation, improving your body's form and figure, cardio, etc.. or any combination of these, and it will put together a 30 minute workout for you. With that kind of service, who needs a trainer? And if you feel like you do need a trainer, guess what? The Wii gives you one of those too! You can choose a male or female trainer to walk you through and motivate you during your workout. Mine is the male, and I named him Jo–Jo. I have a feeling Jo-Jo and I are going to be very good friends...
You know you've had a good workout when you finish sweating and out of breath and didn't even realize it.
This is great for people who are embarrassed to work out in front of other people, or for those of us who just can't seem to fit it in, because you can do it in the comfort (and privacy) of your own home.
This is definitely what I'll be doing with my after-work 5:00 – 6:30 "me" time from now on!
Send your beauty questions to [email protected] and I'll answer them in my next blog.
Thanks,
Bethany
We all want the best beauty products for our hair, skin, and nails, but don't be fooled… retailers, stylists, and so-called-experts are after your money as much as any other professional. Of course, they're going to try to give you a product that will work for you, so you will come back and buy it again, not because they care about your frizzy hair and wrinkled skin. Trust me… the girl behind the department store make-up counter is not your friend, nor is your hair stylist or skin care therapist. They are at work and their job is to make you spend as much as possible. Don't get me wrong, I'm not speaking negatively about them, as I'm one of them, but you have to understand that the beauty product industry is one that makes billions of dollars a year off of un-knowing people like you. Do you believe that your insurance or real estate agents are invested in your personal well-being, or do you think they're more interested in collecting their paycheck? Beauty Professionals may be more personable, but you are still a client, and the successful ones always have their commission in mind.
You have to be smart about your product purchases, unless of course you have an unlimited amount of money to spend on products, in which case, you're reading the wrong the blog, as I'm constantly trying to find new ways to save my readers' money.
I totally understand the love for beauty products, and the need to purchase them. I'm not telling you to stop buying products, I'm just suggesting that you keep the following tips in mind to avoid over-paying for the products that you love.
1. Buying Products That Don't Work
There are certain things that beauty products just can't do. While it may be hard to give up on the thought od "miracle creams",avoid throwing your money away on products that "claim" to do one of the following:
- Reduce cellulite (Although it would be great if it could, no cream or lotion will fix this problem)
- Speed up or slow down hair growth. (Hair grows about ½ inch per month. No cream, or lotion will change that. The right multi-vitamin may have minor positive effects on the speed of growth if taken correctly)
- Remove or fade tattoos (painful and expensive laser treatments are the only way to do this. Tattoos are forever kids, consider that before going under the needle!)
- Repair Split Ends (I've told you this a thousand times… The only way to get rid of split ends is to cut them off! You can hydrate hair to make them less visible, you can treat healthy hair to prevent them from coming, but once they're split….that's it)
2. Buying your Products from so –called "Experts"
I addressed this in the introduction… buying products in a salon or from a doctor is about the same as throwing 30%-75% of the total cost down the pooper! I know from experience that salon products are marked up at least 100%. This means that if the salon purchased the product from the distributor for $10, you're going to pay $20+. Retail is a huge part of salon business. You can purchase the same product at a beauty supply store for about 25% – 30% less. Stores like Sally's, Ulta, and even Rite Aid carry most popular salon brands. If you're super-thrifty, you can purchase products online directly from the distributor for 50% - 75% less! The same goes for dermatologists and especially plastic surgeons. We've all been trained to think that doctors can be trusted, and that's exactly why people purchase obscenely overpriced products from them without so much as a second thought. These doctors "prescribe" the products that they carry, and suddenly you're paying upwards of $100 every time you leave the office. Chances are, those same products can be purchased elsewhere for much less, and like prescriptions, there is most likely a "generic" or alternative product that will serve the same purpose. With a little persistence and research, you could save yourself a lot of money. If you're unsure, feel free to submit your questions to me, as I'm an esthetician and more than willing to research the products. I'm always looking for new blog topics!
3. Buying the Same Product for more.
Have you ever seen the commercial for Olay Regenerist? They claim their $15 - $25 product beat a $50 cream, $100 Cream, and $300 cream in a product test. I don't doubt this for a second, as there are TONS of manufacturers with dual product lines or matching ingredient lists. You would be surprised at how many identical products are out there with different names. Manufacturers will change the color and/or fragrance of a product and sell it for 2 or 3 times the price! There are only so many ingredients that can be combined for a certain purpose…far fewer combinations are possible than products are available. For example: Herbal Essences and Pantene have identical formulas, but you'll pay $1 or $2 more per bottle for Pantene. Also Finger Paints brand nail polish is made by OPI. The formula is exactly the same; Finger Paints even have catchy names like OPI, yet the price difference is almost the cost of an entire bottle of Finger Paints. Physician's Formula make-up, which can be purchased in most drug stores, is fragrance free and hypo-allergenic, yet thousands, maybe even millions of people pay twice as much or Clinique make-up. Check ingredient lists before purchasing high-end products. You may be surprised to find that they contain the same ingredients as the low-priced products in the grocery store!
Of course, there are exceptions to this rule. Some products are truly unique, and cannot be substituted. For example, I use Dermalogica's skin care products. There is no substitute for these products that were developed by the International Dermal Institute. I purchase them at South Hills Beauty Academy, as I have been unable to find them cheaper anywhere else. Also, natural chemical-free products such as my "Indulgence" bath and body products, which are made from all natural, all edible ingredients are rare and unique. You cannot compare a preservative free natural product to that of a store-bought one (give me a break, I deserve a plug here and there, it is MY blog, and I'm giving you all of my secrets!).
I hope this helps to save some of your hard earned money while allowing you to keep looking and feeling your best!
Send your Beauty questions to [email protected] and I'll answer them in my next blog.
Thanks for reading and don't forget to stop by tomorrow for another dose of the beauty blog!
- Bethany
Here's a question from one of my readers:
"I've heard that you can go to beauty schools and get your hair cut and colored at really low prices. Do you recommend doing this or do you think it's too risky?"
As someone who attended beauty school twice, once for manicuring and once for esthetics, I don't think getting your hair done by students is any more risky than going to a any stylist for the first time. I had my hair done (cut, colored, highlighted, and styled) by students MANY times while I was there, and I was always happy with the results.
The students who work on clients in the "clinic" are experienced. They have to complete many hours of training and pass many tests in their theory and practical classes before they are permitted to work on the public. As far as skill goes, there is not much difference between going to a senior student and going to a fresh-out-of beauty school stylist, but there are advantages and disadvantages.
The Advantages:
- The students are eager to learn and are excited about what they're doing. They are more involved in the process in general. They are not working for money, so their payoff is a happy customer. They will listen to you and do their best to please you. Your stylist wants to please you as well, but their motivation is to get you to come back to them.
- The students are not at work. They are not trying to fit in as many people as possible. They will take more time and they are very thorough.
- The students have their teachers, who are experts in their field, to assist them. If something is not working for them, or they are not sure about something, they will not try to fake their way through to look more professional. Students are not too proud to ask for help, and in my experience, the beauty school teachers are as good, if not better than any experienced stylist. Not only do they have a higher education than most stylists, but they have a daily reminder of the dos and don'ts. Many of them are also still active in the field as well.
- The products are the same quality products that are used in salons.
The Disadvantages:
- Most beauty schools only have clinic hours during the weekdays, although some (SHBA*) do have limited evening hours.
- The students are not in that "get them in and out as quickly as possible" mind-frame, so it's likely that your services will take a little bit longer
- You are acknowledging, by patronizing the beauty school, that you are being worked on my students, and therefore accept the consequences of that. In the rare occasion that they make a mistake, it is not their responsibility to fix it. Although, in my experience, the teachers will not let you walk out of there looking a mess. It may not end up being exactly what you asked for, but they will take over if necessary.
Most beauty schools also offer nail and skin care services at discounted prices as well. I believe when I was at SHBA* for manicuring the price of a mani was $8 and a pedi was less than $15, and when I was in school for esthetics a facial was like $15… even Pamper Parties Pittsburgh can't beat those prices! We also had waxing services and body treatments available.
Here's a link to South Hills Beauty Academy's (SHBA*) clinic price list.
http://shnhbeauty.com/clinic.html

My hair stylist, manicurist, and skin care therapist friends are going to be mad at me for sharing this best kept secret of the beauty industry, but I'm more concerned with keeping you looking great and keeping your wallet full! They'll forgive me!!!
Send your beauty questions to [email protected] and I'll answer them in my next blog.
Don't forget to stop by tomorrow for another dose of my beauty blog.
Thanks,
Bethany
Mother's Day is just around the corner, and though I think everyone should give their mom a pamper party, I know some of you are on a tight budget!
Today I'm going to give you a few homemade gift ideas for Mother's Day that will cost less than $10.00
These are also fun and simple enough for young children to make with a little bit of help…ahem…Dads…pay attention!
The decorative Jars I mention in the spa product recipes can be found at any craft store for under $2.00. Pat Catan's has a great selection and low prices!
1. Rainbow Bath Salts:
Ingredients:
Epsom Salts
Unsweetened Koolaid packets (at least 3 or 4 different flavors)
Water
Instructions:
Add a few drops of water to 1 packet of Koolaid Powder, just until moistened.
Add moistened Koolaid to ½-1 cup Epsom salts (depending on number of colors and size of jar) in a ziplock bag and shake until salts are covered.
Repeat with each color of Koolaid
Layer colored salts in a decorative jar and add ribbon, wooden spoon or scoop, and a handmade card explaining how to use the salts
How to Use:
Add 2 or 3 scoops to a warm bath and allow to dissolve.
2. Bath Ball Cookies:
Ingredients: (makes about 12 cookies)
2 cups Sea Salt ½ baking soda
½ cup cornstarch
2 tablespoons vegetable oil
1 teaspoon vitamin E oil
2 eggs
1 teaspoon vanilla extract (can be substituted for 5-6 drops of essential oil of your choice)
Food coloring (optional)
Instructions:
Preheat oven to 350F
Mix all ingredients together in a large bowl
Roll dough into 1 inch balls and place on ungreased cookie sheet
Cookies can be decorated with cloves, seeds, dried citrus peel, jimmies or anything else you have around.
Bake Cookies for 10 minutes (do not over bake!)
Allow cookies to cool completely
Wrap in fabric scraps, decorative cellophane or box. Add a handmade card explaining how to use the cookies.
* have children paint and decorate a plain box using ribbon, false flowers, stickers, pom poms, glitter sequins, or any other art supplies you may have.
How to use:
Add 1 or 2 cookies to a warm bath and allow to dissolve.
3. Hand and Foot Scrub
Ingredients:
1 cup brown Sugar
1 cup finely ground oats
2 Tablespoons Honey (2 squirts works, as honey is way to sticky to measure)
¾ cup vegetable oil
1 teaspoon vanilla extract (optional, for scent)
Instructions:
Mix sugar and oats together
Add oil slowly, just until dry ingredients are saturated.
Add Honey and Vanilla Extract
Mix well
Pour scrub into a decorative jar. Add ribbon and a handmade card with instructions for use
How to use:
Apply scrub to skin and rub vigorously for 10 – 20 seconds
Rinse with warm water
get creative with scrubs. Use white sugar, brown sugar, or kosher salts combined with one or more of the following: ground nuts, ground walnut shells, oats, Coffee grounds, corncob, or any other abrasive material. Add oil, a few quirts of honey, and extracts or essential oils for scent.

White Sugar, Coffee Grounds, and vanilla extract makes a great cappuccino or vanilla latte scrub for coffee lovers! Put this in a Thermos for 2 gifts in 1!
4. Picture Frame
Purchase an inexpensive 8X10 (or larger) plain picture frame at a dollar store or Walmart
Paint the frame to match the room in your mother's house it will go. (Black and white is always a safe choice if you're unsure)
Make a collage of family photos using older and new pictures (some from your childhood and some from today)
Add quotes about mothers or Memories It's also a nice touch to write (or have a friend with good handwriting write) a quote or bible verse around the frame itself.
5. Photo Album/Scrap Book
Purchase a photo album at a dollar store or use one you have laying around.
Fill it with pictures starting when you were a baby, through important moments in your life until now, and write "thank you" messages to go with each picture.
For example: a picture of you in a dance costume as a child with a message that says "thank you for always allowing me to shine"
Depending on your creativity level, and available supplies, you can add stickers, paper frames, ribbons, or other decorative items
Send your beauty questions to [email protected] and I'll answer them in my next blog.
Don't forget to stop by tomorrow for another dose of the beauty blog!
Thanks,
Bethany
In these precious few preparation days before the race, you need all the nutritional help you can get! There are food and drinks that can help store energy and prevent muscle cramping. While most of these technicques are mainly for marathon runners, they can be applied to any endurance sport. If you plan on competing for more than 90 minutes, follow these steps to prepare your body.
1. Bananas
Eating a banana or 2 per day will help keep muscle cramps away. A potassium deficiency can cause additional cramping, so this potassium-packed snack may help protect your muscles.
2. Milk
Having adequate Calcium in your diet can help curtail your cramping. 3 glasses of milk per day should give you the calcium your body needs.
3. Water
Of course staying hydrated it important for any physical activity. Drink lots and lots before, during, and after the marathon. How do you know how much water to drink? Take your body weight, divide it in half. That is how many ounces of water you should be drinking per day to keep yourself fully hydrated, so on race day, you'll want to have even more...
4. Carbs
I'm sure you've heard that you should carbo-load before the big race, but there are more rules than just "stuff yourself with pasta and bread". You will want to eat good carbs like whole grain pastas, breads, and potatoes. Skip the butter on your rolls, eat red sauce, not white or oil based sauces, and go easy on the sour cream. The goal is to fuel your muscles, not fill your fat cells. Try to avoid an exorbitant amount of fruit and juices, as they can upset the stomach. You do not need to increase your daily calorie intake by thousands the day or two before the race, as you are in a period of rest. You are not running, so you are not expending the 600 - 1,000 calories you normally would during your daily run. You will and should gain 2 – 3 pounds during your carb-loading period, but don't worry…this is mostly water weight. For every ounce of carbohydrates your body stores, it also stores 3 ounces of water.
5. Don't forget about the protein!
The focus of pre-marathon meals should be carbs, but adding low-fat proteins such as eggs, yogurt, bens, lentils, turkey and chicken will help fuel the body for longer periods.
6. Pre-Marathon Meal
What you eat the day of the Marathon is important. You will want to have a light breakfast consisting of some low GI foods and some fat, for energy. This will "top off your tank". Also have some energy gels, drinks, and bars along the way to give you a boost.
Good Luck! Don't forget to stop by tomorrow for Post-Marathon Care tips.
Send your beauty questions to [email protected] and I'll answer them in my next blog.
Thanks,
Bethany
In honor of the Pittsburgh Marathon (it's this Sunday) I'm going to dedicate the next few blogs to treating over-used and abused muscles. I admit, this is slightly self-serving, as I'll need to know how to take care of my own Marathon Man, but these tips can be useful for all muscle strain, not just the running-induced kind.
Today, I'm going to give you the basics:
1. Always warm your muscles up before any extensive exercise. Do this by walking for 10 minutes, then do a series of stretches appropriate for the exercise you'll be doing. Here is an article that lists a series of appropriate runner's stretches.
http://www.coolrunning.com/engine/2/2_1/126.shtml
2. Keep Muscles warm. If it's cold on race day, layer up. Keeping muscles warm will prevent cramping.
3. Take a cold shower as soon as possible after the Marathon (or a strenuous workout). This will help prevent muscle stiffness and soreness.
4. Take anti-inflammatory medicine. Aspirin or Ibuprofen will reduce inflammation and pain. Take them as directed on the label (usually 1-2 pills every 4-6 hours). Don't wait to take it because it says "as needed"…Trust me, you need it! You just ran 26 miles!
If you're not a pill-taking kind of person, you can purchase a salicylate cream at any drug store. Salicylate is the active ingredient in aspirin, and should not irritate the skin.
5. Although heat feels great at the time, try to avoid it, as it will increase inflammation and pain in the long run. Heat increases blood flow and dilates blood vessels, therefore increasing the swelling. Heat should be especially avoided in the first 24-hour period after the race. Instead, try ice packs for 20-minutes per hour, every hour for the first 24-72 hour period. This will constrict blood vessels and reduce inflammation.
6. Although the last thing you'll want to do it move, it's really the best thing for you. Swimming is a great sore-muscle remedy. The cold water reduces inflammation, and the movement stretches muscles.
7. Gentle Massage can help ease sore muscles. Make an appointment with Jaclyn at Salon Vivace in Mt. Lebanon 412-344-9707. Be sure to tell your massage therapist that you have sore muscles, what strenuous activity you have done, and where it hurts in order to assure that you get the most effective massage. Here is a list of self massage techniques for runners:
http://www.ehow.com/how_11015_practice-self-massage.html
I hope this helps, and don't forget to stop by tomorrow for more post-run remedies and techniques!
Send your beauty questions to [email protected] and I'll answer them in my next blog.
Thanks, 
Bethany