The Pampered Posts (Blog)
This one is for all you pet lovers out there who want your pups to look at pretty as you!
I totally understand wanting to spoil your pets, although my toy poodle has been "adopted" by my mother because I'm not allowed to have pets where I live, he is still my little prince.
OPI makes some great puppy pampering products.
First, manicure your pup with "Pawlish" 
- it's an ultra quick drying, nontoxic nail polish specifically designed for pets.
- to use, trim hair around nails with manicure scissors, and apply one coat only to your pet's nails. By the time you start the second paw, the first one is dry.
Then there's the "it's Dog Gone" Pawlish remover, because not even your pet should have a chipped manicure!
*just a little tip*
Pawlish is also GREAT for little girls who can't wait for their mani to dry!

And Last we have "Pet Silk Top Knot Hair Gel" for the pets with unruly 'dos
- My Louie need this, big time!
all of these items can be found at Upscalepup.com:
http://www.upscalepup.com/opi-dog-nail-pawlish.html
For those of you who want to seriously spoil your pets:
Try the "Cozy Inn Pet Resort and Spa", where your pet can get Grooming Services, Hydrotherapy, and Even a FULL BODY MASSAGE!
http://www.cozyinnpetresort.com/index.html
Send your Beauty Questions to pa[email protected] and I will answer them in my next blog.
I hope these tips help you, and your pets! Remember to stop by tomorrow for another dose of the Beauty Blog!
Thanks, 
Bethany 
OK I was searching for unusual gifts for girls online, because I have a few friends with that "Girl who has everything" syndrome and I came accross the "Miss Army Knife"
This is SO cute, and just in time for your Holiday shopping! I ordered 5, and I don't even know who I'm giving them to yet.
It looks like a Swiss Army Knife, but it's PINK and it has pretty much everything you'll ever need!
Throw away those tote bags ladies, all you need is a clutch, thanks to this brilliant little invention!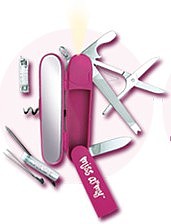 The Miss Army Knife Includes:
- A flashlight - for when you're trying to find your lipstick in your purse or for those dark parking lots we have to go into after work
- a knife - also for those dark parking lots...(I have a parole office, and a counseling center for the mentally ill in my building)

- a needle & thread - for the when the underwire pokes out of your bra (don't you hate that!?) or you pop a button
- a safety pin - because we always need one of those!
- a corkscrew - for those romantic picnics in the park (yea right)
- a mirror - to make sure you're looking picture perfect at all times.
- a tiny little pen - to give your number to the cute guy at the end of the bar
- tweezers - for those stray eyebrows that are invisible in your lighted make-up mirror, but somehow sprout up in the natural light of your car when you give yourself one last look before going in the big meeting, or God Forbid that first date!
- a little perfume bottle - to make sure you're still smelling sweet at happy hour, 9 hours after you left the house.
- a screwdriver - Just in case you get the sudden urge to build something.
- a bottle opener - because sometimes you just need a beer...NOW
- scissors - How are you going to sew a button on in the bathroom stall at work without a pair of scissors?
- a ruler - yea this one I'm not sure about, but I'm sure if you were like, an architect or something, this would really excite you!
- a nail file - You always need one, but NEVER have one..
- and a pill box - to cure the headache you got from your boss, that was aggravated by a disgruntled client, that was then turned to a migraine  by your boyfriend's inability to manage his time.
This is the PERFECT gift for pretty much any girl on your list, and the best part is it's under $20!
The best deal I found was $14.95 on Amazon.com. 
It comes in a variety of colors, for those of you who don't do pink.
Send your Beauty Questions to [email protected] and I'll answer them in my next Blog
I hope this help you to cross at least one name off of your christmas (or hanukah) list, and remember to stop by again tomorrow of another dose of the Beauty Blog.
Thanks, 
Bethany 
So I'm sure you've seen that commercial for the prescription cream that makes your eyelashes grow... you know, the one with Brooke Sheilds?
Did you happen to listen to the guy at the end rattling off the ridiculous list of side effects like an auctioneer?
- darkening of the iris (that's the colored part of your eye)
- yellowing of the eyelids (which would be a great eye shadow if you're going for that ultra-sexy jaundice look)
- blurred vision
- burning and stinging
....just to name a few.
If you would like to have longer, fuller eyelashes without the vision loss or stained skin, try petroleum jelly.
This stuff is amazing! Put a little bit under your lower lashes when you sleep, and in a few weeks you should notice a difference, and HELLO ladies, it also keeps those smile lines super hydrated, therefore minimized.
Hope this helps, and come back tomorrow for another dose of the beauty blog!
Ask your beauty questions at pamp[email protected] and I will answer them in my beauty blog.
Thanks, 
- Bethany