The Pampered Posts (Blog)
Happy Shopping Season everyone! In honor Black Friday, Shmall Business Saturday and Cyber Monday coming up. I wanted to give you some inside secrets about some of my Indulgence products that have more than one use.

Over the years (6 since I started the line), I've found, mostly by accident, that some of my products have multiple benefits, so check out this list below and see if your favorite Indulgence Product has a hidden talent…
1. Aloe and Green Tea Moisture Serum - This is by far the most versatile product in the Indulgence line. The product is meant to be an oil free facial moisturizer, but it also doubles as a Make-up Primer AND can be used as a make-up setting spray, due to the glycerin in this product. If you look at the ingredients in your own primers and make-up setting sprays, you'll find that they're basically just water, glycerin, and a some chemicals to preserve the product and make it smell good, but the active ingredient is glycerin. Glycerine is a humectant, which means it pulls moisture from the air, re-hydrating your skin constantly, which keeps make-up look fresh by avoiding creasing and keeping skin from looking blotchy or uneven. In addition, this product contains quite a bit of Aloe, which helps to moisturize skin as well as plump fine lines and promote cell renewal. For skincare, promoting cell renewal means keeping skin fresh and healthy, but it also makes this product very helpful in speeding up the healing process of scrapes, cuts and especially burns.
2. Whipped Body Frosting - Whipped Body Frosting is a whipped body butter that deeply moisturizes skin, but as I found out one morning about 3 years ago, when I ran out of texture cream, it also helps to define curls without making hair feel crunchy. I honestly only put it in my hair because I was desperate, and it was about the same consistency as my texture cream and it just so happened to be on my night stand at the time, and BOY was I surprised when I actually liked the results! Not to mention that my hair smelled amazing and was SUPER soft. Since it works so well as a leave-in product, I decided to try it as a moisture mask, but applying the product to my hair, wrapping it in plastic and heating it (either with the hair dryer or out in the sun during the summer months), and my hair has never been healthier or shinier.
3. Body Scrubs - Our body scrubs are great for exfoliating and moisturizing skin anywhere on your body, but they also make a GREAT substitute for shaving cream. Just apply the scrub to your legs in the shower, rub until the sugar dissolves, and then shave off the oil. It creates great "slip" and gives you a closer shave, because you're removing any dead skin buildup before shaving.
4. Dirty Work Charcoal Mask - This mask is mainly intended to remove blackheads, but it also works wonders as a drawing salve. Put it on pimples, boils, or splinters to draw them out.
5. "Made in the Shea" Sunblock - Of course this sunblock works to protect you from UV rays, but the Zinc Oxide in this product will also help to clear up skin conditions such as eczema, psoriasis, and rosacea. I actually discovered this when a friend of mine told be that it had cleared up her daughter's Eczema. Once she told me, I had to do some addtional research on the ingredients and a link to eczema relief and learned that it was the zinc oxide. Apparently almost all antihistamine creams contain zinc oxide. That is why they're all so white.
Now that you know about these multi-talented products, I hope you'll shop SMALL on Saturday November 26th, and take advantage of my Small Business Saturday Sales!
Hello ladies, I just have to tell you about my 'do and my new favorite hair product!
As most of you know, I got married in October. Some of you may not know that I had been growing my hair out for more than 2 years for the wedding. I was almost waist length by wedding time, and I wore it down and curled, curled a little more tightly than I had hoped, may I add… which was one of those "wedding day glitches" people always tell you about (but you never believe will happen to you). I shed a tear or 2 during the getting ready chaos, and then realized how ridiculous it was that I was crying over hair that I was going to cover with a veil anyway. So, I got it together, did a little pulling, smoothing, and finger curling, and married my best friend with a smile on my face. Oh, and guess what… I didn't give one more thought to my hair for the rest of the night because I was having the time of my life.
ANYWAY, my plan all along was to chop off all that hair after the wedding. I mean I wanted to be a Kardashian bride, but I see myself as more of a Katie Holmes/Posh type wife. SO, the weekend after our honeymoon I went to get a haircut. The plan was to get a long stacked bob, about shoulder length in the front and an inch or 2 above the shoulder in the back, but I chickened out! I donated 2 12 inch ponytails to Pantene's "great lengths" campaign, and came out with a slightly longer than shoulder-length new 'do. It was healthy, and light, and cute, and I liked it for a while, but I started to get that stacked bob itch again about 2 weeks ago. Last weekend I decided to take the "plunge", but I couldn't get an appointment with my regular girl. Since I had worked up the nerve, and was really excited for a change, I decided to hit up my local Borics and wait in line until someone could take me. I realize that this is equivalent of Russian Roulette in the hair department, but I was feeling lucky.
My stylist's name was Samantha, and we hit it off right away, chatting while she shampooed my hair. I showed her my 2 pictures (from Pinterest, of course). The first was of my "safe" bob choice, and the other was of my "dream" bob that I'm not sure I have the nerve for. I told her to try something in-between. Well, I guess Samantha wasn't feeling quite as "nervy" as I had been that day, because I got the "safe" bob, which I love. I think I'll give it a couple weeks, and then go back for the "dream" cut, but I am happy with the gradual change., and enjoying my "safe" style for now.
You know how when you get your hair done you're so afraid to wash it the first time, because you KNOW that you will never get it to look as good as they did at the salon? Well, that's because you're right. My skills are far inferior in the "blowout" department. I am Blowout incapable, and I have just accepted that, so I have to come up with alternatives to achieve that same volume without looking like a frizz-ball. This is where the purpose for this particular entry comes in. My first wash/style attempt was a major failure. My previously full and flirty bob was limp and flat, so I hit the rite aid for a root lifter product to give me a little extra "oomph". I found a product called "Samy Fat Hair 0 calorie root lifter spray". I have to be honest; I chose it based on 2 criteria that had nothing to do with the effectiveness or reputation of the product itself. The first was price. At $8, it wasn't the cheapest one on the shelf, which experience tells me is usually the equivalent of water-in-a-bottle. It's the like the placebo of hair products, completely ineffective. However, $8 is not going to break the bank, and seems like a completely reasonable drug-store price. It seems outrageous to me to pay $16-$20 for hair products at Rite Aid. I mean give me a break… not going to happen. Once I narrowed my search to the middle-of-the-road $6 - $10 products, I needed a second criteria to narrow my choice to a single option. My husband's name is Sam, and I call him Sammy. Clearly Sammy's wife was destined to use "Samy Fat Hair's" products, right? Well, apparently that is the case; because I love love love this stuff!
I am a nighttime shower-er, because I refuse to wake up any earlier than necessary. That being said, I took my shower before bed (which is a much quicker process with such short hair, btw). The Root lifter spray's bottle told me to apply it to damp hair, so I dried my hair with the blow dryer for a few minutes, then applied the product just to the roots of my hair by lifting pieces and aiming the nozzle at my scalp. I then massaged the root lifter into my scalp a bit to make sure all the areas were covered. I dried my hair the rest of the way upside-down, gently pulling the hair at the crown of my head away from the scalp and aiming the blow dryer right at the roots. When my hair was dry, I flipped it over and brushed it out. Now comes the real trick… I separated my hair in half, taking the top half (the half I want to have volume), and brushing it upward to ensure the roots were all standing up, I gathered the top section of hair into a ponytail, twisted it, and secured it with a hair band on the very top of my head (using a hairclip would also work, and I slept with it pulled up like this. Pulling it up and leaving it that way for several hours trains the cuticles to stand up instead of lay flat, creating lots of volume at the roots. In the morning, I flat ironed the bottom layer of hair first, then took out the top, sectioned it off, and flat ironed it as well. I was full and bouncy and beautiful all day. I am currently on day 2, and it is still just as full of body. Let me tell you, if you think I was excited that it looked great on day 1, you should have seen how excited I was on Day 2. I mean, to have great looking hair without even having to wash it!? …Talk about a busy (lazy) girl's dream come true!
So ladies, the bottom line is: Samy Fat Hair's 0 calorie Root Lifter Spray, 2 thumbs up!
Thanks for reading!
Love you guys.
-Bethany
This is for all my curly haired girls who are always looking for the perfect texture cream to give them definition and shine for curls that look healthy and natural, as opposed to crunchy scrunchy curls, circa 1998. All ladies with curls, waves (or even those of you who just heat style) know that a deep conditioner is necessary to keep your hair moisturized and shiny. What if I told you that you could use a texture cream that will give you defined natural-looking curls, and would deep condition your hair at the same time? Would you be ecstatic? I know I was when I discovered this little secret….
Here's how it went down:
Anyone who knows me, knows that I have been crazy busy over the past month or so. My mom has been sick, and spent about 4 weeks in the hospital. Between working full time, still managing the Pamper Party and product business, AND running back and forth to the hospital everyday, I was just WAY too exhausted to get up early to wash and straighten my hair everyday. Luckily for me, laziness/exhaustion is what led me to the discovery of my new favorite hair product…
One of the nights early in my mom's hospital stay, I was really super tired around 11:00 PM, but I SO had to wash my hair, so I shampooed, conditioned, and pulled my hair into a bun on the top of my head thinking "ehh, I'll dry and straighten it in the morning". Then the morning came, and I slept in! I had a half wet crazy bun and about 10 minutes to figure out how to make it look acceptable. Normally, this wouldn't be a problem, I would just slap on some Enjoy! (my old favorite) texture cream, blow dry, and go. The problem was, I'm all out of Enjoy!, and now I was down to 8 minutes…
In an act of sheer panic (or sheer genius as it turned out), I scanned the room for something, anything, to keep my wild wavy wet hair from turning into a frizzy mess when it dried. I spotted my jar of whipped body frosting, and thought hmm… shea butter + curls = definition and coconut oil + hair = moisture… lets give it a shot. It might look terrible, but at least my hair will smell amazing! So, I scooped out about a quarter size amount of body frosting, rubbed my hands together to melt and distribute it and scrunched it into my hair, being careful to stay away from the roots to avoid the "grease-ball" look. I made sure to get it worked in really well, and then dried it upside-down with my diffuser. When I flipped my head over, I was VERY pleasantly surprised to find full, fluffy, perfectly defined (but not frizzy) curls. Yahoo! The curls looked as good at they do with the Enjoy! Cream. I spritzed with a little flexible hold hair spray, and went to work. My curls were in tact for 2-3 days!
So, you might be thinking.. OK, so your whipped body frosting works as well as the texture cream, big whoop, what's the difference between using it or just using the texture cream I already have? I'll tell you what the difference is, double duty… that's what! Using texture cream does not improve the health or appearance of hair on a permanent basis. Whipped Body Frosting does. Shea butter and coconut oil deep condition your hair while they're on. This part of the process only really occurred to me after the first time I straightened my hair. My hair was so silky, shiny, smooth, and full of body. My style seemed to hold up better, and I looked like a freaking shampoo commercial. I am not even kidding you. I was like "Damn, I don't know what I did differently, but I hope I keep doing it". It wasn't until later that day that I realized what was different… the body frosting. It had deep conditioned and nourished my hair while it was on, just like it does for my skin.
Even if you don't need a texture cream, you can still using the Whipped Body Frosting as a deep conditioner. Just work it into hair before bed, and wash out in the morning. Use a quarter sized amount, and really work it in. This will keep it from being super greasy, but will still give you great results.
Oh, and just one more bonus… my hair totally smells like birthday cake <3
Hope everyone has a GREAT weekend!
Oh BTW: Get your Whipped Body Frosting Here: http://pamperpartiespgh.webs.com/indulgenceproducts.htm
Thanks for reading.
Love,
Bethany
In case you didn't know, it's Mercedes-Benz Fashion Week in NYC!
I will be devoting the Pampered Posts to helping you stay up on all the new trends showing up on the runways, so you can be in-style from head to toe this fall!
Let's start at the top and talk about hair!
From what I've seen, it looks like pulled back ponies are all the rage this Fall (can I get a hallelujah!). It seems like in the land of Ponytails… anything goes this year, so you can really let your personality show in your style.
The Polished Pony: 
My personal fav, is a sleek, straight, low ponytail pulled just to the nape of the neck. This is, in my opinion a ponytail in it's most classic form. Wrap a piece of hair around the band for a perfectly polished work look, add a flower for a sexy evening look, or even add an embellished headband for a fun & flirty daytime look.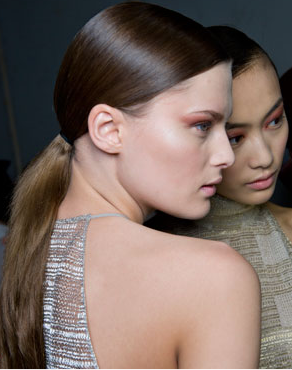 Akris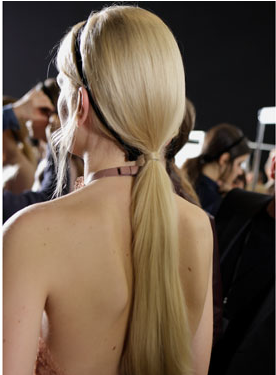 Valentino
The Messy Pony:
This is the opposite of the above polished look. This is the messy, slept-in look, which I understand is appealing to some, but I just don't get it. Sloppy and Slept in just isn't my style, but if you like it, More power to you!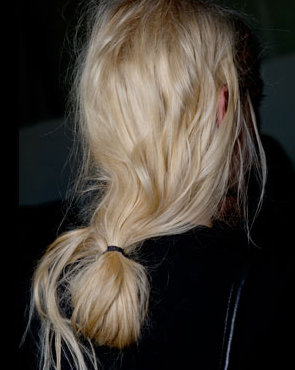 Alexander Wang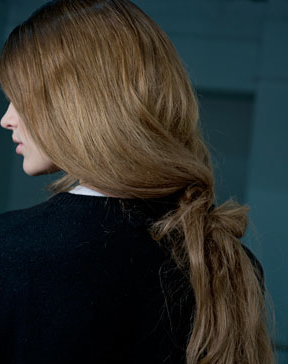 Proenza Schouler
The High Pony: 
I saw a few slicked back high pony tail looks as well. While it may feel a little juvenille, as we all wore our hair this way as children, there's something to be said for the instant face-lift effect a high pony can give. You have to be pretty comfortable with your face to wear this look, but on the right person, it can be extremely flattering.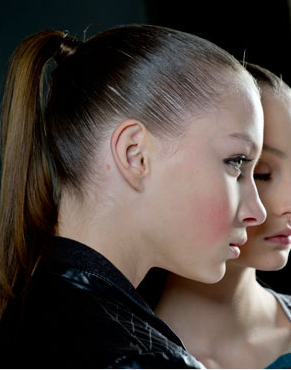 Marc Jacobs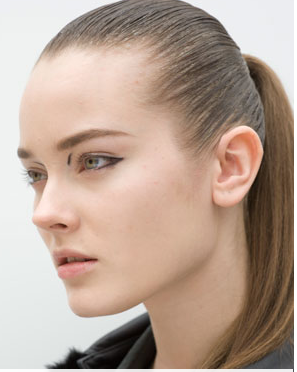 Louis Vuitton
The Funky Pony:
This, the most unique option, is also the one I'm most excited about, because it's something new and different for us to try this Fall. I saw several different examples of fun, funky ponytails emblellished, pinned, and puffed into all kinds of different works of art!
The first pictured below is pulled into a low ponytail and then the hair band is tucked under and pinned (I see this one pinned with floral embellshed bobby pins for a pretty girly garden at the nape of the neck or clipped with studded barrette for a punkrock look)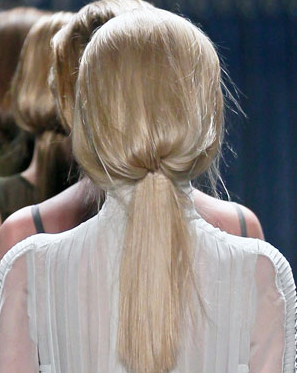 vera wang
Peacock Featheres adorn this fun and funky low ponytail.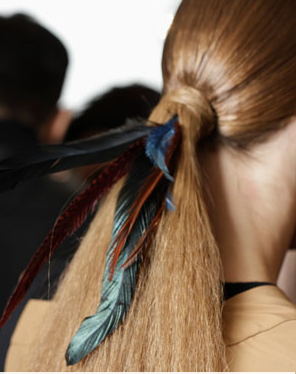 Gucci (of course, always my fav)
This last pony is held together at the nape of the neck with a gold ring embellishment, and then pulled taught to make a messy, effortless look. If it were me, I'd keep the gold ring, but skip the effertless look part... but that's just me!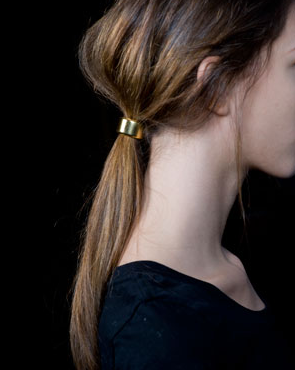 Dries Van Noten
Other popular Fall looks are the low loose braid that we've been seeing for the past year or so (a great ponytail alternative). They're popping up on the side, resting on one shouldler or the other as well as down the back. Cornrow style braids along the hariline or part are also still popular.
Teased 60's style Bouffants were also making quite an impression on the runway. Jean Paul Gaultier, Fendi and Jil Sader were all showing some wildly teased updos, and Peter Som was showing what can only be decribed as a Snooki inspired "poof". Part of me wonders if these looks are a nod of respect to the recently late Amy Winehouse, or if the whole country really does have jersey-fever...
No matter what your style, there's definitely a pulled back look for you this Fall. 
Hope you enjoy! Come back tomorrow and see what's Hott this Fall in Make-up!
Thanks for reading, 
-Bethany
Here's a question from one of my readers:
I'm a mother of 2, and I'm feeling like my hair style is a little outdated. I'd like to get a more stylish hair-do, but I don't have much time to spend styling my hair. Can you suggest a stylish but easy hair style for busy moms like me"
Just because you have 2 beautiful children to take care of doesn't mean you have to sacrifice your own personal style. Easy for me to say right? I don't even have any kids… Being stylish doesn't mean you have to get up at 5AM to primp either, I promise! You just need to get a haircut that does the work for you! This what we call a wash & wear hair style, and it is a wonderful thing for busy, yet fabulous women everywhere. Wash & wear hair styles are usually shoulder length or shorter and have short choppy layers like the style pictured below. These layers create shape and texture, and allow you to just blow dry and go.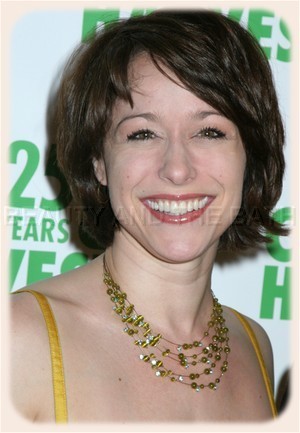 I like the picture above in particular because depending on the time and effort you put into it, it can have great versatility. You can just blow dry it, and it will be full and flirty, like the picture above. If you want a sleek look, you can flat iron it, and if you're feeling funky, you can flip the ends out with a curling iron or flat iron. Also, this style is long enough that it won't have to be maintained every 4 weeks. If you've ever had really short hair, then you know that it looks terrible when it starts to grow out, so you end up getting it trimmed all the time. This length will grow out well, because who has time to go the salon every month?
I hope this helps you stay stylish on-the-go!
Don't have a stylist that you trust? No Problem, try one of my friends!
Amber @ Pure Image Salon, West Liberty Ave, Dormont 412-531-6377
OR
Jess @ Ecotage Salon, Macy's in South Hills Village Mall 412-854-6881
Thanks for reading!
-Beth
Here's a question from one of my readers:
"I'm always trying to get more volume at the roots of my hair, but no matter what I try it doesn't seem to work. I don't want to tease it. I want natural looking lift and volume. Do you have any suggestions?"
I totally understand the look you're trying to achieve. You're going more for Victoria Secret Super Model than Jersey Shore Guidette...
I feel your pain on this one. As a girl with very long hair, I suffer from the flat top myself. Volume and shine give such a healthy appearance. I have a total hair crush on Vanessa Marcil!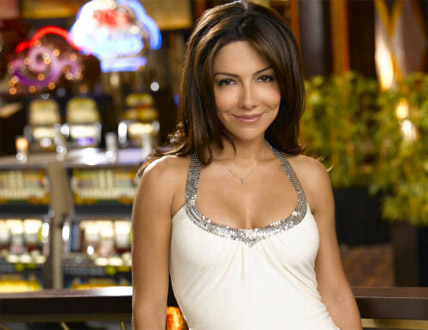 Have you ever tried large Velcro rollers? I know it seems very "retro", but they are a great (easy and inexpensive) way to get some quick lift at the root! 
The velcro rollers are great for creating Volume and shape without actually creating curl. If you were to use hot rollers (you know the kind your mom put in your hair before the Christmas pageant when you were a kid) you would get curl as well. You want to choose the largest rollers you can use for you hair's length, as these will add the most lift at the root. 
You can purchase these rollers just about anywhere that sells hair products:
Walmart: http://www.walmart.com/ip/Styling-Essentials-Self-Grip-Rollers-31-ct/12444293
Sally's: http://www.sallybeauty.com/assorted-rollers/VELCRO1,default,pd.html?cm_vc=SEARCH
CVS: http://www.cvs.com/CVSApp/catalog/shop_product_detail.jsp?filterBy=&skuId=269393&productId=269393&navAction=jump&navCount=3
Here's how to use them:
1. Shampoo and Condition hair as usual.
2. Add a lightweight volumizing product, such as mousse. You can ask your stylist about a good non-sticky product or you can try some things until you get something you like. I personally am a fan of the Big Sexy Hair line, but it can be a little pricey for me (I'm kind of cheapskate). Use a VERY small amount of product, on the roots of your hair. Less is definitely more in this case, as the more product you use the more it will weigh your hair down. You want just enough to give it a little oomph.
3. Flip head over and blow dry the roots upside down. Once roots are dry, you can turn your head over and blow dry hair as usual.
4. Once hair is dry (and still warm), part hair in the middle, and roll hair onto the velcro rollers. If your looking for just a little lift at the top, only roll the top layer. If you want all over volume, roll all of your hair. Secure each roller with a bobby pin.
5. Blow hair dryer over rolled hair for 30 seconds to 1 minute on hottest setting. Now you just wait for the hair to cool. You can apply make-up, get dressed, etc. in the mean time. (If you need to speed up this process, use the cold air setting on your hair dryer) The key is for the hair to go from hot to cold in this position. As the cuticle cools, it tightens, holding the hair in position. 
6. Once hair is cool, remove the rollers. 
The best part about these rollers is that you can still style your hair as usual after removing them. You can straighten or curl your hair after taking the rollers out, but you might not need to (depending on the texture of your hair) as the rollers will smooth and shape your hair while creating volume.
Now you can have full flowing hair a la Alessandra Ambrosio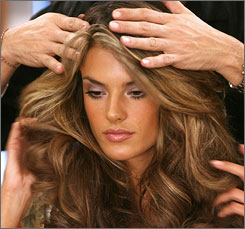 Instead of a Problem Poof A La Snooki
Thanks for reading,
Bethany
Ok, so I love Lauren Conrad as if she were my very own best friend. I guess watching a girl's life for 8 years will do that.... 
Much like any other long lost friend, every once in a while I wonder what Miss LC is up to. While I can't hop on FB, stalk her page, look at the pics of her BFF's wedding, and scope out her new Boy Toy... I do have google. In my most recent google search, amongst her adorable Kohl's, and chic paper crown clothing lines, I stumbled upon her new beauty blog site called thebeautydepartment.com  
Lauren has teamed up with make-up and hair pros to bring us a blog full of fresh new LC-inspired looks that include cat-eyes, red lips, bows, headbands, and everything else pretty, girly, and sweet. 
As a girl with long locks, I like to keep them out of my way at work, but a regular pony just isn't professional (in my opinion). So I've become a huge fan of the low side pony. It says business without being too severe like bun, too 1998 like the clipped updo, or too "kickball game on the playground" like a traditional pony. When I saw this alternative to my go-to style, I was obviously thrilled!

Give it a try, I know I will!
Thanks for reading!
<3 Bethany
Here's a question from one of my readers:
"I've been growing my hair out for almost 2 years. It's finally to a length that I'm happy with, but I've noticed that it's really flat on top. Do you know of anything I can do to get volume at the roots without using hairspray or another product that will make my hair feel gross?"
This question hits a little close to home for me, as my hair is one of my most prized accessories, but along with length comes weight, which causes that dreaded flat-top look.
First, let me ask a question? Is your hair limp, and a little greasy looking? If so, you may be over conditioning. In that case, cut back on the amount of conditioner you're using, or maybe even skip the conditioner on every other washing. If your hair is very thin, you may need to skip the conditioner to add texture.
If conditioner is not your problem, you could try teasing your hair a little bit at the roots.
To do this:
1.Lift up a thin section of hair at the crown of your head. Lay it down in the opposite direction that hair grows (this piece will be to cover the teased section of hair.)
2. Lift up another section directly behind the section to you laid down. Hold this hair straight up.
3. Take a comb, place it on the hair you are holding up, about 4-6 inches from your scalp and move it down to the scalp, then up and back down. This is basically creating knots that will make your hair stand out away from the scalp.
4. Continue until desired fullness has been acquired.
5. Cover teased section with the first section of hair you separated.
If you're not really into the Jersey Shore look, and would like to create more natural looking subtle volume, try a Milk & Honey Hair mask.
What you'll need:
1 TBS Honey
½ cup Full Fall Milk
1. Warm honey in microwave for 30 – 45 seconds.
2. Pour milk onto honey and mix well.
3. Massage into scalp and pull through to ends of hair
4. Cover hair with plastic shower cap or saran wrap
5. Cover plastic with a towel (this will hold the heat in)
6. Allow to sit for 20 minutes, then shampoo and condition as usual .
The Honey mask will add a little extra bounce and volume to your hair, as well as make it SUPER shiny.
Here are a few additional styling tips to add volume at the roots.
When blow drying hair:
1. Flip head upside down and blow dry until roots are just damp.
2. Separate hair into sections
3. Using a Fat round brush, wrap just roots of hair around the barrel of the brush and hold blow dryer on roots (top for a few seconds, then under for a few seconds). This will give your roots some extra lift.
If you use a Flat iron:
Instead of flat ironing hair in a downward motion, hold hair straight up and flat iron it away from the scalp.
For even more volume with the flat iron (must use a 1 inch flat iron):
Hold hair straight out/up (away from scalp), Apply flat iron as close to roots as possible, count to 3, then rotate flat iron 180 degrees (staying as close to scalp as possible) and slide it along the section of hair. This will also give the ends a nice natural looking curl. (This is similar to the way you make spiral curls with the flat iron, but you only rotate a half turn instead of a full turn)
I hope this helps!
Send your beauty questions to [email protected] and I'll answer them in my next blog.
Thanks for reading,
Bethany
Here's a question from one of my readers:  
"I go to the pool a lot in the summer, what can I do to protect my hair from chlorine damage?"  
It's funny you should ask, because I was getting my hair cut on Saturday (she butchered it, but that's another blog all together :-( and I heard one of the stylists telling her client (who was a lifeguard) that she should wet her hair before getting into the pool. Of course, this sparked my interest, and I came home and did some research….
If you saturate your hair with tap water before jumping into the pool, it will not be able to absorb the chemicals in the chlorinated water. Duh…it makes perfect sense…I can't believe I've never thought of it before.
Here is my 3-Step Plan to beautiful summer hair:
Step 1:
Saturate hair with water, then spray with leave in conditioner to protect hair from absorbing any chlorine. Most public pools have showers, but if yours does not, bring a spray bottle along to wet your hair. Fill the bottle with about 2 inches of conditioner, cover with water, and shake to mix. Spray this mixture to wet hair before going into the pool.
Step 2:
Wash hair that has been in chlorine as quickly as possible. The sooner you get the chemicals off of your hair, the less damage they will do.
Step 3:
Use a Clarifying shampoo and deep conditioner once a week. Clarifying Shampoos are great for removing build-up, but they are too harsh for everyday use. Find a deep conditioner, or hot oil treatment that you like and use it once a week. If you're a home remedy fan like me, try mayonnaise as a deep conditioner or coconut oil as a hot oil treatment
Mayo conditioner: Apply mayonnaise liberally to hair, cover with plastic bag, allow to sit for 20 minutes, rinse, shampoo and condition as usual
Coconut oil treatment: Apply coconut oil to hair until saturated, Tie up into a bun, sunbathe for several hours allowing oil to heat up and soak in, rinse, shampoo, and condition as usual.
Send your beauty questions to [email protected] and I'll answer them in my next blog.
Thanks, 
Bethany
Have you ever gone to get you hair done and they offer you a deep conditioning hot oil treatment for an additional $25-$30?
If you've ever broken down and purchased this treatment, you were probably pleasantly surprised at the results, right? Your hair was unbelievably soft, shiny, and manageable for a week or two afterwards.
Hot oil treatments are great not only for your hair, but for your scalp as well. They hydrate and condition your hair, but you don't have to add $30 to your $50 haircut to achieve these results. You don't need a magic Salon cocktail of oils or an overhead hair dryer to get the same results, especially not in the summer…
Take advantage of the summer heat and give yourself a hot oil treatment of your own. All you need is some coconut oil (which can be purchased at any health food-GNC, organic food-Whole Foods, and some grocery stores), a hair tie/clip, and the sunshine. *if you're in a pinch, and don't have coconut oil, you can use baby oil or olive oil, and achieve similar results.*
On a morning you plan to go to the beach or the pool, work coconut oil into hair and scalp. Start with a quarter size amount, and work into scalp and roots, then another quarter size amount for the hair shaft and ends. If your hair is extra long and/or thick, you may need more. If it is thin or very short, you may need less. Hair does not have to be saturated in oil, just work it through hair like you would a texture cream.
Once the oil has been worked into your hair. Twist hair into a bun and secure with an elastic hair band (no metal!) or twist into an updo and secure with a clip. Now, go lay in the sun and let that oil heat up. The heat will cause the oil to penetrate the scalp and hair follicles, moisturizing and conditioning hair from the roots. When you go home and wash the oil out, you should see a huge difference in the condition of your hair.
This is especially good for those of you, like me, who spend a lot of time in chlorinated pools. Chlorine is as drying to your hair as it is to your skin… Just think of it as coco butter for your hair.
Send your beauty questions to [email protected] and I'll answer them in my next blog.
Thanks,
Bethany