The Pampered Posts (Blog)
Here's a question from one of my readers:
"I'm going on Vacation next week, and I was wondering if you knew of any tricks to keeping beach hair tame?"
Considering that I would have beachy waves in January if I let my hair air dry, I totally understand what you're talking about. While I fight my waves all-year-round, somehow I love them at the beach. There's just something so "vacation" about air-dried hair and sunkissed skin…
Here are a few suggestions to keep your waves and lose the frizz whether you're on vacation at the beach, having a day-cation in the backyard pool, or anything in-between.
1. You can use a texturing or curl cream for a more controlled look. Creams won't dry hard like a mousse or gel, so your hair will look natural, but will be tame, and the cream will add a little extra texture.
Try Enjoy! Texture Cream.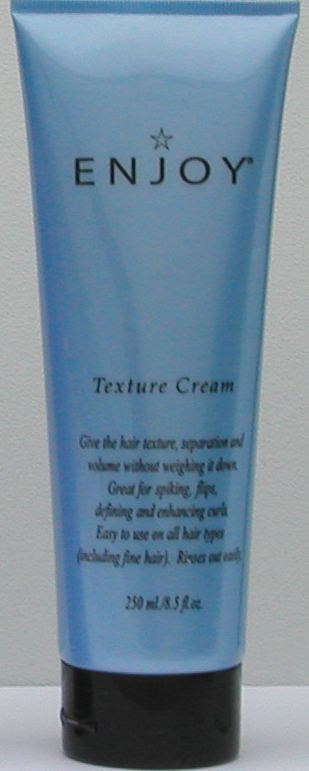 To use: - squeeze a quarter size amount of Enjoy! Or any other texture cream into palm - Rub hands together
- Turn head upside down and work into hair while scrunching. (cream will feel sticky at first)
- Allow hair to air dry for loose frizz-free waves
*Make sure to get the product into hair while it is still wet. Putting Texture cream into dry hair will cause the hair to feel heavy and could pull the curls/waves out.
2. For a more natural look and feel, mix 1 part conditioner with 3 parts water and fill a spray bottle with this mixture. This will keep hair soft, manageable, and frizz free on the beach. This is great even for those of you with straight hair, as the conditioner will help fight dryness and damage that can be caused by the salt or chlorine.
To use:
- spray on top of wet hair
- turn head upside down
- spray bottom of hair and work in while scrunching
- allow hair to air dry for full natural waves.
I hope this helps!
Have a great Vacation!
Send your beauty questions to pamperp[email protected] and I'll answer them in my next blog.
Don't forget to stop by tomorrow for another dose of the beauty blog.
Thanks,
Bethany
I'm sure many of you wish your hair had more oomph..more life...more volume. Everyone wants big sexy hair, at least some of the time. Today, I'm going to show you how to get it!
There are a few Home Remedies to pump up the volume on your fine hair.
1. Castor Oil and Egg Yolk will naturally thicken the individual hairs. These vitamin-rich ingredients will thicken and regenerate your otherwise limp locks.
- Mix 1 cup Castor Oil with 2 egg yolks until well blended
- Apply this mixture to dry hair.
- Wrap hair with foil and cover with a towel. The heat will help it penetrate.
- Leave this mixture on as long as you can.
- Wash as usual.
2. Another simple easy trick that you can use with the castor oil mask above or by itself is Oat flour. This restores lipids to your hair, which not only thickens the strands, but strengthens them as well.
- Add 2 TBS (or more) Oat Flour to your regular conditioner
- Mix well
- Use regularly after shampooing
3. Use a volumizing mousse on wet hair before blow drying. Make sure to choose a product specifically designed for thin hair (to add volume) so it doesn't weigh hair down. Be careful not to use too much product, because thin hair also tends to look greasy faster, and products will only emphasize this.
4. Blow dry hair in the opposite direction of growth to train the follicles to stand up, and away from the scalp, creating the illusion of more hair. Blow dry hair upside-down for best results.
Send your beauty questions to pa[email protected] and I'll answer then in my next blog.
Don't forget to stop by next week for another dose of the beauty blog.
Thanks,
Bethany
In honor of yesterday's "Bring Dull Damaged Hair Back to Life" blog's popularity, I've decided to give you another great little hair home remedy.
With summer quickly approaching, I'm sure we're all dreading that inevitable sunshine hair fade! Sun, salt (for those of you lucky enough to be close to a beach), and chlorine (for those of us who aren't) can really do a number on your colored hair! Remember when you were a kid and the sun would naturally lighten your hair? You looked so cute with your tan skin and your highlighted hair, but somehow, the 2 tones the sun creates now aren't quite as flattering. That's probably because the faded-out-ends-with-dark-roots look went out with Marilyn Manson.
Here's a great home remedy to revive your colored hair.
Blondes:
A homemade Chamomile Tea will keep your color in check, and prevent that harsh, brassy, sun-lightened look
To Make the Tea:
- Boil a handful of chamomile flowers in a pot of water for 10 minutes
- Remove from heat and allow the flowers to steep in the water until it is cool
- Remove the flowers, and rinse freshly washed/conditioned hair with the tea.
- You will need about a cup for each shower, but you can save it for up to a week.
Brunettes (and redheads):
A rosemary/sage tea will keep your warm color rich, and avoid that rusty orange fade-out that comes with sun exposure.
To make the tea:
- Boil a handful of rosemary leaves and a handful of sage leaves in a pot of water for 10 minutes
- Remove from heat and allow the leaves to steep in the water until it is cool.
- Remove leaves and rinse freshly washed/conditioned hair with the tea.
- You will need about a cup for each shower, but you can save it for up to a week.
These treatments are much easier on your hair than chemical-filled store bought products, not to mention cheaper! Fresh chamomile flowers, sage leaves, and rosemary leaves can be purchased at any health food (whole foods) or specialty food (McGinnis Sisters) store. You can also find dried versions of these herbs in the spice section of any grocery store. (when using dried herbs, a shake or two from the bottle is equal to a handful, because the leaves shrink as they dry)
Another helpful hint for those of you who like to stretch your time between colorings… Clairol's Root Touch Up works wonders! My mom has been using it for years, and it covers her stubborn grays, blends beautifully with her color, and buys her 3-4 extra weeks between salon trips! She swears by it, and even though my hair stylist friends are going to be mad at me for saying this, I highly recommend it!
While I do hope this helps you look great this summer, I'm more hopeful that it reduces the number of hair-color tragedies I have to encounter this year!
Send your beauty questions to pamperpa[email protected] and I'll answer them in my next blog!
Don't forget to stop by next week for another dose of the Beauty Blog!
Thanks,
Bethany

Here's a question from one of my readers:
"My hair is damaged, and dull and I have fly-aways all the time. What can I do to make it look healthy again?"
Well…It sounds to me like you have 3 separate problems. First is the damage…when was your last hair cut? I can give you some home remedies to treat damage, but the best fix would be to cut the damage off and start fresh. Consider getting an inch or two cut off the bottom and then start using the Treatments below. Your flyaways are most likely caused by static. As the weather changes from warm to cool to wet to dry and back again, your hair (and skin) looses moisture. A deep conditioning treatment will help tame those flyaways. Dull hair is caused by a lack of amino acids and vitamins. A rinse of Apple Cider Vinegar and honey will help to restore both.
For Dry/Damaged Hair (and to reduce static)
A mixture of oil (vegetable oil, olive oil, or anything else you have laying around will work) and egg YOLK will help hydrate and nourish dry damaged hair. Add about a ¼ cup of oil to one egg yolk and mix well. Apply this mixture all over dry hair. If your hair is damaged, but oily, apply only to the damaged areas (mostly the ends). Wrap your hair in Foil and put a warm towel over the foil. The heat will help the treatment to penetrate. Leave this on for 15 – 20 minutes, then shampoo/condition as usual. This will restore essential vitamins, moisture, and proteins to damaged hair, leaving it healthy and hydrated. There is such a thing as over conditioning, so keep this treatment to once per week.
*If your hair is dry, but not damaged, substitute egg whites for the yolk, and your hair does not need the vitamin-rich yolk* 
For Dull Hair
Hair that has lost it's luster can be brought back to life with a simple mixture of Apple Cider Vinegar and honey. Add a squirt or two of honey to 1 cup of apple cider vinegar and mix well. Apply this to hair as a rinse after shampooing and conditioning. Pour over hair, Work into scalp for 3 – 5 minutes, and rinse with the coldest water you can stand. This can be used after every wash. You should see results after one or two uses. The Vinegar acts as a clarifying product by removing any and all residue from hair, while honey restores shine-causing vitamins, and the cold water will smooth the hair's cuticle, allowing light to bounce off the strands. Your best bet would be to add honey to a bottle of the vinegar and keep it in your shower. Just be sure to shake it up before using!
I hope this helps!
Send your beauty questions to pamperpartiespgh.webs.com and I'll answer them in my next blog.
Don't forget to stop by tomorrow for another dose of the beauty blog!
Thanks,
Bethany
Today's blog comes as a suggestion from a friend of mine who is trying to grow her hair out. She, like the rest of us, wants to have long healthy hair, and has been taking the "GNC Ultra Nourishhair" supplement, which can be purchased at any GNC store or online.
My friend is thrilled with her results. She claims it has made her hair stronger, healthier, and it has sped up her hair growth. Sounds great right? I decided to do some research, not only on the ingredients, but on testimonials from other users as well, and here is what I found.
Almost all of the testimonials I've read raved about the results. They all claim that their hair is healthier, doesn't break or split as much, and most importantly, it's growing faster! The average growth after a month or 2 of use is 1 inch per month, which is twice the normal average for healthy hair without heat styling, which can hinder growth.
What you should expect when you take this supplement:
In the first month you may notice a slight tingling on your scalp, and probably will not see instant results in growth, but don't give up! It will take at least 3 – 4 weeks for the vitamins and amino acids to get into your system and start working their magic! You will definitely notice a difference by the end of the second month!
Why it works:
I looked up the active ingredients, and not only is this supplement great for hair health, but it will help your skin, nails, and over-all health in general. Each dose of GNC ultra Nourishair contains 100% (or more in some cases) of your daily requirement of Vitamins C, E, B-1, B-2, B-6, and B-12, as well as many other beneficial ingredients such as lower doses of some other vitamins, Zinc, and Folic Acid. Not to mention Silica and MSM (Methylsulfonyl-methane) which help restore collagen, Biotin which promotes cell renewal (this, along with vitamins, speeds up the growth process), Amino Acids, which help build up protective Proteins (this, along with vitamins, helps to strengthen hair and prevent breakage), and antioxidants (protect against free radicals, which cause premature aging of cells). It also contains Panothenic Acid, which promotes smoothness and shine.
The Down Side:
There is always some bad that comes with the good, one down side is, GNC Ultra Nourishhair is a little pricey at $17.99 per bottle, which contains 120 tablets. The regular dosage is 2 tablets per day, so it will last you 2 months.
The only complaint I saw appearing in a few of the testimonials is that it seems to promote oil production. This makes sense, as most people with damaged hair also have dehydrated hair. If you notice your hair is becoming greasy part-way through the day, sprinkle a little baking soda mixed with talcum powder onto a brush and comb through your hair. This will soak up any excess oil.
Send your beauty questions to [email protected] and I'll answer them in my next blog.
Don't forget to stop by tomorrow for another dose of the beauty blog.
Thanks, 
Bethany
I have good news for all you pony-tail loving girls out there…. Pulled back ponies and buns are ALL THE RAGE this spring, which makes me confident that they will also be big this summer.
As a daily blogger, I am constantly online looking for new material and one of the most common trends I've seen lately on celebrities, in magazines, and in real life is the side-swept ponytail and/or bun.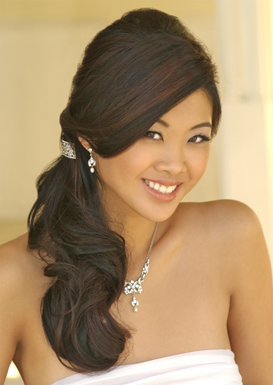 This new swing on the classic ponytail is not only easy, but super chic, and it works for every hair texture, style and length! This look can be personalized for just about anyone, so be creative! Just remember to keep it low…the modern side ponytails should be near the nape of neck, and buns or half ponies should never be higher than your ear. Follow this rule to ensure that you don't look like an extra from the "Let's get Physical" music video.
For a ponytail
(medium – long hair, any texture):
- Sweep hair to one side just behind the bottom of your ear and allow the tail to fall onto your shoulder.
- Dress this look up by wrapping a piece of hair around the hair tie.
For a Bun
(any length, any texture):
- Optional: tease hair slightly at the crown of your head to add volume
- Sweep hair to the side and twist into a bun. 
- Braids are really popular this season as well, so try braiding hair and then wrapping into a bun.
- Secure with bobby pins
- Add a flower or sparkly bobby pins to dress it up for evening.
- This can be a messy twist of curls or a neatly wound bun, depending on your hair type, personality, and the occasion.
TIP: for super short hair, pull into a ponytail, and pin ends around hair tie to "fake" a bun.
For a Half Ponytail
(any length, any texture):
- This is my favorite of the 3 looks, as I am a hair-down kind of girl.
- This look works with straight hair or naturally curly hair, but looks best with hair that has been curled with a curling iron or flat iron. (for instructions on curling your hair using a flat iron, please see my "Create Perfect Spiral Curls In Half the Time Blog) 
http://members.webs.com/MembersB/editAppPage.jsp?app=blog&pageID=148472451&token=null#blog/show/3317879-4-1-create-perfect-spiral-curls-in-half-the-time-using-a-flat-iron
- Sweep half of hair to one side and secure with a barrette or bobby pins near your ear.
- Add a flower, bow, or rhinestone clip for extra pizzazz. 
- allow the remainder of your hair to fall onto shoulders
Send your beauty questions to [email protected] and I'll answer them in my next blog.
Don't forget to stop by tomorrow for another dose of the beauty blog.
Thanks, 
Bethany
Here's a question from one of my readers:
"I have very thin hair. I wash it every morning, but by mid-afternoon it looks greasy. Anytime I go out in the evening I have to go home and wash my hair again so I don't look like a grease-ball. I've tried those anti-oil shampoos, but I swear they make it worse. Do you know of anything I can do?"
It's very likely that those oil removing shampoos DO make your oil problem worse. This is because your problem isn't an over production of oil, it's just that you don't have enough hair to soak up the oil your scalp does produce. Those anti-oil shampoos strip your scalp of all oil, which actually tells your sebaceous glands to work overtime! If your skin is not visibly shiny by 11:00 or 12:00, you're not an oily person, and those products are not for you.
Here's something you can do whether you have thin hair, oily hair, or you just slept in and didn't have time to wash it this morning...
- Get a small container or even a ziplock bag, and mix some baking soda and talcum powder together. Carry this mixture in your purse along with a small brush. When your hair starts to look greasy, sprinkle some of the mixture on the brush and comb it through your hair. This will absorb the excess oil, leaving your hair looking fresh and clean.
Here are a few additional suggestions for thin and/or very oily hair:
1. Use a volumizing shampoo, as it will cause the hair to stand farther away from the scalp, reducing the oil absorption.
2. Dry your hair upside down, to force the cuticles of the hair to stand up, holding hair away from the scalp
Now you're ready to go straight from the office to happy hour!
Send your beauty questions to pamperpa[email protected] and I'll answer them in my next blog!
Don't forget to stop by tomorrow for another dose of the beauty blog.
Thanks,
Bethany
As you may have figured out from previous blogs, I am what some people may call…Frugal (or cheap). I work hard for my money, and I like to stretch it as far as I possibly can, but I don't want to sacrifice my beauty products and treatments. Hence all the home beauty remedies...
I've taught you how to give your self manicures, pedicures, and facials at home, and I've given you few hair treatments, but today I'm going to give you the gift of salon-quality shampoos and conditioners at low-end drug store prices!
I've been using the Suave Professionals line for a few months now, and I've been able to try a few of their products, and I have to tell you, that I am extremely impressed! They work great, cost next to nothing, and you can buy them just about anywhere!
They claim to work as well as popular Salon brands, which we've all heard before, but the difference here is, they actually do! I worked in a spa for 3 years, which means I also had a 40% discount on all Biolage and Aveda products for 3 years, and believe me I took advantage of it! Also, with my nail/skin care license(s), I have access to all salon-brand products at wholesale price from distributors… this includes Aveda, NEXXUS, matrix, Biolage, Bed Head, etc.. and I still choose these Suave Professionals products because they work as well and are still cheaper even with the discounts I have available to me.
All of their products are "salon tested and approved" to work as well as the products they list as competitors. Below is a list of their products and what they do. First, choose your hair type, and then read the products available to you. Next to each Competitor's product, I listed the average price per bottle of shampoo. This is the price you would pay in a store, not a salon. If you purchased it in a salon, it would probably be even more. I payed $2.59 for my Suave Professionals "Sleek" at Foodland last week. (not the cheapest place to buy shampoo, but it's close to work, and I was there) . I've seen this brand as cheap as $1.50 at dollar general!
Normal - Dry Hair
Almond and Shea Butter -> moisturizes as well as Aveda Dry Remedy($18)
Replenishes lost moisture for well-nourished beautiful hair.
Vibrant Shine -> restores hair's luster as well as Sebastian Laminates ($16).
Enriched with silk amino acids and vitamin E. Restores health and shine.
Frizzy or Unmanageable Hair: (great for curls)
*Sleek –> Smoothes as well as Matrix sleek.look. ($15)
Enriched with silk amino acids and vitamin E to improve dry or frizzy texture.
Rosemary and Mint –> invigorates as well as Aveda Rosemary & Mint. ($14)
Gently cleanses and increases manageability for soft shiny hair.
Severely Dry Hair
 *Humectant –> replenishes moisture as well as NEXXUS therappe. ($18)
Made with panthenol and keratin to nourish hair
Damaged Hair
*Damage Care –> repairs hair as well as Redken Extreme. ($19)
Shampoo is enriched with nutrients and botanical extracts to gently cleanse and repair hair. Conditioner is fortified with proteins and ceramide to restore health to hair. Hair will be stronger, healthier, and shinier.
Limp, Heavy, or Thin Hair
Aloe Vera and Ginseng –> volumizes as well as Aveda Pure Abundance. ($18)
Cleanses without adding extra weight
Volumizing –> volumizes as well as Matrix Amplify. ($18)
Enriched with wheat proteins and panthenol to add fullness and shine without build-up.
Color Treated Hair:
*Color Care –> protects color treated hair as well as Biolage Color Care. ($18)
Contains Antioxidants to gently cleanse and protect color treated hair from harsh environmental elements. Locks in color and prevents fading.
* indicates products I (or someone I know) have tried and liked.
There are also a number of Suave Professionals Styling Products available as well, such as: weather protection hairspray and cream gel, volumizing hairspray gel & mousse, Curling mousse, sleek styling cream, and several strong hold products.
For more information on any of these products please visit the Suave Professionals website.
http://www.suave.com/professionals/shampoo-conditioner#/professionals/shampoo-conditioner
Please give these products a try! The most you're going to loose is $3 and as long as you choose the right product for you, I'm sure you'll be happy!
Send your beauty questions to pamper[email protected] and I'll answer them in my next blog. 
Don't forget to stop by tomorrow for another dose of the beauty blog.
Thanks, 
Bethany
Here's a question from one of my readers:
"I've heard that you can make spiral curls with a flat iron, and it's supposed to be faster and easier than a curling iron. Do you know how to do it?"
I DO!
The beauty of it is, you don't have to make curls at all. It's the same basic idea as curling a piece of ribbon with scissors. Pulling the hair straight and tight creates the curl. As long as you apply the same pressure and go the same speed, you will have a perfect curl.
You will need a skinny flat iton. 1 – 1 ½ inches works best, and it helps to have one with rotating plates, as they create the best curls.
First, put mouse in damp hair and blow dry. Then apply a heat protectant all over hair.
Once flat iron is hot:
- Separate longest bottom section and pull the rest of your hair up with a clip, just like when you straighten it.
- Start at the front, near your ear. Separate a small section (about the size section you would separate to straighten hair) You can use larger sections for looser curls and smaller sections for tighter curls.
- Hold hair with one hand and place flat iron on hair near roots, just as if you were going to straighten it.
- Slide flat iron down an inch or so, and take hair in your other hand behind, around, and over the top of the flat iron. The hair is now looped around the flat iron with the length of the hair draped over the top.
- Now rotate the flat iron away from you one whole turn so that the side that started in the front is in the front again. - Now slide the flat down the entire length of the hair.
- This should have created a perfect spiral curl - When you finish one whole layer, spray with flexible hold hairspray and continue on to the next layer.
- If you're unhappy with the curl you created, run the flat iron over hair to remove the curl and start over.
This definitely easier than making the curls with a curling iron, as you have to have the perfect technique to get perfect curls, and I think you'll find that is saves a lot of time too.
For those of you who are more visual learners, I have included a link to a youtube video that not only shows the technique, but also gives you an example of a good flat iron to use.

http://www.youtube.com/watch?v=KUhBCcbr9QY&feature=fvw
I hope this helps!
Send your beauty questions to pamperpa[email protected] and I'll answer them in my next blog.
Thanks for reading, and don't forget to stop by next week for another dose of the beauty blog!
Happy Easter!
-Bethany

So I was having drinks with some friends this weekend when there was a minor beer-spilling incident which resulted in wet hair. Fortunately, the spillee was more mature about the situation than I would have been. One drop of moisture on my hair and I start to look like a poodle! She jokingly said "It's ok, beer's probably good for your hair anyway. It's all natural". At this point, of course, the entire room turned to me. I didn't have an answer for them, but I told them I would do some research.
I found out that beer is not only good for your hair, but for your skin as well!
Use beer as a shine enhancing conditioner:
This is not something that needs to be done everyday. Once a week is more than enough, and you could probably get away with doing it once a month.
- Mix one cup of beer with 1 tsp olive oil to make a conditioner. (Set remaining beer aside for facial mask!)
- Shampoo as usual
- Pour beer mixture onto hair and massage into scalp for a few minutes.
- Rinse with cool water
Why it works: Beer acts as an acidic finishing rinse, which tightens the outer layer of your hair's cuticle. This allows the light to bounce off the smoothed cuticle, giving increased shine.
I promised I would research beer's effects on hair, and while I love a shine enhancing rinse as much as the next girl, I am much more fascinated and excited about beer's benefits for your skin!
In ancient Egypt, which is considered to be the birthplace of beer, upper class women including Cleopatra, soaked in beer baths because they believed it had beauty enhancing properties.
More than 4,000 years later, we know that they were right, and we know why!
Beer contains:
- Brewer's Yeast, which contains micro-organisms called saccaromyces cereviseae (SC). SC consume acne causing bacteria and prevent new bacteria from adhering to the skin. (SC reproduce at up to 24 new cells per second, so imagine the benefits a 15-minutes mask could have!)
- Riboflavin, biotin, and vitamin b12 regulate the skin's sebum (oil) production, therefore keeping it at a healthy PH level.
- Pantothenic acid and Vitamin B Complex make skin smooth and supple.
- Hops contains antioxidants necessary for increasing the skin's ability to protect and heal itself. Antioxidants are used in all anti-aging products.
- A whole array of other vitamins and nutrients.
People with acne prone skin can splash beer onto skin after cleansing for a bacteria- fighting addition to your regular skin care routine. Allow the beer to work it's magic while you finish getting ready, then rinse with warm water and moisturize.
Use beer as a Moisturizing anti-acne facial mask:
What you'll need:
- 1 TBS beer
- 1 TBS plain yogurt
- the white of 1 egg
Mix all items together to make a face mask (it's best to put in blender for 20 – 30 seconds) – you can also add almond extract and/or lemon extract if you have them.
- dampen skin with a warm wet washcloth
- apply mask to skin
- allow to sit for 15 – 20 minutes
- rinse with warm water
- apply moisturizer
Although applying beer topically can have positive beauty benefits, ingesting it does not necessarily have the same effect. Anyone who's seen themselves with a hangover knows this all too well! 
Send your beauty questions to pamperpa[email protected] and I'll answer them in my next blog.
Don't forget to stop by tomorrow for another dose of the beauty blog!
Thanks,
Bethany