The Pampered Posts (Blog)
| | |
| --- | --- |
| Posted on December 15, 2011 at 2:45 PM | |
It's Day 4 of Homemade Gifts, and I hope you're getting lots of great ideas!
Today I'm going to tell you how to make a no-sew fleece blanket. These have been popular for a while, so you've probably at least seen one before. They make great gifts because they're warm & cozy and can be used daily! They are also inexpensive to make! You can purchase fleece at Jo-Ann Fabrics for as little as $5.99 per yard and they have TONS of patters and colors to choose from. If you haven't seen one of these blankets, I have provided a picture below of what the finished product will look like: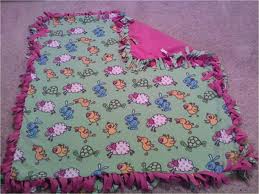 What you will need:
- 1 -2 yards of pattered fleece (depending on how large of a blanket you want to make. 1 yard makes a great lap blanket or child's blanket. 2 yards make a nice large blanket that will cover most adults.)
- 1-2 yards of plain fleece in a complimentary color (this will be the back of your blanket
- scissors (fabric scissors work best, but regular office scissors will get the job one)
- a ruler
What to do:
1. Lay the solid color fleece down on a large table or the floor.
2. Lay the pattered fleece on top of the solid fleece and make sure all the edges are matched up. (you may have to trim the rough edges off if there are any)
3. Use ruler to measure a 4 inch square in each corner, and cut the squares out of both piece of fleece. You should have a large rectangle with 4 square shaped cutouts in the corners.
4. Start on any side of the blanket and cut strips about 1.5 inches thick and 4 inches long along the edge of the blanket. It will look like fringe. Continue this fringing all the way around the blanket. You strips do not have to be perfect, as you won't notice one they're tied together.
5. Now you're ready to tie the fringe, which will hold the blanket together. I recommend tying all of the corners first to keep the blanket in place. You want to tie the solid and pattered pieces by crossing one over the other and passing the end of the top piece through the loop created by crossing them and pull tight (like tying your shoes) Make sure to double knot each of your ties. When double knotted, the solid color fringe will be on top and the pattered fringe on bottom. Continue this until all of the fringed pieces are tied together
Your blanket is complete! Congratulations!
Thanks for reading!
Bethany
Categories: None