The Pampered Posts (Blog)
| | |
| --- | --- |
| Posted on February 1, 2012 at 11:05 AM | |
As most of my friends know, I'm a big fan of glasses. It may be because since a corneal abrasion in high school, contacts are painful for me after a few hours, or because I think they're fun, or maybe a little bit of both. I think of glasses as an accessory, and like any accessory, it's no fun to wear the same pair everyday.... Just call me Elton John!
However, glasses are one EXPENSIVE accessory. Even with insurance, you end up paying an arm and a leg for glasses, and you're only alowed 1 pair per year (or 2 years with some plans). Well, have no fear, affordable glasses are here!
I found out about zennioptical.com from a co-worker who's husband stumbled upon them looking for discount or re-sale glasses for their son, who contantly broke or lost his glasses. Instead, what he found was a virtual goldmine of not just discount specs, but brand new Fabulous ones! When My boring black wire frames were slowly deteriorating, and my co-worker, Betsy,  caught me using nail glue to repair the sad-sac frames, she told me about zenni optical. I didn't even wait until the work day was over, I was online within minutes searching through their plethera of fab frames! I couldn't believe my eyes! Hundreds, maybe even Thousands of options starting at $6.95. How could this be real? I expressed my doubt to Betsy, but she assured me that her family ordered from the site frequently, and there are no hidden fees, and it's top-notch product! I hesitantly ordered 2 pairs. My bill was less than $30 with shipping. I figured, even if they fall apart in a few months, it would have been worth my $30. That was in October of 2010, and today Febraury 1, 2012, I finally broke one pair. I have worn these pretty much everyday for 2 years and they cost $6.95. I still can barely believe it. 
To order, you will need to get your perscription from your regular eye doctor, which was the most difficult part of the whole experience for me. They may be reluctant to give it up, as they are losing business from sites like this, who sell the same product at a much lower price. However, the prescription is yours and you have every right to it!
I placed my second Zenni optical purchase today. I ordered  3 pairs, one brown with rhinestones, one simple black, and one thick framed black pair with red bows on the temples (picture below). My entire bill with shipping was $52, and it was even easier (and more fun) this time than last. They now have a section of the website where you can upload a picture of yourself and try the glasses on your own face. Also, they saved all of my perscription information for me so i didn't have to re-enter or re-contact the nasty eye doctor's secretary!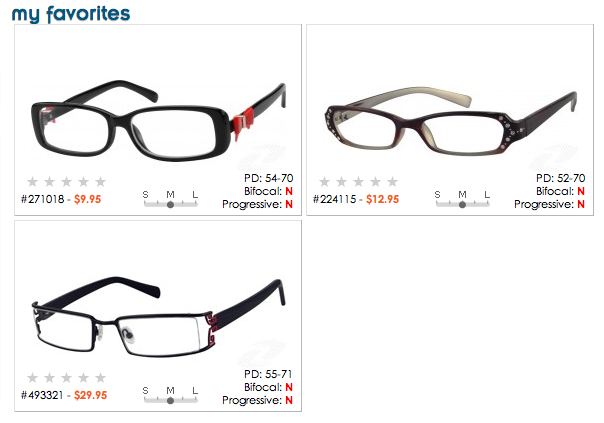 I can't wait for my order to arrive!
Get yours at zennioptical.com
Thanks for reading, 
Bethany
Categories: Fashion