The Pampered Posts (Blog)
| | |
| --- | --- |
| Posted on February 27, 2012 at 2:35 PM | |
I've blogged about this before, but I just had a BIG FAT zip pop up on my cheek that reminded me I should mix up a batch of this mask, and thought I would share this recipe with you guys again.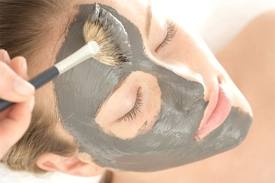 A Clay mask is a great way to purge your pores of excess dirt, oil, and debris. It is best to use a mask like this only once weekly. Very oily skin types could use it twice a week if they feel it's necessary. 
How to make your own Deep Cleasning Clay Mask at home:
First, lets talk about why: 
The main ingredient for most clay masks you would purchase is Bentonite Clay. This is a natural clay first used by Native Americans as a detoxifying agent because the clay draws inpurities from the skin. They also used it to protect themselves again poisous plants such as poison ivy. They would apply the clay to their skin before coming in contact with the plants. The clay would absorb the oils from the plants, preventing the oils from coming in contact with their skin. These two purposes are what makes this type of clay so useful in Skin Care products. Bentonite clay will draw the dirt and bacteria out of your pores while absorbing excess oils. Bentonite clay is available in health food stores and online on most cosmetic ingredient sites. In these places the clay is available for about $8 per pound, which isn't too expensive considering you only need about a tablespoon per use, but there is a much easier and inexpensive way to get this clay because it is used in Kitty Litter! If you purchase kitty litter that says 100% Natural Clay on the label, what you are getting is 100% Bentonite Clay! As long as you can get over the idea of slathering your face with kitty litter, you're going to save yourself a forutne over time!
I have a few recipies for Clay Masks using Bentonite clay listed below, there is one for every skin type, so please browse through to find the one that is best for you!
Clay Mask for Oily Skin:
1 TBS bentonite Clay
1 TBS water (distilled if possible)
1 squirt of Honey
1 drop of essential oil (optional)
Clay Mask for Combination Skin:
1 TBS Bentonite Clay
1 TBS Milk, cream, or half & half (best to use the ritchest that you have available)
1 squirt of Honey
1 drop essential oil (optional)
Clay mask for Dry Skin
1 TBS Bentonite Clay
1 Tbs Olive oil, Jojoba Oil, or vegetable oil
1 squirt of honey
1 drop essential oil (Optional)
Directions:
*place clay in a small microwave safe dish, and add your liquid phase. Microwave for 20 seconds. Stir. If clay has been totally moistened and mixture resembles a thick paste, you are ready to continue, if not add a little more of your liquid phase and stir again. Once mask reached desired consistency, add honey and essential oil. After cleasing and exfoliating skin, apply mask to skin in a circular motion. Leave on for 15 minutes, then remove using a warm wet towel. Finish by moisturizing skin.
The Recipe for dry or oily skin can be multiplied, made for multiple uses, and jarred. It should keep for a month or so without any preservatives. If you would like to keep it longer than a month, add a tablespoon of citric acid, potassium sorbate, or a teaspooon of tea tree oil per 8 onces. These are all natural ingredients that will prevent the growth of bacteria and mold. 
A few great additions to any of these masks would be:
Pure Aloe Vera Gel (substitute 25% - 50% of your liqiud phase with Aloe Gel) - this will help to add moisture to skin as well as plump fine lines and wrinkles
2-3 drops of Vitamin E Oil - this will nourish all skin types, but is especially great for aging skin (FYI: if you're over 25, your skin is considered to be aging skin)
Thanks for reading!
-Bethany
Categories: Skin Care