The Pampered Posts (Blog)
| | |
| --- | --- |
| Posted on March 7, 2012 at 4:35 PM | |
OK, so I know this is a little off subject, but I couldn't pass up the opportunity to share this recipe with you. It looks so freaking amazing! I CANNOT wait to try it!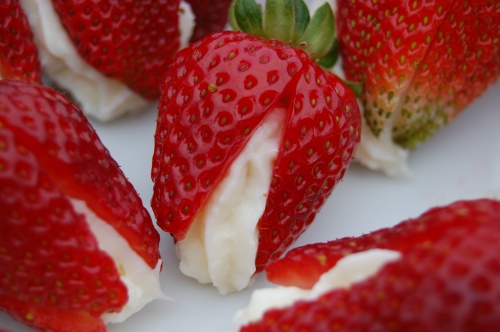 Low Cal Strawberry Cheesecake
SO, here's the deal, save yourself some calories and skip the crust. Slice 24 strawberries almost in half (from tip to stem), and fill them with this low cal no-bake filling. Not only is this a healthier option, but it's also a small 2-bite serving, which is usually enough when it comes to cheesecake... SO GENIUS!
What you need:
1 8oz pkg fat free cream cheese (softened)
1/2 cup sugar (I'm sure you could substitute splenda, but I hate it. When you figure 1/2 a cup divided by probably at least 24 strawberries, you're only getting like 1 gram per serving)
1/8 tsp salt
1/2c vanilla soy milk (or skim milk)
1 tsp lemon juice
1 tsp vanilla extract
1 1/2 Cups Fat Free cool whip
Electric Mixer
Instructions:
Beat Cream cheese and sugar (splenda) until well blended. Add salt, beat. Add Vanilla, beat. Add Milk, beat. Add lemon Juice, beat. Fold in Cool whip with a whisk. Pour into Bakery bag, and chill for an hour or until firm enough to hold it's shape. Snip off tip of bakey bag and fill strawberries.  chill at least 3 hours. 
You can dip the strawberries in chocolate after filling them to make them even more delicious!
Enjoy!
-Beth
Categories: Other