The Pampered Posts (Blog)
| | |
| --- | --- |
| Posted on March 28, 2012 at 2:40 PM | |
As many of you know all too well, Allergy season is upon us.. Itchy watery eyes, sneezing, scratchy throats, and runny noses, are all part of spring for many, including me…
I'm no doctor, so I can't tell you what to do to stop the allergy attacks, although I can tell you the Claritin D is my best friend this time of year. I can however, help you get rid of the rough dry skin around your nose caused by constant wiping and the cracked lips from all that mouth breathing…
If you're a frequent reader of my blog, you won't be surprised to hear what I use to re-condition skin after allergies or colds, as this is pretty my little miracle cream. I use it for everything from eczema to sunburn to dry winter hands, to cracked heels…
It's called Aquaphor, and it is a medicated ointment made by Eucerin. It is the consistency of Vaseline, and has all the moisturizing properties of petroleum jelly, with an added medicated (but not harsh) effect. It comes in a squeezy tube or a jar as pictured below. Remove about a dime sized amount from the jar and spread over dry, cracked, rough, or sore skin before bed. When you wake up the next morning, the Aquaphor will have soaked into your skin, which will be re-conditioned and back to it's healthy color and texture.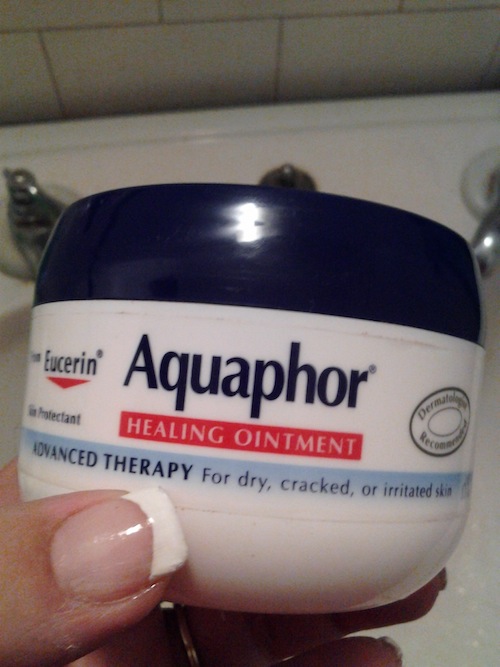 Aquaphor can be purchased in any drug store or grocery store, and it relatively inexpensive. It is gentle enough to use on your kids as well.
Please send your beauty questions to [email protected], and I will answer them in my next blog.
Thanks for reading,
Bethany
Categories: Skin Care