The Pampered Posts (Blog)
| | |
| --- | --- |
| Posted on September 13, 2012 at 12:15 AM | |
I love to sleep, and I despise waking up in the morning. As a matter of fact, I strongly believe that it is physically more difficult for my body to come out of the sleeping state than it is for most people. Ask my fiancée, he'll tell you how impossible it is to wake me up… This would be the reason that I am always looking for the perfect 5-minute face. If it comes down to a 30-minute full-face make-up application in the morning, or an extra half an hour of sleep… sleep will ALWAYS win, but I don't really want to go to work bare-faced either.
I mean, when I entered the real world work-force, at 22, the bare-face look was much more flattering than it is today. I'm not sure where between 22 and 27 it happened, but my complexion can no longer stand on it's own. The natural evenness and flush that I had in my early twenties has kind of faded into a blotchier, paler version of itself. I'm not complaining, I'm just stating the ugly truth. Along with this realization came the need to find a quick and easy daytime make-up look. After years of experimenting and trying products, I've finally found a 5-minute face that works for me.
Before I tell you about my choices, please understand that my daytime makeup goal is to look as natural as possible. I'm a make-up girl. I love playing with shadows, liner, and lipsticks, but I really just don't need a smoky eye at 9 AM. My daytime make-up hope is to inspire people to think: "Her skin is beautiful" rather than "Her make-up looks great". The dramatic look is definitely best saved for evening and events, in my opinion. If you're a cat-eye-to-work kind of girl, this is probably not going to help you much. But if you're a cat-eye-to-work girl, you're never going to find a 5-minute face…
So here are my daytime favs: Start with clean dry skin. Apply your favorite moisturizer to ensure a healthy looking even complexion. (Please excuse my shameless plug, but I use Indulgence Moisture Serum)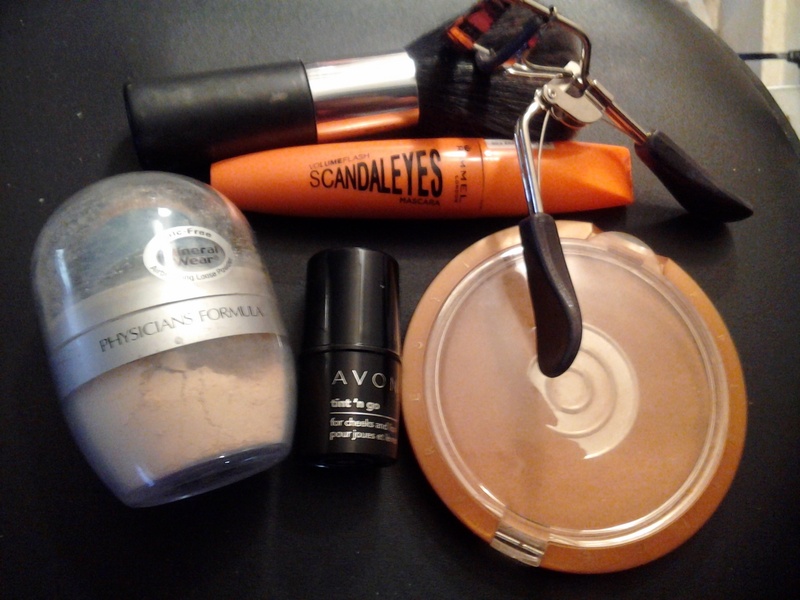 1. Physician's Formula Mineral Wear Loose Powder Foundation
Why: This is my favorite foundation for daytime or evening. It provides great coverage without feeling heavy or cakey, and the "buffing brush" (included) leaves skin looking fabulous.
How to apply it: Before opening, turn upside-down and shake. Remove cap and buffer brush. Pull tab to lift protective tray. Dab bristles of buffer brush into the product that has dispensed through the holes. Tap brush on the side of container to remove excess and use brush to apply product in circular motions.
Where to get it: I buy mine at Walgreens or Rite Aid. It's about $12, but will last several months. Note: If skin is dry or has dry spots, the mineral powder will stick to them. Be sure skin is even and moisturized before applying this foundation. If you have moisturized, and continue to have dryness, try an exfoliating cleanser like Indulgence One-Step-Facial (yep, I did it again, and I don't feel the least bit bad about it)
2. Bronzer (optional) My Current favorite is Avon Glow Bronzing Pearls (not pictured)
Why: To bring some life to dull skin. If you prefer a "porcelain" look or you feel that your skin is dark enough without, skip this step.
How to apply it: Use a fat blush brush to apply a dusting of bronzer all over face.
Where to get it: Anywhere. Choose the brand and shade that works best for you
3. Rimmel ScandalEYES Mascara
Why: This is by far the best lengthening mascara I've ever used. The color is perfect for daytime, because it is black, but not too intense. It fans lashes beautifully. Perfect for adding length without a ton a volume, and it does not clump.
How to apply: Place brush at the roots of lashes. Wiggle into lashes, and sweep upward to tips. Repeat until lashes are coated. Do this on both eyes, then apply short strokes just to the tips of lashes to get a little extra length. Allow to dry while doing lips eyes and cheeks, then apply a second coat.
Where to get it: Any drug store that carries rimmel products
Note: I usually apply 2 coats of this, then 1 coat of "Falsies Black Drama" because I like full dark lashes (I apply 2-3 coats of Flasies on top for evening)
4. Avon "Tint 'n'go" for lips and cheeks
Why: Because this stuff is amazing! Gives you a touch of sheer color in all the right places for an effortless put-together look.
How to apply it: It says it's for lips and cheeks, but I use it on my eyelids too. Eyes: Place stick on eyelid (against upper lash line) and sweep outward over eyelid once. Cheeks: dab stick over apples of cheeks and over cheek bone to desired color. Use hands to gently blend. Lips: Sweep over lips like a lipstick. I usually top with clear gloss, because I like shine.
Where to get it: Avon.com (I like "spicy")
5. Eyelash curler
Why: Curling your lashes makes your eyes appear larger and alert (I can use all the help I can get in this area).
How to use it: Some people curl their lashes before applying mascara. In my personal experience, that is a waste of time, as I always have to re-curl lashes once my mascara is applied. As long as your mascara is dry when you curl your lashes, it shouldn't stick to the curler. If it does stick to the curler, peel it slowly and gently from lashes while blinking to prevent pulling them out. Test the position of your eyelash curler by placing the curler over top lashes and slide down to roots. Line the top of the curler up with your upper eye lid, and squeeze the handles VERY gently. If the curler is too close you will feel it pull on your lashes or pinch your eyelid. This is why you squeeze gently, if you feel this, move the curler away from the roots a smidge, and test again. Once you have found the right spot for your curler, squeeze handles, and hold for 3 seconds, then "pump" the curler by squeezing and letting go repeatedly about 5 times. Move the curler to the middle of your lashes and squeeze once to create a more natural looking curl. Repeat this process on the other eye.
Where to get it: I use the Tarte Picture Perfect eyelash curler. It's from Sephora. I used to believe that there was no difference in eyelash curlers, and you could use any brand. Then I got this one as a gift, and it changed that… big time. It's awesome, and totally worth the $16.00 it costs. I've had it for more than 2 years.
That's it. That is my fresh-faced 5 minute morning make-up. I hope you love it as much as I do!
Enjoy!
-Beth
Categories: Make-up