The Pampered Posts (Blog)
| | |
| --- | --- |
| Posted on April 27, 2010 at 11:28 AM | |
I have good news for all you pony-tail loving girls out there…. Pulled back ponies and buns are ALL THE RAGE this spring, which makes me confident that they will also be big this summer.
As a daily blogger, I am constantly online looking for new material and one of the most common trends I've seen lately on celebrities, in magazines, and in real life is the side-swept ponytail and/or bun.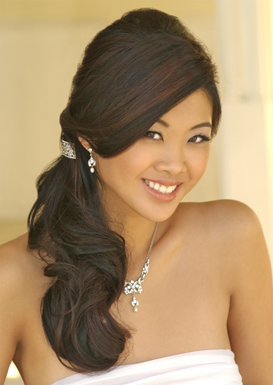 This new swing on the classic ponytail is not only easy, but super chic, and it works for every hair texture, style and length! This look can be personalized for just about anyone, so be creative! Just remember to keep it low…the modern side ponytails should be near the nape of neck, and buns or half ponies should never be higher than your ear. Follow this rule to ensure that you don't look like an extra from the "Let's get Physical" music video.
For a ponytail
(medium – long hair, any texture):
- Sweep hair to one side just behind the bottom of your ear and allow the tail to fall onto your shoulder.
- Dress this look up by wrapping a piece of hair around the hair tie.
For a Bun
(any length, any texture):
- Optional: tease hair slightly at the crown of your head to add volume
- Sweep hair to the side and twist into a bun. 
- Braids are really popular this season as well, so try braiding hair and then wrapping into a bun.
- Secure with bobby pins
- Add a flower or sparkly bobby pins to dress it up for evening.
- This can be a messy twist of curls or a neatly wound bun, depending on your hair type, personality, and the occasion.
TIP: for super short hair, pull into a ponytail, and pin ends around hair tie to "fake" a bun.
For a Half Ponytail
(any length, any texture):
- This is my favorite of the 3 looks, as I am a hair-down kind of girl.
- This look works with straight hair or naturally curly hair, but looks best with hair that has been curled with a curling iron or flat iron. (for instructions on curling your hair using a flat iron, please see my "Create Perfect Spiral Curls In Half the Time Blog) 
http://members.webs.com/MembersB/editAppPage.jsp?app=blog&pageID=148472451&token=null#blog/show/3317879-4-1-create-perfect-spiral-curls-in-half-the-time-using-a-flat-iron
- Sweep half of hair to one side and secure with a barrette or bobby pins near your ear.
- Add a flower, bow, or rhinestone clip for extra pizzazz. 
- allow the remainder of your hair to fall onto shoulders
Send your beauty questions to [email protected] and I'll answer them in my next blog.
Don't forget to stop by tomorrow for another dose of the beauty blog.
Thanks, 
Bethany
Categories: Hair Care, Fashion