The Pampered Posts (Blog)
| | |
| --- | --- |
| Posted on July 16, 2010 at 12:16 PM | |
Yesterday I explained that the best way to prevent your make-up from melting in the summer sun is to stick to powders and eliminate heavy creamy foundations. Now I'm going to tell you about my favorite bronzer/blush combo to give you a shimmery, summer glow.

Flushed cheeks have been very popular this year, and summer is no different! Wear blush and bronzer together to give yourself a healthy natural-looking flush.

Just because you live 6 hours from the closest shoreline and you spend your days sitting at a desk, doesn't mean you can't look like you just walked off the beach! With the correct application, the combination of blush and bronzer will give you that healthy after-sun glow even if you just rolled out of bed!

I've tried a number of different bronzer/blush combinations, but it's hard to find 2 that work perfectly together. Choosing one product that has just the right "temperature" (warmth or coolness) for your skin tone is hard enough, but choosing 2 that work for you AND work together can be nearly impossible. This is why I was SO EXCITED when I walked into my local rite aid and saw Neutrogena's new "Custom Glow" blush and bronzer Duo!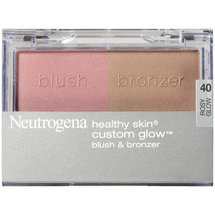 Neutrogena is seriously awesome. They're constantly reading my mind and doing the work for me! Thanks to "Custom Glow" you'll never have to worry whether your blush and bronzer "go". You can be confident in the fact that you look healthy, and beautiful!

My suggestion as to how to choose your pair is to go for the bronzer first. Choose one that goes well with your skin tone. You want a tone that matches your skin, but is a shade or 2 darker. When you find the right bronzer, you can count on the fact that the blush will give you a natural sun-kissed flush. If you're unhappy with your skin-tone because it's too yellow or too red, choose a bronzer that looks opposite. For example: I have Native American in my family, so when I tan, I tend to look very red. I choose a bronzer with a lot of gold in it to try and balance my skin tone. Some people tend get very golden when they tan. If you like this golden look; great, choose a bronzer that's similar to your skin tone, but if you're not crazy about all the yellow in your skin, choose a ruddier bronzer (more red/pink) to balance you out.

Once you have chosen your duo, sweep the bronzer over cheekbones, across forehead, and along the bridge of your nose. Then apply blush in a circular motion to the apples of your cheeks. The idea is to apply the blush where you would normally get a pink flush, had you been out in the sun all day. You will also notice that "Custom Glow" has a great summery shimmer, which looks beautiful when the sun hits it.

I hope this helps you to look and feel your best this summer!

Send your beauty questions to pamper[email protected] and I'll answer them in my next blog.

Thanks for reading!

Don't forget to stop by on Monday for another dose of the beauty blog.

-Bethany
Categories: Make-up