The Pampered Posts (Blog)
| | |
| --- | --- |
| Posted on June 28, 2011 at 9:41 AM | |
Here's a question from one of my readers:
"I'm always trying to get more volume at the roots of my hair, but no matter what I try it doesn't seem to work. I don't want to tease it. I want natural looking lift and volume. Do you have any suggestions?"
I totally understand the look you're trying to achieve. You're going more for Victoria Secret Super Model than Jersey Shore Guidette...
I feel your pain on this one. As a girl with very long hair, I suffer from the flat top myself. Volume and shine give such a healthy appearance. I have a total hair crush on Vanessa Marcil!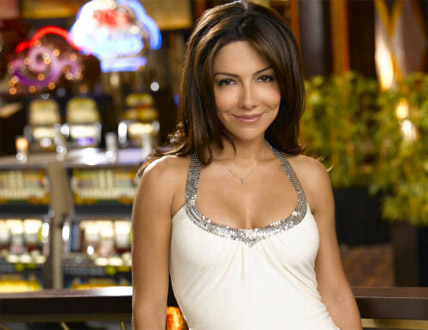 Have you ever tried large Velcro rollers? I know it seems very "retro", but they are a great (easy and inexpensive) way to get some quick lift at the root! 
The velcro rollers are great for creating Volume and shape without actually creating curl. If you were to use hot rollers (you know the kind your mom put in your hair before the Christmas pageant when you were a kid) you would get curl as well. You want to choose the largest rollers you can use for you hair's length, as these will add the most lift at the root. 
You can purchase these rollers just about anywhere that sells hair products:
Walmart: http://www.walmart.com/ip/Styling-Essentials-Self-Grip-Rollers-31-ct/12444293
Sally's: http://www.sallybeauty.com/assorted-rollers/VELCRO1,default,pd.html?cm_vc=SEARCH
CVS: http://www.cvs.com/CVSApp/catalog/shop_product_detail.jsp?filterBy=&skuId=269393&productId=269393&navAction=jump&navCount=3
Here's how to use them:
1. Shampoo and Condition hair as usual.
2. Add a lightweight volumizing product, such as mousse. You can ask your stylist about a good non-sticky product or you can try some things until you get something you like. I personally am a fan of the Big Sexy Hair line, but it can be a little pricey for me (I'm kind of cheapskate). Use a VERY small amount of product, on the roots of your hair. Less is definitely more in this case, as the more product you use the more it will weigh your hair down. You want just enough to give it a little oomph.
3. Flip head over and blow dry the roots upside down. Once roots are dry, you can turn your head over and blow dry hair as usual.
4. Once hair is dry (and still warm), part hair in the middle, and roll hair onto the velcro rollers. If your looking for just a little lift at the top, only roll the top layer. If you want all over volume, roll all of your hair. Secure each roller with a bobby pin.
5. Blow hair dryer over rolled hair for 30 seconds to 1 minute on hottest setting. Now you just wait for the hair to cool. You can apply make-up, get dressed, etc. in the mean time. (If you need to speed up this process, use the cold air setting on your hair dryer) The key is for the hair to go from hot to cold in this position. As the cuticle cools, it tightens, holding the hair in position. 
6. Once hair is cool, remove the rollers. 
The best part about these rollers is that you can still style your hair as usual after removing them. You can straighten or curl your hair after taking the rollers out, but you might not need to (depending on the texture of your hair) as the rollers will smooth and shape your hair while creating volume.
Now you can have full flowing hair a la Alessandra Ambrosio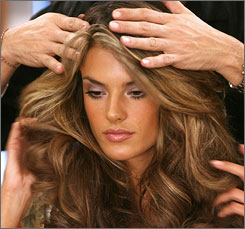 Instead of a Problem Poof A La Snooki
Thanks for reading,
Bethany
Categories: Hair Care