The Pampered Posts (Blog)
| | |
| --- | --- |
| Posted on July 26, 2011 at 12:17 PM | |
If you frequent my blog, you know that I love me some Kardashian style! I love that girly with an edge look, and Kourt, Kim, and Khole do it so well!
Kim Kardashian inspired this new nail trend; it's a perfect example of that great balance between a "pretty girl" French manicure and a "tough girl" matte look…
The matte look polishes came onto the nail scene a few years ago, and started becoming really popular last summer, but I haven't really been a big fan of them. Personally, I usually like a shiny manicure, but the contrast created in this look is interesting enough to make me want to give the matte look a second try.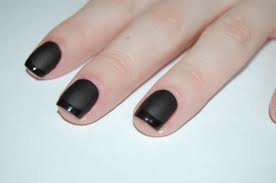 I love the contrast of the 2 textures within the same color.
To achieve this look:
1. Choose a matte polish. Most popular professional lines have a set of mattes to choose from, but I suggest getting a matte finisher, such as Essie's Matte finisher, which will change any polish from glossy to matte. This way you can try this look with multiple colors without purchasing multiple polishes. I got my mine on amazon.com for about $4 (much cheaper, even with shipping, than the $10 retail price)
2. Shape Nails, push back cuticles, and clean nail plates thoroughly using nail polish remover. Apply an acid primer if desired.
3. Apply Base Coat of your choice to clean dry nails. My current favorite is Sally Hansen's Diamond Strength…
4. If you're using a Matte Finisher, apply 2 coats of polish, allow to dry, then apply one even coat of the Finisher..  If you're using a matte polish, apply the first coat and allow to dry completely. Then apply the second coat.
5. Apply a high gloss top coat on just on the tips, like a French manicure. My favorite top coat is, and probably always will be, SecheVite Fast Dry. (I get my SechVite from amazon too)
Now just sit still for a few minutes until polish is completely dry and add some cuticle oil!
Enjoy!
-Bethany
Categories: Hand, Foot, and Nail Care, Fashion