The Pampered Posts (Blog)
| | |
| --- | --- |
| Posted on September 19, 2011 at 2:45 PM | |
In case you didn't know, it's Mercedes-Benz Fashion Week in NYC!
I will be devoting the Pampered Posts to helping you stay up on all the new trends showing up on the runways, so you can be in-style from head to toe this fall!
Let's start at the top and talk about hair!
From what I've seen, it looks like pulled back ponies are all the rage this Fall (can I get a hallelujah!). It seems like in the land of Ponytails… anything goes this year, so you can really let your personality show in your style.
The Polished Pony: 
My personal fav, is a sleek, straight, low ponytail pulled just to the nape of the neck. This is, in my opinion a ponytail in it's most classic form. Wrap a piece of hair around the band for a perfectly polished work look, add a flower for a sexy evening look, or even add an embellished headband for a fun & flirty daytime look.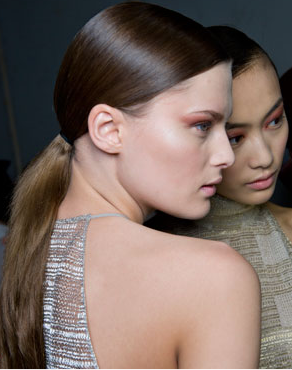 Akris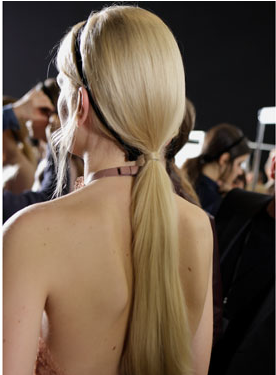 Valentino
The Messy Pony:
This is the opposite of the above polished look. This is the messy, slept-in look, which I understand is appealing to some, but I just don't get it. Sloppy and Slept in just isn't my style, but if you like it, More power to you!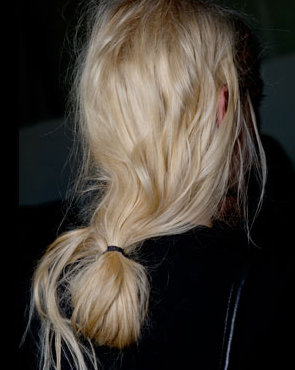 Alexander Wang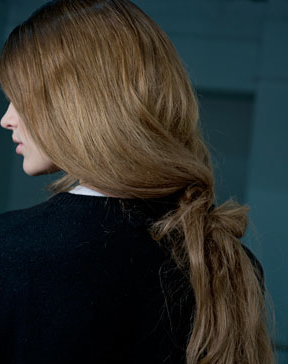 Proenza Schouler
The High Pony: 
I saw a few slicked back high pony tail looks as well. While it may feel a little juvenille, as we all wore our hair this way as children, there's something to be said for the instant face-lift effect a high pony can give. You have to be pretty comfortable with your face to wear this look, but on the right person, it can be extremely flattering.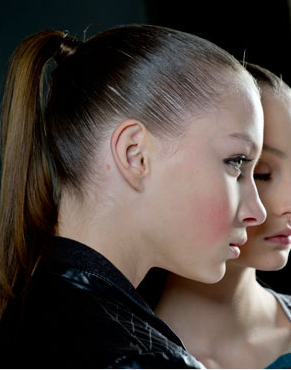 Marc Jacobs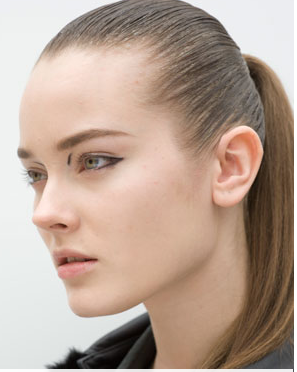 Louis Vuitton
The Funky Pony:
This, the most unique option, is also the one I'm most excited about, because it's something new and different for us to try this Fall. I saw several different examples of fun, funky ponytails emblellished, pinned, and puffed into all kinds of different works of art!
The first pictured below is pulled into a low ponytail and then the hair band is tucked under and pinned (I see this one pinned with floral embellshed bobby pins for a pretty girly garden at the nape of the neck or clipped with studded barrette for a punkrock look)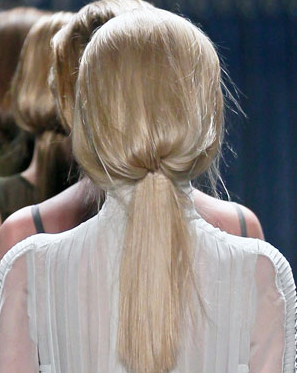 vera wang
Peacock Featheres adorn this fun and funky low ponytail.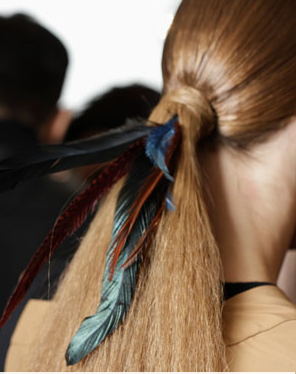 Gucci (of course, always my fav)
This last pony is held together at the nape of the neck with a gold ring embellishment, and then pulled taught to make a messy, effortless look. If it were me, I'd keep the gold ring, but skip the effertless look part... but that's just me!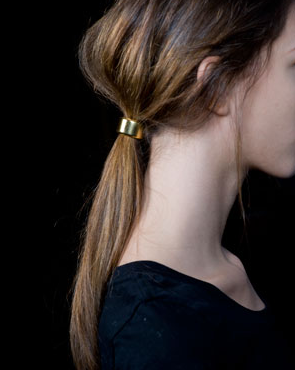 Dries Van Noten
Other popular Fall looks are the low loose braid that we've been seeing for the past year or so (a great ponytail alternative). They're popping up on the side, resting on one shouldler or the other as well as down the back. Cornrow style braids along the hariline or part are also still popular.
Teased 60's style Bouffants were also making quite an impression on the runway. Jean Paul Gaultier, Fendi and Jil Sader were all showing some wildly teased updos, and Peter Som was showing what can only be decribed as a Snooki inspired "poof". Part of me wonders if these looks are a nod of respect to the recently late Amy Winehouse, or if the whole country really does have jersey-fever...
No matter what your style, there's definitely a pulled back look for you this Fall. 
Hope you enjoy! Come back tomorrow and see what's Hott this Fall in Make-up!
Thanks for reading, 
-Bethany
Categories: Hair Care, Fashion