The Pampered Posts (Blog)
| | |
| --- | --- |
| Posted on February 28, 2012 at 3:20 PM | |
You know LOVES crackle nail polish? 9-year-olds…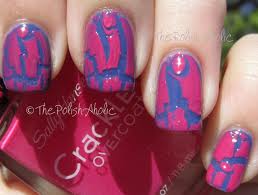 This is why I have it in just about every color. Of course, I put it out at my adult parties as well, and I can't tell you how many people have told me "I have that, but it doesn't work". It makes me so sad that people are buying this product, and then just tossing it aside because they can't get it to work properly. I admit, that crackle, regardless of brand, is temperamental. You have to apply it just right or it won't crack, but some brands are better than others. I've tried several brands, so I'm going tell you what my favorites are, and also give you my trick to perfectly crackled nails.
First, let's talk about brands. The most expensive brands are not necessarily the best brands. This is especially true for crackle polish. I have a few OPI, a few china glaze, a BUNCH of Funky Fingers brand and a Sally Hansen. I'm going to go over each of these and let you know which are my favorites. Please keep in mind that this is just my opinion that I have formed from my personal experience. Someone else may have a completely different experience. k
For me, it has come down to the following 3 criteria:
1. Consistency, a very runny crackle isn't going to works well. Your crackle should be slightly thicker that normal polish.
2. Dry time, the faster the polish dries, the better the crackle.
3. Technique
OPI Shatter: In my experience, this product is the worst of all the crackles I've tried. The product is so thin in the first few use that it offers little to no control, and dries so slowly that it doesn't crack much at all. After the bottle has been opened a few times and some air has hit the product it works well for a few applications, but then dries up quickly to the point where you cannot even apply it anymore
China Glaze: I like china glaze's product. It cracks well. My favorite thing about it is the consistency of the product remains the same over time. It does not dry up and become clumpy around the mouth of the polish bottle like many of the crackles I've used. This product costs about $5, which is significantly less than OPI and works better and will last longer. It comes in a decent variety of shades as well.
Funky Fingers: This is the brand of polish sold at Five Below. The things I love about this polish are the price (2 for $5) and the selection of colors. This is the brand that I use the most. I have about 10 of these. I use them multiple times per week and have had them for months without any drying clumping or problems cracking. They dry very quickly, which I think is the reason that they crack so well.
Sally Hansen: This is actually my favorite brand, believe it or not. I actually bought it because my OPI black crackle, which I paid $9 for, had dried up after about 6 uses, and I needed a new one in a pinch. I figured, eh… It will work for a party or two and then I'll probably have to get rid of it, but it's only a few dollars… Boy was I surprised when it was the best crackle I've ever used. It is the least temperamental of all the brands I've used, it's super-opaque (important for black), and has lasted a REALLY long time without drying up! The only down side to the Sally Hansen brand is that it doesn't come in many colors.
OK, now that you've got the scoop on the brands, let's talk technique:
When applying crackle polish, you can never double coat or overlap the crackle. If you do, it won't crack. You have to apply it in quick even stripes. Most nails should take 2-3 sweeps of the brush. Normally, when polishing, you start with one streak down the center of the nail, and one on either side. When applying crackle, you should start on the left side and work toward the right.
Steps:
1. After applying a base coat and the color you want to show through the cracks, load your brush with enough polish to cover the nail without having to go back into your bottle. The idea to apply it as quickly and evenly as possible.
2. Starting on the left side of the nail, apply a stripe of polish using a very light and quick motion. Use this same light quick striping motion for the remaining 1-2 stripes until nail is covered.
3. Resist the urge to sweep over the nail again, even if it looks streaky or you missed spot. The whole idea of crackle is that it's imperfect, so just go with it. Going over the nail again will prevent it from cracking.
4. Wait until the crackle is completely dry before applying a topcoat. The polish will continue to crack until it is completely dry. If you apply a topcoat, it will stop the cracking process.
I hope this helps you get some use out of the crackle polishes that you've given up hope on!
Thanks for reading,
Bethany
Categories: Hand, Foot, and Nail Care