The Pampered Posts (Blog)
| | |
| --- | --- |
| Posted on March 7, 2012 at 3:00 PM | |
Spring has just about sprung, which means it's time to trade the bulky sweaters, boots, and heavy make-up for floral blouses, ballet flats, and fresh-faced complexions. The warmer months definitely brighten our moods, but they also force us to come out from under the blanket of heavy clothes and heavier concealer that we've been hiding under all winter. I'm sure you hit the gym a little harder with visions of bikinis dancing (or jiggling as the case may be) in your head, so why shouldn't you be getting your skin in-shape to bare-all as well? I mean, when is the last time you wore make-up to the beach? Is your face not as naked as the rest of you?
I know what you're thinking, sure I'd love to have bright, even, clear, glowing skin for the spring, but who can afford a salon facial? …. Believe me, I hear ya! At $75-a-pop, I certainly can't! A professional facial is rare and precious commodity. Most likely only enjoyed when given as a gift (ahem, hint hint), but that doesn't have to mean that beautiful skin also has to be rare. You can easily and inexpensively have skin just as beautiful (if not more so) than those lucky ladies with nothing better to spend their money on than a weekly facial, and I'm going to show you how.
Now, of course I would love it if you would use my Indulgence Skin Care line, which is made from all natural edible ingredients. You can purchase the whole line for less than $40 (in the 4oz size or $54 in the 8oz size), so I'm going to include those products with the home made recipes so you'll know what to do with them if you do decide to purchase the products.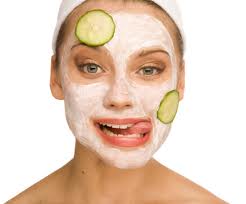 At Home Facial:
Step 1 Quick Cleanse
I recommend using a facial wipe for this step. The point of this step is to remove surface dirt oil and make up. You want it to be quick and easy. Remove 1 wipe from container and cleanse skin in a circular motion for about 1 minute. Be sure to remove any make up that may be on skin.
Homemade Facial Wipes Recipe:
1 Roll Paper Towel (cut in half vertically to make 2 short rolls)
1 TBS Johnson's Baby Shampoo
1 TBS Johnson Baby Oil 2 cups Water Mix Baby shampoo, baby oil and water together.
Instructions: 
Place 1 short paper towel roll in an empty baby wipe container or ziplock container. Pour mixture over paper towels, place lid on container and allow to soak for a few hours before using.
(or use Indulgence Quick & Easy Facial Wipes $10)
If you have a lot of make-up to remove, use a make-up remover or cold cream first.
Mineral oil (baby oil) works great for this, just make sure you cleanse your skin afterward, so remove the excess oil
(or use Indulgence Moisturizing Make-up remover $6.50 4oz or $12 8oz)
Step 2 Exfoliate
Exfoliation is one of the most important steps in any facial as it removes dead skin. This is what gives your skin the smooth, soft, glowing appearance. To exfoliate, remove a quarter size amount of product from jar/container, and rub gently over skin in a circular motion for about 1 minute. Use a warm wet towel to remove scrub. This will open your pores for the cleansing step. Also, a common misconception is that exfoliation should come after the deep cleanse. In my experience, it is best to exfoliate first for 2 reasons:
1. Exfoliating removes dead skin build up allowing the deep cleanser to penetrate skin better. And
2. Most exfoliating products contain oil. Deep cleansing the skin after exfoliating will remove any oil residue from skin.
Homemade Exfoliator
2 TBS corncob, cornmeal, or brown sugar
1 TBS vegetable or olive oil
1 squirt honey (doesn't have to be exact measurement)
Instructions:
Combine ingredients in a small bowl. Consistency should be that of a slushy. If it is too wet or too dry add oil or scrubbing ingredients to modify.
Homade exfoliator for sensitive skin:
If your skin is sensitive and a manually exfoliating your skin is painful or uncomfortable you can mix up a chemical exfoliator with1-2TBS Baking soda and a few drops of water. Mix to make a thick paste. Apply to skin and allow to sit for 2-3 minutes before removing with a warm wet towel.
Step 3 Deep Cleanse:
The deep cleanse is the step that will get your skin squeaky clean. Apply your cleanser to skin, massage into skin, allow to sit on skin for a minute or two, and then remove with a warm wet towel.
Homemade Cleanser:
1 Tsp Powdered Milk
1 Tsp Honey
(for oily skin 3-4 drops apple cider vinegar or Lemon Juice)
(for normal skin 3-4 drops water)
(for dry-sensitive skin 3-4 drops pure aloe vera gel –if you don't have an aloe plant already, you should go out and get one… like today)
Instructions: 
Mix this into a paste and apply to skin for 1-2 minutes. Remove with warm wet towel. 
(or you an combine the deep cleanse and exfoliating steps by using Indulgence One-Step-Facial $6.50 for 4oz or $12 for 8oz)
Step 4 Mask:
There are TONS of great options for natural facial masks online, but I personally am a big fan of fruit facial masks, Below is a list of ingredients that are great for your skin and what their benefits are. Please feel free to mix up your mask from the list below or go online and do your own research.
First, you will want to choose a base for your mask. Like to keep it simple and go with either yogurt or oatmeal.
Bases:
Yogurt: Yogurt is moisturizing and firming. It is great for normal-dry and aging skin types. You want to use plain unflavored yogurt, but do not use low or reduced fat, as the dairy fat is good fro your skin. If you already have low or reduced fat at home, you can use it. It won't hurt you.
Oatmeal absorbs oil and soothes skin. It is good for oily, acne prone or sensitive skin types. Use regular oats and water, not instant oatmeal. Place a small amount of dry oats in a microwave safe dish, add water and microwave according to instructions on the package.
Place 1 TBS of your selected base in a container, then add 1 tsp of each additive. Stir well!
Now for additives:
Lemon Juice: Lemon Juice is anti-septic. It kills blemish causing bacteria, and therefore is good for oily or acne prone skin.
Bananas (mashed): Bananas are moisturizing, softening, and very gentle to skin. They are great for all skin types. They will make skin feel smooth and soft (and they'll make your mask smell fantastic).
Strawberries (pureed): Strawberries are great for aging or sensitive skin. They are gentle and firming. They will help to soothe skin conditions such as rosaeca, sunburn, or eczema.
Vegetable Oil: Vegetable oil softens and hydrates skin. It should only be used on dry skin types.
Cocoa Powder: Cocoa Powder is great for all skin types. It nourishes and improves the texture of skin.
Honey: Honey is Moisturizing and Antiseptic. It is a great addition to any mask. No matter your skin type you should add some honey!
This pretty much covers all skin types, and you should be able to get a good mask out of these options. Like I said there are TONS of options for masks online, and you are welcome to research your own options.
Once your mask is made. Apply it to your skin in a circular motion. Allow to sit on skin for 15 – 20 minutes, then remove with a warm towel.
(or use Indulgence Aloe Vera Moisture Mask for Dry, sensitive, or aging skin types OR Deep Cleansing Clay mask for oily or acne prone skin)
Step 5 Tone:
You can tone you skin by applying any of the following items to a cotton ball and rubbing over your skin. This will close the pores and lock in the moisture:
- Lemon Juice
- Witch Hazel
- A mixture of 3 parts water an 1 parts Apple Cider Vinegar
Or, just splash your skin with ice cold water. This is what I always do.
Step 6: Moisturize
Moisturizing is the most overlooked, and one of the most important steps. Everyone washes their face, but many people don't take the extra time, effort, or expense to moisturize properly. Properly hydrated skin will be plump, even, smooth, and glowing.
Moisturizers are definitely the trickiest of the homemade skin care products, as lotions require heat processing, emollient waxes, and very detailed measuring. If you are only going to purchase one beauty product, I suggest purchasing a good moisturizer. A good facial moisturizer will absorb quickly into skin without leaving a greasy residue behind. It even out skin texture and color, leaving great canvas for your make-up.
If you're going to try your own moisturizer, here are a few options that might work for you. None of these will be a lotion-like moisturizer that you may be picturing, but will do the job. (Sometimes a less creamy moisturizer is best for the face, as the heavier crèmes contain more wax and oil, which can clog pores. A thin lotion or serum may be better for the face)
- Vegetable Glycerin (can be found in most pharmacies or drug stores) While glycerin looks and feels like an oil, it is actual an oil free product derived from plant osmosis. It will soften and moisturize skin without clogging pores
- Aloe Vera Gel: Raw aloe vera gel is one of the best natural moisturizers out there.
- Jojoba oil (can be found in health food stores) this is a liquid wax that comes in the form of oil. It is non-comedogenic, and will moisturize skin.
(Or use Indulgence Aloe & Green Tea oil-free Moisturizing serum, $8)
Now that your facial is complete, make sure to keep up with your skin-care regime by washing your face once per day with the cleanser (either morning or bedtime) and follow with toner and moisturizer. Use wipes on the opposite side of the day and follow with toner and moisturizer. Repeat the full facial as often as once weekly.
Thanks for reading!
Bethany
Categories: Skin Care