The Pampered Posts (Blog)
| | |
| --- | --- |
| Posted on March 10, 2012 at 12:15 AM | |
So, you know how I love me some healthy beautiful nails!
I came across this nail strengthening recipe, when I was researching natural cuticle remover recipes (come back next week if you're interested in this recipe), and I just had to share! Forget that $16 bottle of Nail Envy, this is cheap, easy, and effective... my favorite combination!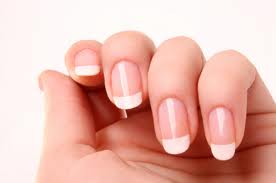 What you need:
1/2 packet plain clear gelatin
1/2 cup Boiling water
Instructions:
Boil water on stove or in microwave
Add 1/2 cup gelatin to boiling water
Stir
Wait for it to cool
Once your strengthening soak has cooled to room temperature, soak nails for 10 minutes, then rinse. 
You can do this as often as you would like. 
Also, you can keep your gelatin mixture in the fridge for  a few weeks and re-use. 
Thanks for reading, 
Bethany
Categories: Hand, Foot, and Nail Care