The Pampered Posts (Blog)
| | |
| --- | --- |
| Posted on July 11, 2012 at 10:45 AM | |
If you're a candle junkie like me, you know that candles are outrageously expensive. I've even looked into purchasing candle making supplies and making my own, which save some money, but is still expensive. I came across this idea when searching online for cheaper alternatives to candle making. It was on a site for emergency preparedness. The site said to insert a candle wick (or string if you don't have a wick) into a can of Crisco. The site says that a large jar of Crisco will burn for up to 45 days straight in an emergency situation! Holy cow! 45 days!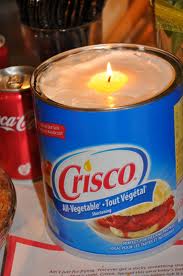 So, I got to thinking, if you can insert a candle wick into the Crisco and it burns like a candle, why can't you melt the Crisco down, add scent and candle coloring and pour into pretty jars with a wick to make your own super cheap long burning candles?
The answer is: YOU CAN! i know this because I did a little research and learned that crisco was originally deveopled by proctor & gamble as a candle and soap making product. Before vegetable shortening was developed, the process of candle and soap making required the use of animal lard and tallow,. In the 1890s the meat packing monoply made all animal products outrageously expensive. Proctor ans Gamble developed hydrogenation, which turned liquid cottonseed oil into a solid that resembled lard (Crisco). It wasn't until the early 1900's when electricity was becoming mainstream, causing the candle demand to dwindle, that they began selling crisco as food... there's your history lesson for the day. Now onto the good stuff!
If you've ever made your own candles, you pretty much know the process, and can skip over the instructions below, but if you haven't, read on for the how-to.
What you need
-Large can of Crisco Shortening
-Scented cooking extract or candle scent (can be purchased at any craft store) -Candle colorant (can also be purchased at any craft store)  
*You could substitute food coloring for candle colorant, but you colors may fade quickly.
- Decorative candle jars, wine glasses, votive cups, etc.. (Something to pour your candle into)
Instructions:
1. Measure out your scent and color (if using candle scent/color blocks, follow the instructions on the package for the size candle you'll be making)
2. Melt your Crisco (if making several candles place entire can in pot of boiling water to melt double-boiler style) (if making one candle, spoon out enough Crisco to fill you container and microwave until melted)
3. Remove from heat and add colorant and scent to Crisco, and mix well by stirring quickly. You will notice that the Crisco begins to congeal after a few minutes of stirring.
4. When Crisco had begun to congeal, but it not fully cooled, insert wick and pour Crisco into container. (you want to make sure it has begun to congeal so that the color and scent will suspend itself in the mixture rather than just floating to the bottom. The thick consistency will also keep the wick in place when pouring the candle)
5. Allow to cool for 15-20 minutes, and you candle is ready to burn!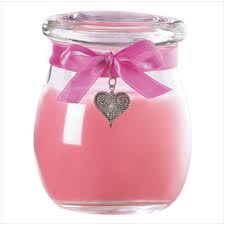 OK, so there are your instructions for container candles, but what if you want a cheap way to make pillar candles? I haven't tested this method, but I've read that you can mix 50% paraffin wax and 50% Crisco to get a firmer candle. Praffin wax can be purchased at most grocery stores by the block in the canning section. 
Here are the instructions for that Process:
1. Measure scent and colorant
2. Using a double boiler (or bowl inside of a pot of boiling water) melt your paraffin completely.
3. Add your Crisco and melt into paraffin wax
4. Remove from heat and mix in colorant and scent
5. Add wick to mould and pour wax mixture in.
6. Allow to set completely before removing from mould.
ENJOY your cheap home-made candles.
These would make GREAT gifts, and they contain no animal products, so they would be great for soy candle lovers (like my mother-in-law-to-be)!
Thanks for reading,
Bethany
Categories: Other