The Pampered Posts (Blog)
| | |
| --- | --- |
| Posted on November 24, 2009 at 10:31 AM | |
That's right ladies... there is a such thing as classy cleavage.
It's that happy medium between trailer park saggy cleav and Silicone enhanced choking-on-your-own cleav.
And how to do you achieve this allusive classy cleavage?
STRAP PERFECT! that's how!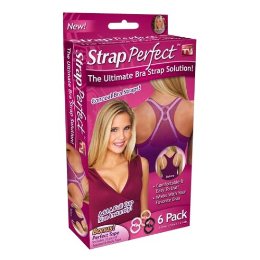 This is one amazing product! I'm telling you, EVERY girl needs a strap perfect in her life.
It's one small piece of plastic, one giant leap for woman-kind. This little miracle worker could lift granny's knockers to a firm, perky attention! 
And the best part, they're less than $2 a piece. You can find this little magic maker at Target (see link below), it's $9.99 for a 6 pack
http://www.target.com/gp/detail.html/186-6755731-4651535?ASIN=B001OR9PUO&AFID=Froogle&LNM=B001OR9PUO%7CStrap_Perfect&ci_src=14110944&ci_sku=B001OR9PUO&ref=tgt_adv_XSG10001
or I'm sure you could find them even cheaper online if you were willing to do the research.
Another little perk (pun intended), it'll keep your straps from sticking out of your tank tops and falling down, 6th grade style...
Send your beauty questions to [email protected] and i'll answer them in my next blog.
Hope you enjoyed this little tip, and remember to stop by tomorrow for another dose of the beauty blog!
Thanks, 
Bethany 
Categories: Fashion