The Pampered Posts (Blog)
| | |
| --- | --- |
| Posted on November 12, 2012 at 9:30 AM | |
Hi friends, 
Sorry I've been neglecting you, but I'm back this week with a new Mrs. Manicure for you!
For anyone who's just  joining the Mrs. Manicure series. I am getting married next year, October 19, 2013, and I'm trying to find myself the PERFECT maincure for my fall nuptials.  The theme of my wedding is "Fall in Love", and my color pallett is mainly brown and gold with accents of fall leaf shades, like burnt orange, plum, burgandy, copper, etc..
Well, I was shopping with my mom yesterday, and a fabulous bottle of copper glittery polish caught my eye. Now, anyone who knows me, knows that I have a weakness for nail polish, and that I can never go anywhere that sells it and walk out empty handed. I mean, I'm proud of myself for only finding one bottle of polish that I "needed"! 
So , anyway.... I got this fab sparkley polish and, of course, put it on at my earliest convenience. I bought it because I loved the color. I didn't really have any bridal plan for it, but after putting it on and admiring it for a while, I could totally see me or the bridesmaids wearing it for the wedding. It's such a festive fall party color!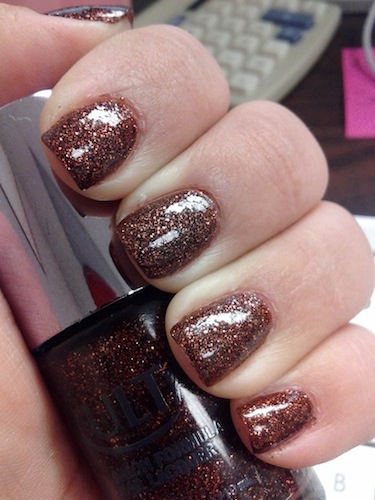 It is Ulta's Salon Formula  polish in "My Two Cents". Please keep in mind that this picture was taken on my phone. It is showing the glitter, but it's not showing the color exactly. The glitter is definitely more copper in color than this picture is showing, and there is more of a contrast between the base color, which is a rich chocolatey brown, and and the glitter. 
If I choose to wear color on my nails, I could totally see this being the one!
Please let me know what you think, either by commenting here, in the photo gallery, or on my Pamper Parties Pittsburgh facebook page!
Thanks,
Bethany
Categories: Hand, Foot, and Nail Care