The Pampered Posts (Blog)
| | |
| --- | --- |
| Posted on January 24, 2013 at 1:55 PM | |
Happy Thursday Pampered Posters… I have a new kitchen cabinet recipe for you! (YAY!)
If you've ever had your makeup done professionally, the technician may have sprayed a "Setting Spray" over your finished make-up to help keep it in place. If you've ever used a setting spray, then you know how valuable this recipe is, because they are AMAZING and EXPENSIVE! The two brands that I've tried are: MAC "fix+" and Urban Decay "all nighter". Both are great products, but average about $10 per ounce… really? That's nuts!
Well, no more sudgey smeary faces for girls who can't afford a $30 bottle of setting spray, because I've got a recipe for a setting spray that will anchor your make-up for a fraction of the cost, and it's super easy too! I figure, it will cost you less than 30 cents per 2 oz batch of this spray, because a 1 quart (32oz) size bottle of vegetable glycerin is about $15, making it about 47 cents per ounce. You only need half of an ounce (one Tbs) to make a 2oz bottle of setting spray. I added about 6 cents for water, which seems more than generous for an ounce and a half of distilled water... much better than $20, right? ...AND this spray is actaully better for you skin than those chemical-based store bought ones: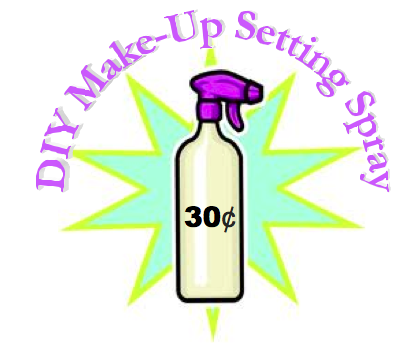 Here's what you'll need:
-A spray bottle of some sort. I used an old travel size body spray bottle
-Vegetable Glycerin
-Distilled Water
-Measuring cups or spoons
Directions:
First, choose the amount of spray you would like to make. The total volume of spray will be divided by 4 to get the amout of 1 "part". Depending on how much you want to make, your "part" could be anything from a teaspoon to a cup. I suggest making it in small batches. While the glycerin does have some antibacterial properties, you won't want to keep it more than week or 2 at the most, because there is significantly more water than glycerin, and water is bacteria's best friend! I had a 2oz bottle, so my "part" was 1 Tablespoon, which is equal to half an ounce. 
1. Measure one part Vegetable Glycerin, and add to your spray bottle
2. Measure 3 parts Water and add to your spray bottle. 
3. Replace lid, shake, and spritz!
That's it, and you're welcome!
I have to provide you with a little bit of the "why it works", because that's why you keep coming back to the Pampered Posts, right? For the science lessons….
All kidding aside, I do know that my readers appreciate my explanations. I've been told that's what sets me apart from other beauty bloggers, who have ideas, recipes, tips, and writing styles that are just as good (if not better) than mine. My readers like to know why, and I love to educate them about natural skin care! So, here's the why ladies… Vegetable Glycerin on it's own, is a think syrupy liquid, and is quite sticky to the touch. Diluting the glycerin in 3 parts water will reduce the stickiness significantly, but a touch of it will remain. When lightly spritzed onto the skin, it's consistency will allow the glycerin to stick to the surface of your skin and "glue" your make-up in place until it is washed off. However, because of the dilution and the light application, it will not be uncomfortable, but will help to create a barrier between your make-up and all the many causes of smudges and smears. It will not feel greasy, clog pores, or cause blemishes, because Vegetable glycerin is honestly the BEST facial moisturizer available. It is a Humectant, which means it is able to attract water like a magnet, drawing moisture from the air to your skin. It is also an emollient, which means it will soften. smooth, and improve the over-all tecture of your skin, and has some antibacterial properties, that will actually fight against blemishes. There are many ways to dress this recipe up or to extend the life of the product. Some of these ideas would include using rose water or aloe vera juice in place of water, or adding a natural preservative like citric acid. I don't want to give away too many of my secrets, because I plan on dressing up this recipe and adding a make-up setting spray to the Indulgence line. I promise it will be reasonably priced and NATURALLY preseved, so that you can use it for longer periods of time. 
Thanks for reading!
Love, 
Beth
Categories: Skin Care, Home Remedies