The Pampered Posts (Blog)
| | |
| --- | --- |
| Posted on February 27, 2013 at 3:45 PM | |
OK ladies (and gents)… Spring is coming! I know it seems like it will never get here, but it's coming, I promise… With the warm weather comes sandal season. I am definitely Sandal Season's BIGGEST FAN! I cannot tell you how liberating it is to let my tootsies out in the springtime sun. The first day of flip-flop season is always one of the most exciting days of the year for me! It always reminds me of that feeling I would get on the first warm day as a kid, when I begged my mom to let me dig out my shorts. Or that feeling of the first sunny day after being buried by snow for 4 months at Slippery Rock, snow capital of the world, when we would skip class to lay in the sun and play afternoon beer pong on the back porch of the sorority house. Oh, the yester-years, how I miss those carefree days…
Now, when the sun peeks out for the first spring day the most exciting thing I get to do is put on a pair of peep-toes and head to work, but somehow that little smidge of visible painted toenail under my desk still makes me feel that happy sunshine high that I had as a kid. However, if you're anything like me, there is quite a bit of work to be done before your feet, particularly your heels, are ready to be on flip-flop display…. I know I always seriously neglect my feet over the winter, and when mid March arrives and the sun starts to shine, I (or the poor nail tech who gets my pedi appointment) have layers of dead skin to slough off. I feel like I have extra layers of rough dry skin on my feet, like more than the average person... like a freakish amount, really. Like way too much to file off, because it would take me 3 days, which is why I'm always looking into "easy" ways to remove the dry skin. I've done the lotion with socks thing, which does soften the skin, but doesn't actually remove the dead stuff, so it's a definitely a "band-aid" type fix, rather that a cure. I've tried the pedi-egg, which leaves my feet looking and feeling like I got a pedi from Edward Scissor hands. Sorry, cheese grated feet isn't exactly the look I'm going for. I've tried the foot razors, which honestly are the fastest, least labor intensive method, but I ALWAYS end up taking too much and having sore feet, or even worse, open wounds…
In my online searching for a better method, I've come across a few products that claim to peel the dry skin away with no scrubbing, filing or soaking, which sounds a little too good to be true, but could be the answer to my pedicure prayers! I have been doing a little research on products, and the two that seem the most legit, based on customer reviews and ingredients lists are "Baby Feet" and "SoftSole". Both products come with gel-filled disposable slippers that you wear for a period of time (60-120 minutes), then wash and moisturize feet. You repeat this process daily, and after 3-5 days, the dead skin starts to peel off. The skin supposedly sheds for about a week, and then you're left with smooth soft skin….  We'll see about that!
According to customer reviews and some youtube videos, it really works. Intrigued by the possibility of being able to wrap my feet and treat my callused skin while I watch TV, read, or craft, I decided to check out the ingredient lists to see what magic chemicals are necessary to molt your feet like a snake. Much to my satisfaction, it seems that this product isn't all that chemically based. The main ingredients are Salicylic acid, Glycolic Acid, Castor Oil, and Vitamin E. Of course, my wheels immediately began to turn. If these easy-to-attain ingredients are all that's used, why can't I make my own version? Hmm… Don't mind if I do!
Here is a basic easy peasy recipe you can try at home. I am also working on formulating a recipe with more skin healing and restoring ingredients for the indulgence line.
Acid Foot Peel Recipe:
What you need:
1 cup Epsom salts (optional)
1 large bowl filled with hot water towel
1 smaller bowl (preferable an airtight container, such as Tupperware)
1 bottle uncoated aspirin (from the dollar store)
1 lemon
plastic wrap
socks
A rich moisturizer (try Indulgence whipped body frosting)
What to do:
- Gather supplies and while you're mixing your paste, soak your feet in the hottest water you can stand. If you have them, add about a cup of Epsom salts to your footbath. You should soak feet for at least a half hour to soften the hardened skin and allow your foot peel to penetrate the layers of dead skin.
- Empty your aspirin into your small bowl. - Slice your lemon into at least 4 wedges and squeeze juice onto aspirin one wedge at a time. You want the final product to be a paste thick enough to spread onto the effected areas yet wet enough to stick to your skin. Squeeze one wedge onto aspirin and wait for the aspirin to dissolve. The lemon juice will dissolve the aspirin pretty quickly. If the paste is too thick, squeeze another wedge onto aspirin mixture.
- Once your mixture is a good consistency, cut 2 pieces of plastic wrap large enough to completely cover your foot.
- Once you have finished soaking your feet, and skin is softened, use the towel to dry your skin. While drying your skin, rub the towel against the rough parts of your skin, this will cause any loose skin to crumble off.
- Once feet are dry, apply your paste to feet. On the first few applications, I apply the paste all over feet concentrating on heels, balls of feet, and skin around the toenails, as this is where I have the most dry skin. You should concentrate on the driest areas of your feet, whatever they may be. Once the paste has been applied thoroughly, wrap feet in plastic wrap, and then apply your socks.
- Save what paste remains in an airtight container for additional applications.
- I do this treatment in the early evening, when I get home from work, and leave it on until I go to bed (5-6 hours). I then remove the wraps, and wash feet with soap and water.
- I then apply my Whipped Body frosting to feet, and put my socks back on. I leave the moisturizer on overnight, as the lemon juice can be very drying.
This treatment is not a quick fix. You will need to apply this treatment everyday for 2 weeks. After a few treatments, you can skip the soaking first, as the skin should be softened from the treatment and the moisturizer. Using an acid based product like this has to be a step-by-step process, as anything strong enough to remove that much dead skin in one application would surely burn right through your healthy skin too… Which brings me to the reason we're using aspirin. Aspirin is basically just salicylic acid. Salicylic acid is used in many skin care products because it breaks the bonds that hold dead skin to the live skin and kills bacteria without harming your healthy live skin. Glycolic acid is much stronger and will burn your live skin if used incorrectly. Remember that Sex and the City episode when Samantha had a chemical peel and the children where screaming as she walked by them on the street… yep, Glycolic acid! Anyway, about halfway through the process (day 5-7) you will notice that your feet are beginning to peel and shed layers of skin. (That's why it's called a foot peel, duh!) It will look pretty horrific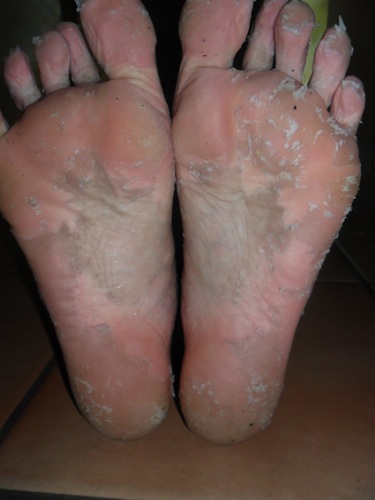 *These are not my feet, I found this picture on google*
... like something out of "The walking dead", but trust me, it will be so worth a few days of zombie feet to get baby soft tootsies. You can pull the peeling skin off as long as it doesn't hurt to do so. If you have any pain when pulling the dead skin, this means it is still bonded to the live skin, and is taking that healthy skin with it. You can use cuticle scissors to cut the dead skin if it's driving you crazy. A day or two after the peeling begins, I stopped applying the paste all over my feet, and concentrated just on the bottoms of my feet, as I didn't want to unnecessarily dry out the tops of my feet once the dry skin was off of them.
You may notice, if you've ever seen the other products I mentioned in this post "baby feet" and "softsole" that those products are only meant to be left on for 1-2 hours. That is because of the glycolic acid. The aspirin/lemon juice mixture could be on for 24 hours at a time without harming your skin, so don't worry about leaving it on too long. You can help the process along with sugar scrubs and pumice stones while in the shower. Rubbing a terrycloth towel on the peeling skin also works very well.
Upkeep is pretty simple. Continue to apply a heavy moisturizer daily, and keep a pumice stone in your shower. Scrub the areas that become callused daily to avoid build up from occuring. Use a sugar srub several times per week to keep the rest of the skin on your feel soft and smooth. OR just let it get really bad again next winter and molt again!
I hope this help everyone to get flip-flip ready this spring!
Please feel free to send questions to pamperp[email protected] and I'll answer them in my next blog!
Thanks for reading,
Beth
Categories: Hand, Foot, and Nail Care, Skin Care, Home Remedies