The Pampered Posts (Blog)
| | |
| --- | --- |
| Posted on May 17, 2013 at 10:40 AM | |
Summer is rapidly approaching. It's been 80 degrees for most of the week here in Pittsburgh, and I haven't broken out the flip flops yet. If you're a frequent reader, or a friend of mine, you know how I LOVE my flops! It's killing me to leave them at home, but my feet are in no way flip-flop ready. I hate to admit it, but I have been neglecting my feet. With a schedule as busy as mine has been, (working full time, 2-3 pamper parties per weekend, planning my wedding, and caring for my mom, who is undergoing cancer treatment) something's gotta give. Pedicures have have been left off of my to-do list for several months now, but it's definitely time get into my summer sandals. I did a little research, looking for a quick fix for my winter build up, as it's become quite unmanagemable, and I wouldn't dare subject a nail tech to my nasty feet. Even if I were willing to pay for a professional pedi, I'd have to do some work at home first to remove some of the rough dry skin on my heels. I'd be horrified to let these puppies out in a salon! Lucky for me (and you), I discovered a few ingredients that will work together quite nicely to give us a kitchen-cabinet dead skin removal recipe.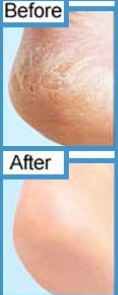 Here's the recipe:
1/4 Cup Listerine
1/4 Cup Vinegar (white or apple cidar, whatever you have lying around)
1/2 cup warm water
I like this recipe because the listerine gives a nice refreshing minty feeling to the soak, and a great cooling effect, which is so nice in the summer. It's also got a disinfecting property, that I love for my pamper party pedi's. You just never know what's going on in someone's shoes... the more protection I have, the better, lol.
*1 Cup may not seem like enough to soak your feet, but you really only want to cover the portions of your feet that are callused, as this will be a little harsh on your healthy skin. If you need more, just keep the ratios: 1 part listerine, 1 part vingear, 2 parts water, and you'll be good. 
Soak your feet for at least 30 minutes (or longer if you can). 
This will not only soften the dead skin, but penetrate the dead skin cells, and loosen the glue that holds them together, causing the build up.
After soaking, use a dry towel to rub the dead skin off. You can use a foot fille, if you want, but I like the towel. The dead skin should crumble and flake right off with a little elbow grease. Depending on how thick your build up is, you may need to soak again, and re-rub. *A little tip, keep the one foot in the water while removing the skin from the other, because if the skin dries, it will be harder to remove. While this is not exactly effortless, it's still MUCH faster and easier than soaking, fliling, soaking, fliling, soaking filing, and so on. It's also much safer than using a razor to cut away the build-up which is usualy what I end up doing, because I don't have the patience to take it off with a file. I should also mention that I usually end up bleeding when I do this, as I ALWAYS get over zealous with the foot razor! (this is why they're illeagal in salons)
This is optional, but recommended:
After you've removed your dead skin, dump your mixture, fill you tub with fresh water (with or without bath salts/soap), and give yourself a full pedicure. The mixture can be drying to skin, so I suggest finishing with sugar scrub and a nice thick cream with rich butters in it (Whipped body Frosting, perhaps). Just be sure to thouroughly clean your nails before polishing when using lotion!
Thanks for reading!
-Beth <3
Categories: Hand, Foot, and Nail Care, Home Remedies