The Pampered Posts (Blog)
| | |
| --- | --- |
| Posted on March 17, 2010 at 11:43 AM | |
Here's a question from one of my readers:
"What is the best flat iron for curly hair?
With literally thousands of choices, how are you supposed to find the right flat iron for you?
... You ask me, that's how!
There are a few things that you will need to take into consideration in order to choose the correct flat iron for you.
1. the texture of your hair
Curly hair needs a flat iron with High Heat and conditioning plates. High heat seals in the hair's natural moisture and smoothes and conditions hair as it glides over. The less texture you have in your hair, the less heat you need to style it.
2. The length of your hair
Short hair requires a thinner flat iron (no more than 1"
and longer hair requires thicker plates (1½"+)
3. The thickness of your hair
People with fine or thin hair need a low temperature flat iron to polish off an already straight look. Thicker hair can handle a little more heat, and will need it to penetrate the hair.
If you have fine and/or straight hair the flat irons in the grocery/drug stores will work for you. No need to spend the extra money on a professional-grade flat iron that will probably just damage your delicate hair.
For most people, a mid-range professional flat iron will work. This is what I use, and I have very thick wavy/curly hair. I've tried many brands in this range, and my favorite is "Jilbere de paris". I think it works just as well (if not better) as a chi, for a fraction of the price. You can purchase a jilbere flat iron at any Sally's Beauty Supply or by clicking the link below to their website.The cost is anywhere from $40 - $75.
http://www.sallybeauty.com/on/demandware.store/Sites-SA-Site/default/Search-Show?prefn1=brand&prefv1=JLBERE&brandLandingPage=true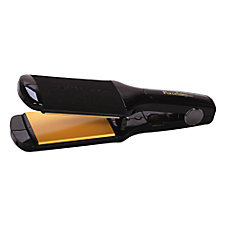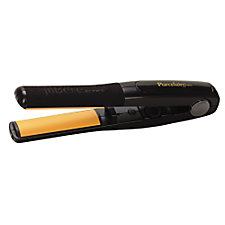 If you have coarse curly hair, you will need to purchase a high-end professional-grade flat iron. These can cost anywhere from $100 - $250 depending on the brand and place of purchase. I DO NOT recommend buying a flat iron from your salon, as all retail merchandise in a salon has been marked up 100%. You CAN and WILL find that item cheaper online. For coarse, frizzy, and/or curly hair, the brand I recommend is "sedu".
For before and after pictures click here:http://sedubeauty.com/sedu_hairstyles.html
There are also several youtube videos devoted to the amazing results people have had with their sedu straighteners.
To purchase a "sedu" flat iron click here:http://www.folica.com/Sedu_Flat__766_1.html?s_kwcid=TC%7C6678%7Csedu%20flat%20iron%7C%7CS%7C%7C3894811491&gclid=CJDejNH4v6ACFRBM5Qodb0cJUw
Always use a heat protection spray or serum when flat ironing hair. Work into hair starting at the bottom and using very sparsely at the crown of the head (this will prevent your hair from looking greasy)
Send your beauty questions to pamperp[email protected] and I'll answer them in my next beauty blog.
Thanks for reading and don't forget to stop by tomorrow for another dose of the beauty blog.
-Bethany
Categories: Hair Care