The Pampered Posts (Blog)
| | |
| --- | --- |
| Posted on April 15, 2010 at 3:25 PM | |
Have you ever used those "Biore Strips"?
Those little guys are pretty amazing right? Don't you love pulling them off and seeing all the dirt and grime on the strip, and knowing that it's no longer clogging your pores and building blemishes?
You may think your pores are squeaky clean because you have oil-dry skin or you follow a strict skin regimine, but trust me, you still have some grime in there. Even the cleanest face gets dirt and oil trapped in it's pores and manual extraction is the only way to remove it.
What if I told you there was a simpler, cheaper, less painful way to extract those microscopic blackheads?
Use this super-easy Kitchen Cabinet recipe to yank the grime right out of your pores: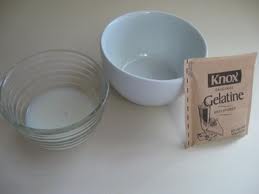 What you will need:
1 Tablespoon "Knox" unflavored Gelatin
1.5 Tablespoons Milk
What you do:
- Mix ingredients together and Microwave for 10 seconds.
- After cleansing skin, use a clean make-up brush to apply the mixture to your nose and chin (most common areas for pores to be clogged)
- Rinse brush immediately, as the mixture will harden as it dries
- Allow to sit on face for 10 – 15 minutes or until mixture has dried
- The dried mixture will create a "stiff film"
- Peel film from face. It will bring the contents of your clogged pores with it.
You'll notice that this film has the same "porcupine-like" look as the Biore Strips do after use. It's extremely effective!
Follow with toner and moisturizer.
Send your beauty questions to pamperpa[email protected] and I'll answer them in my next blog.
Thanks for reading and don't forget to stop by tomorrow for another dose of the Beauty Blog!
Thank you,
Bethany
Categories: Skin Care, Home Remedies